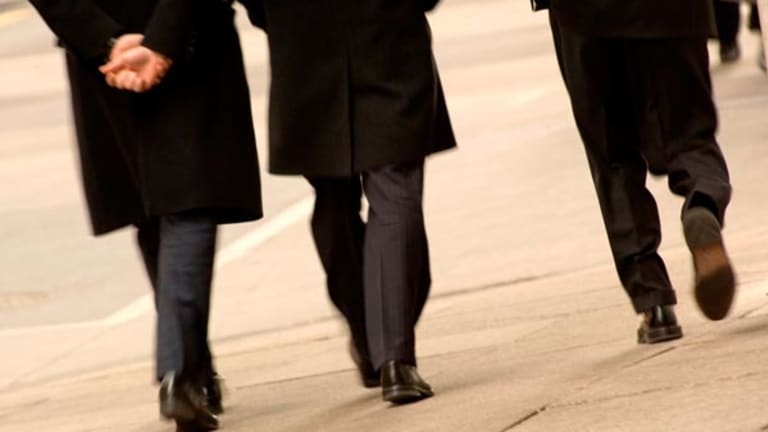 Stock Market Today: Stocks Spike as Fed Minutes Allay Fears of Rate Hike
U.S. stocks popped on Wednesday after the release of the Federal Reserve minutes which allayed fears an interest rate hike could come sooner than expected.
NEW YORK (TheStreet) -- U.S. stocks popped more than 1% on Wednesday after Federal Reserve minutes allayed fears an interest rate hike could come sooner than expected.
The Dow Jones Industrial Average rose 1.15%, while the S&P 500 advanced 1.28% and the Nasdaq moved 1.41% higher. Most of that gain came immediately after the 2 p.m. release of the Fed minutes.
Members of the Fed were said to have shown concern "that the reference to 'considerable time' in the current forward guidance could be misunderstood as a commitment rather than as data dependent" during its Sept. 16-17 Federal Open Market Committee meeting. 
Watch the video below for a look at how U.S. markets ended the trading day Wednesday:
Wall Street had shown concern the Fed could enact a interest rate hike sooner than expected after a series of data points indicated the U.S. economic recovery charging ahead. A prolonged period of interest rates at zero has been dependent on the Fed's ability to keep the inflation rate under its target 2%.
The Fed noted macro headwinds and a stronger dollar could stunt U.S. economic growth which has been showing increasing strength of late. The International Monetary Fund trimmed its global growth forecasts on Tuesday and said Europe has a one-in-three chance of falling back into recession on deflation concerns in its outlook report.
Volatility continues to increase as U.S. equity prices swoon in this seasonally weak time of year for stocks. But that shouldn't keep investors from staying long in quality U.S. stocks, according to David Lafferty, chief market strategist for Natixis Global Asset Management. It's estimated that companies will grow earnings by 5% for the third quarter, but Lafferty said his expectations are slightly higher than that.
"We've had this pre-announcement vacuum," Lafferty said, as companies try to break the negative news ahead of their scheduled earnings releases.
Aluminium giant Alcoa (AA) - Get Alcoa Corporation Report , the unofficial forerunner of earnings season, will report its third quarter earnings after the closing bell. Analysts expect profit of 23 cents a share on $5.85 billion in revenue.
"The set-up for the third-quarter earnings season is almost a carbon copy of what transpired over the second quarter," Robert Keiser, vice president of Global Markets Intelligence, said of expectations across the S&P 500 companies heading into earnings.
"Initially, we had just below 7% growth expectations in Q2 and it turned out the results were much healthier at 10.3%. Now we've got a similar set-up," Keiser said.
J.C. Penney (JCP) - Get J. C. Penney Company, Inc. Report has given up nearly 11.5% after warning of softer sales than expected in September. Though guidance wasn't affected, management tweaked its comparable-store sales estimates to a low-single-digit increase from previous estimates of a mid-single-digit increase. 
Sears (SHLD) tumbled 9.8% after Bloomberg reported that three of the biggest insurance firms for Sears' suppliers were seeking to reduce coverage, prompting at least one medium-sized vendor to halt shipments to the department-store chain.
Tekmira Pharmaceuticals  (TKMR) shares advanced 2.9% while Chimerix (CMRX) - Get Chimerix, Inc. Report plunged 6.1% after U.S. ebola patient Thomas Eric Duncan died. Tekmira, one of a handful of companies with experimental ebola therapies, popped because a rival drug from Chimerix was used to treat Duncan.
Apple (AAPL) - Get Apple Inc. Report said Wednesday it was surprised by supplier GT Advanced's (GTAT) bankruptcy filing earlier this week. The iPhone maker said it would work with officials to retain jobs in GT's Arizona factory it helped to finance. GT's shares were down 6.6%. Since the beginning of the week, the stock has tanked nearly 90%.
Yum! Brands (YUM) - Get Yum! Brands, Inc. Report rose 1.1% even after missing earnings forecasts and slashing its full-year outlook on the impact of the food safety scare in China. However, the guidance was lowered by less than some had expected as the company expressed confidence that its brands will be able to rebound in China.
Actavis (ACT) - Get Enact Holdings Inc Report is gearing up to court Allergan (AGN) - Get Allergan plc Report yet again. Pharmaceuticals company Allergan has been on the receiving end of numerous acquisition offers, most persistently from Valeant (VRX) and Bill Ackman's Pershing Square which has new plans to increase its offer above $190 share, according to reports. Allergan has previously stated it would not accept an offer less than $200 a share. Shares of the company gained 1.8%. 
-- Written by Keris Alison Lahiff in New York.