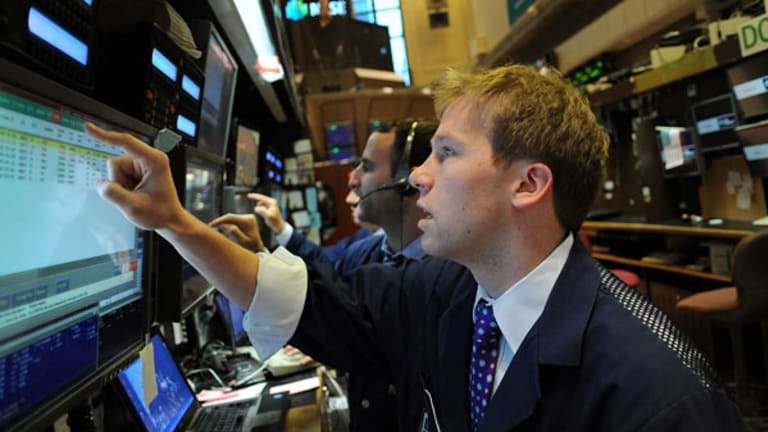 Stock Market Today: Dow Falls 200 Points as Traders Take Profits
U.S. stocks sink Thursday amid end-of-quarter profit-taking and the unwinding of trades that were driven by dovish Federal Reserve speak during the prior session.
NEW YORK (TheStreet) -- U.S. stocks were sinking Thursday morning, with the declines mainly attributable to end-of-quarter profit taking, thinner volumes due to the Jewish holidays, and the unwinding of trades that were driven by dovish Federal Reserve speak during the prior session.
The Dow Jones Industrial Averageundefined dropped 1.2%, or more than 200 points. The S&P 500undefined gave up 1.25%. The Nasdaqundefined  surrendered 1.66%.
All 10 sectors of the S&P 500 were in the red, with most posting a drop of more than 1%. The S&P 500 information technology sector was bearing the brunt of the negative action as both Apple (AAPL) and Yahoo! (YHOO) tumbled. The iPhone maker was down 3.53% after pulling its iOS 8.0.1 update mere hours after releasing it. Yahoo! fell 1.76% after revealing that it agreed to a one-year lock-up period that restricts the sale of the remaining ordinary shares it owns in Alibaba (BABA) .
"The fact that we've seen a bit of a rotation with equities weakening and bond markets strengthening provides some clues that there's been a reallocation of trades, which tends to happen when you take profits," said Millan Mulraine, deputy head of U.S. research and strategy at TD Securities. The fairly thin market was also impacting liquidity in the equity markets.
"(Atlanta Fed Bank President Dennis) Lockhart could be the next trigger point for the market as it relates to the Fed," Mulraine said.
Lockhart, often thought to be a good bellwether of consensus thinking at the Federal Open Market Committee, will speak Thursday at 1:20 p.m. EDT on economic outlook and monetary policy. Chicago Federal Reserve President Charles Evans on Wednesday maintained his dovish views, adding cheer to the markets after a strong showing in U.S. new home sales for August.
The United States Oil Fund (USO) ticked up 0.14% as front month crude oil futures rose by 35 cents a barrel. Geopolitical tension was lending support to the energy complex as the U.S. and Arab allies launched attacks against militant groups in Syria and Iraq. The U.S. dollar pushed to its highest level in more than four years. The euro on Thursday dropped to a 14-month low against the U.S. dollar on dovish remarks from European Central Bank President Mario Draghi. The euro-U.S. dollar exchange rate fell 0.25% Thursday morning.
The SPDR Gold Trust (GLD) slipped 0.13%.
In U.S. economic news Thursday, the Markit "flash" PMI services index for September fell to 58.5 from 59.5 in August. Economists expected a reading of 59.
U.S. weekly initial jobless claims increased by 12,000 to 293,000 compared to the 300,000 estimated by economists. Durable goods orders for August tanked 18.2% but that was in line with the 18% decline expected by economists. Durable goods orders rose 22.5% in July, led mostly be new contracts for Boeing (BA) jets.
In individual stock reports, travel services company Travelport Worldwide (TVPT)  was trading up 3.5% to $16.54. The initial public offering of the stock was priced at $16 a share late Wednesday.
H.B. Fuller (FUL) dipped 5.12% after the specialty chemical products maker provided fourth-quarter earnings guidance of between 60 cents to 70 cents share, missing the average analyst estimate of 85 cents.
-- By Andrea Tse and Kurumi Fukushima in New York