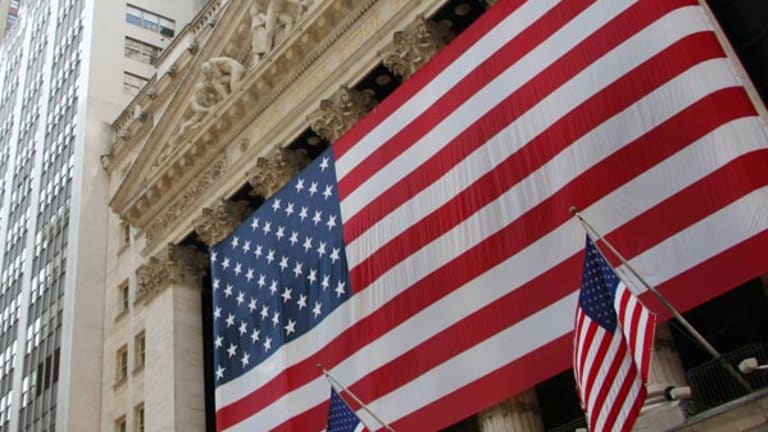 Stock Market Today: U.S. Stocks in 3-Day Losing Streak as U.S. Strikes Syria
The U.S. stocks fell for a third day as U.S. fighter jets attack the Islamic State militia in Syria.
NEW YORK (TheStreet) -- U.S. stocks fell for a third day Tuesday as U.S. fighter jets attacked strongholds of the Islamic State, Europe showed signs of economic weakness and the U.S. government announced tougher rules on corporate inversion deals.
The Dow Jones Industrial Averageundefined  fell 0.7% to settle at 17,055.87 while the S&P 500undefined   dropped 0.6% to 1,982.77. The Nasdaqundefined  slipped 0.4% to 4,508.69.
A U.S. led coalition struck areas along the Syrian-Iraq border held by the Islamic State, and President Obama said a group that had been planning a U.S. attack, the Khorasan, was also hit, the New York Times reported. A closely-watched gauge for German manufacturing, the PMI, dropped to its lowest level since June 2013, while a services industry PMI for France, the region's second-largest economy, fell backwards after two months of growth. 
Watch the video below for a look at how U.S. markets are doing in midday trading Tuesday:
Must Read:7 Stocks Warren Buffett Is Selling in 2014
Next week, investors will get the details of the new regulations announced by the Treasury Department that are designed to limit the ability of U.S. firms to seek refuge in lower tax countries. The details are expected to provide the hard data on how exactly the new rules could impact the M&A plans of U.S. companies going abroad, especially to Europe.
Administration officials haven't yet been able to say how many pending corporate inversions might be stopped by the new rules and wouldn't address whether the rules would block Burger King's (BKW) bid in August to acquire Tim Hortons (THI) , the Canadian coffee and doughnut chain. Burger King lost 2.67% on Tuesday.
AbbVie's (ABBV) $55 billion deal to buy Shire (SHPG) also could be in jeopardy. Abbvie closed down 1.96% and Shire lost 2.17%. Also in question was Pfizer's (PFE) ability to re-approach AstraZeneca (AZN) with another takeover offer after being rejected in May. Pfizer shares fell 0.43% and AstraZeneca retreated by 4.74%.
CF Industries (CF)  surged 5.31% after the fertilizer producer confirmed it's in discussions with Yara International on a potential merger of equals deal that could create a $27 billion global fertilizer giant.
Philips (PHG)  jumped 3.72% after the electronics giant said it will split into two companies; one focused on lighting and the other specializing in the health care and consumer-lifestyle businesses.
Yahoo! (YHOO) gained back 1.03% after a big tumble on Monday to $38.65 as investors can now buy directly into Alibaba (BABA) .
Dublin-based Actavis recently made a bid for Allergan (AGN) but the Botox maker rejected the proposal and is closing in on its own takeover of Salix Pharmaceuticals (SLXP) , The Wall Street Journal reported, citing people familiar with the matter. Allergan closed 1.84% higher while Salix Pharmaceuticals tacked on 5.84%. Pershing Square Capital on Tuesday threatened to sue Allergan if the company were to follow through with its plan to buy Salix. Allergan wants to complete the transaction with Salix as a means to remain independent and protect itself from Valeant Pharmaceuticals' (VRX) $53 billion hostile pursuit, which Allergan's largest shareholder, Pershing Square, is backing.
Peabody Energy (BTU)  rose 1.66% after raising its quarterly adjusted EBITDA outlook again.
Facebook (FB)   gained 1.94% on Tuesday. The social media giant will unveil next week a new advertising platform designed to improve how marketers target and measure the advertisements they buy across the Web,the Journal reported, citing people familiar with the company's plans.
The SPDR Gold Trust ETF (GLD)  rose 0.64%, and the United States Oil Fund (USO)  gained 0.73% today.
At 57.9 in September, the seasonally adjusted Markit Flash U.S. Manufacturing Purchasing Managers' Index remained well above the neutral 50 value, Markit Economics reported on Tuesday. The FHFA purchase-only House Price Index rose 0.1% month over month in July, below the 0.5% consensus estimate. 
-- By Andrea Tse and Kurumi Fukushima in New York