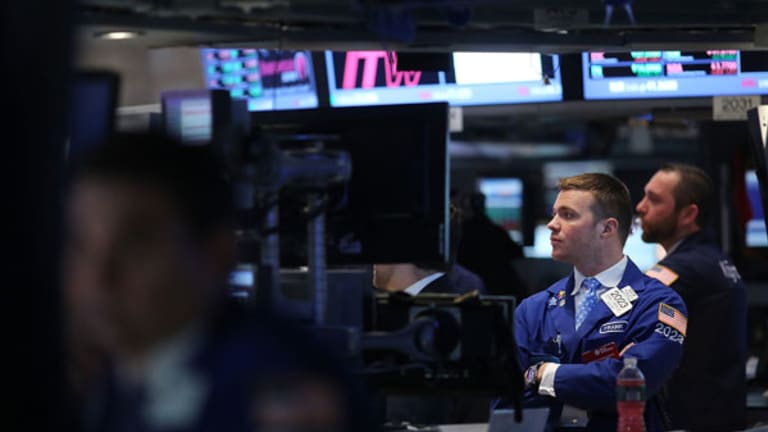 Stock Market Today: No Surprises from Draghi or Yellen, Markets Fizzle
Major U.S .stock indices finished higher for the week but mostly settled on a muted note on the day.
NEW YORK (TheStreet) -- What started out as one the most anticipated events for the capital markets each year concluded Friday on a somewhat anticlimactic note.
While the markets got exactly what they were looking for from Federal Reserve Chief Janet Yellen -- her sticking to her script on U.S. labor slack and her dovish outlook -- they also did not get any of the surprises they were looking for from European Central Bank President Mario Draghi. There was not even a hint of something that was going to change or an adjustment in ECB monetary policy.
Watch the video below for a look at what will matter for markets in the coming week:

WATCH: More market update videos on TheStreet TV | More videos from Jill Malandrino
Major U.S .stock indices finished higher for the week but mostly settled on a muted note for the day. The Dow Jones Industrial Average was down 0.22% on Friday to 17,001.22. The S&P 500 was down 0.2% to 1,988.40. The Nasdaq was up 0.14% to 4,538.55.
As economic data continues to come in weaker-than-expected in Europe, the markets were building up for a specific and concrete announcement from Draghi in the afternoon -- a hint at a form of a QE announcement; a big surprise. But once again, it was all talk and no action.
"He has been fairly successful in talking the market -- in other words jawboning the markets. But what investors are now saying is 'look you can't keep talking the market, you can't keep jawboning the market, you've got to just do something'," said Quincy Krosby, market strategist with Prudential Financial.
U.S. market action was already fairly subdued after the Yellen's speech in the morning. "There was some long-trading in advance," said Dave Roda, regional CIO for Wells Fargo Private Bank. "The markets were fairly strong in the last week, and that was front-running the expectation that Yellen would remain committed to lower, longer."
Companies that garnered attention Friday included Apple (AAPL) - Get Apple Inc. Report , which rose 0.74% to $101.32. Suppliers to Apple have been scrambling to get enough screens ready for the new iPhone 6 smartphone as the need to redesign a key component disrupted panel production ahead of next month's expected launch, supply chain sources told Reuters.

Home Depot (HD) - Get Home Depot, Inc. Report named Craig Menear, currently president, U.S. retail, as CEO and president, effective Nov. 1. Shares were down 0.13% to $91.03. Gap (GPS) - Get Gap, Inc. Report shares gained 5.21% to $45.43 after the clothing retailer said second-quarter profit rose 10% as the company cut expenses and sales increased. Aeropostale (ARO) plunged nearly 10% to $3.52 after reporting on Thursday a second-quarter loss of $63.8 million, or 81 cents a share, and after forecasting a wider-than-expected third-quarter loss.
--By Andrea Tse in New York