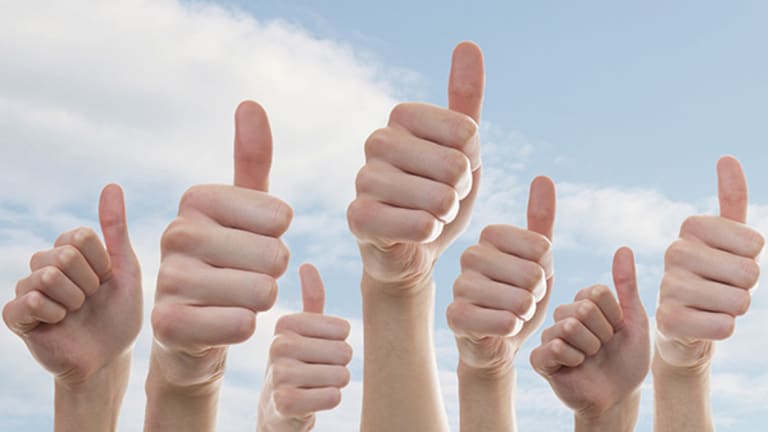 Stock Market Today: Stocks Rise as U.S. Growth Is Revised Higher
U.S. stocks rise Friday morning on evidence of an improving business climate.
NEW YORK (TheStreet) -- U.S. stocks sustained gains in late morning trading Friday but were easing from session highs. The markets advanced after the third estimate of U.S. second-quarter GDP was revised higher with an apparent increase in business confidence playing an important role.
Positive earnings reports from companies such as Nike (NKE)  also helped lead the markets higher.
The Dow Jones Industrial Averageundefined was up 0.39%. The S&P 500undefined rose 0.25%. The Nasdaqundefined  was higher by 0.38%.
The biggest contributor to the upward revision to overall GDP was business investment, noted Paul Ferley, RBC Economics' assistant chief economist. The growth rate for this component was raised to 9.7% from a previously estimated 8.4%, which added an additional 0.2 percentage points to overall second-quarter GDP growth. The U.S. economy expanded by 4.6% in the second quarter, the government said Friday, matching estimates and coming in higher than the prior estimate of 4.2%.
"I would take encouragement from this strengthening in business investment," he said. "It implies businesses are confident enough to spend and invest. This reinforces the impression provided by the sustained solid gains in employment so far this year." Ferley said Friday's GDP numbers are consistent with his view that growth in business investment will rise rise around 6.5% this year and 8% in 2015, up from a 3% gain in 2013.
The final reading on the University of Michigan Consumer Sentiment Index for September held steady at 84.6.
Apple (AAPL)  shares were recovering after playing a substantial role behind the Nasdaq's pronounced drop on Thursday. Apple released a new update late Thursday that the tech giant said would repair the problems caused by software it released Wednesday morning. Shares were up 1.77%.
U.S. stocks nosedived Thursday in their biggest down day since July 31 as investors reacted to news of bombings in the Middle East and heightened terrorist threat levels on U.S. and French soil. The negativity only exacerbated an end-of-quarter sell-off already in progress. Apple shares ended Thurday's session down nearly 4%. 
In corporate headlines Friday,  Pimco founder Bill Gross announced Friday he was resigning from the bond giant and would be joining Janus Capital (JNS) on Monday. Janus surged 30.5% in trading Friday. 
Struggling smartphone maker BlackBerryundefined posted a narrower-than-expected loss of 2 cents a share as the company continues to sharpen its focus on enterprise mobility and security. Shares advanced 6.68%.
Nike, the global footwear and athletic apparel company, reported fiscal first-quarter earnings of $1.09 a share, up from 86 cents a share a year earlier and above analysts' estimates of 88 cents. Nike popped 10.53%.
Micron Technology's (MU) fiscal fourth-quarter earnings and revenue topped analysts' forecasts. The stock jumped 6.26%.
GM (GM) rose 0.7% after Standard & Poor's raised its debt rating on the automaker to investment grade. 
Many investors remained nervous about Thursday's performance, questioning whether it was just a one-day blip amid the increasing divergence between the Russell 2000undefined  index and S&P 500undefined . The Russell 2000 recently showed a bearish "death cross," where its 50-day moving average fell below its 200-day moving average, prompting worries that this was a sign that large-cap stocks too were due for a plunge. 
Ryan Detrick, strategist at research firm See It Market, said historically a Russell death cross actually isn't that bad; the returns three to six months later are actually stronger for the Russell after a death cross than the bullish "golden cross." However, while this should suggest the market overall is closer to a major low than a major peak, Detrick said the caveat is many others have done similar studies and found the same results.
"So everyone has dismissed the death cross as something not to worry about. History tells us when everyone agrees on something, they might be wrong.  That concerns me," he said. "The contrarian in me always worries when I see that."
Jonathan Krinsky, MKM's chief market technician, said the S&P 500 on Thursday dropped down to 1,966 much sooner than he would have anticipated. While he's not calling for a more significant decline just yet, "we are also not yet ready to give the all-clear." Krinsky pointed out that the S&P is on track to have gone 121 weeks without touching its lower weekly Bollinger Band, a popular technical analysis indicator, and there has never been a stretch this long without the index touching its lower Weekly Bollinger Band even during the great bull market of the late 1990s. This could add some perspective to just how long this market has gone without a meaningful reset.  
-- By Andrea Tse in New York