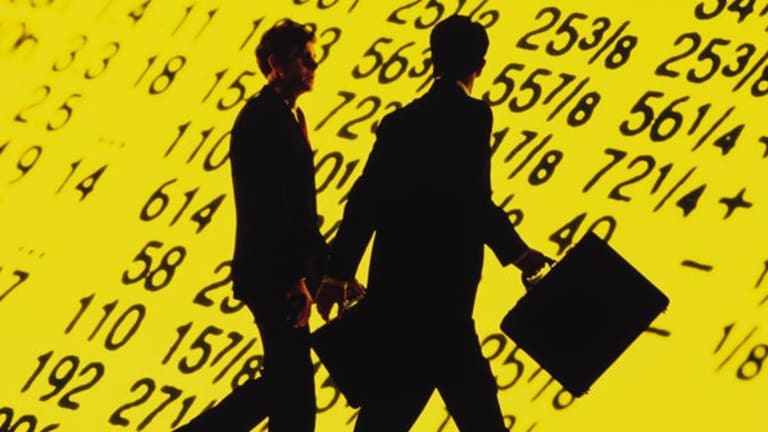 Stock Market Today: Stocks' Record Run Ends on Eve of Earnings Season
Though expectations are for a better quarter than the last, U.S. benchmark indices fall after a record-breaking run to close out last week.
NEW YORK (TheStreet) -- Another earnings season will kick off Tuesday as unofficial frontrunner Alcoa (AA) - Get Report reports its results. Though expectations are for a better quarter than the last, U.S. benchmark indices tumbled after a record-breaking run to close out last week. Shares had rallied before the July 4 long weekend in response to stronger-than-expected jobs data and a lower unemployment rate.
The Dow Jones Industrial Average closed 0.26% lower to 17,024.21, remaining just above the psychologically important 17,000 milestone set on Thursday. The S&P 500 slid 0.39% to 1,977.65 and the Nasdaq dropped 0.77% to 4,451.53.
On the bill to report this week, Alcoa will report after closing bell on Tuesday, Family Dollar (FDO) will report on Thursday and U.S. mortgage lender Wells Fargo (WFC) - Get Report is slated for Friday.
July 7 Premarket Briefing: 10 Things You Should Know
Stock Market Today: Dow Closes Above 17,000 on Healthy Jobs Growth
European and Asian Stocks Drift Lower
S&P Capital IQ consensus estimates point to a second-quarter 2014 earnings increase of 6.6%, nearly twice the 3.4% year-over-year gain a quarter earlier. Seven of the 10 sectors in the S&P 500 are forecast to show second-quarter growth rates that exceed first-quarter gains, with the biggest sequential increases coming from the energy and materials sectors.
"Expectations were for negative growth year over year for the first quarter and we pulled one out with 2.1% growth. That's a testament to companies' ability to do business even in a horrible economic backdrop," Voya Investment Management senior market strategist Karyn Cavanaugh told TheStreet.
"A lot of companies ratcheted down their expectations because of that bad GDP outlook for the first quarter ... but I think we'll end up doing better than we expected," Cavanaugh added.
European and Asian markets drifted down on Monday, as traders took a break following last week's rallies and awaited the reopening of the U.S. markets after the July 4 holiday. On the macro front, disappointing German industrial production figures weighed on Eurozone markets. Economists had expected output to flatline in May. Instead, production fell 1.8% month-on-month from April.
BlackBerry (BBRY) shares spiked 5.7% after receiving three Red Dot awards for the design of its smartphones. Year to date, the stock is up 50.7% as investors regain faith in the company's turnaround.
GT Advanced Technologies (GTAT) is sinking after receiving a downgrade to "neutral" from "buy" at UBS. The firm raised doubts the company could meet the high end of its $600 million to $800 million second-quarter sales guidance. Shares are down 15.6% to $16.50.
A trial in a Brooklyn federal court begins Monday in which American Express (AXP) - Get Report is set to face off against the U.S. government and 17 states over claims the credit card giant stifles competition from credit card providers that charge lower processing fees. American Express shares were 0.46% lower.
Archer Daniels Midland (ADM) - Get Report reached a deal to buy Wild Flavors, a flavors and ingredients maker for food, for 2.2 billion euros ($3 billion) in cash. Shares were up 1.6% to $46.50.
--By Andrea Tse and Keris Alison Lahiff in New York.