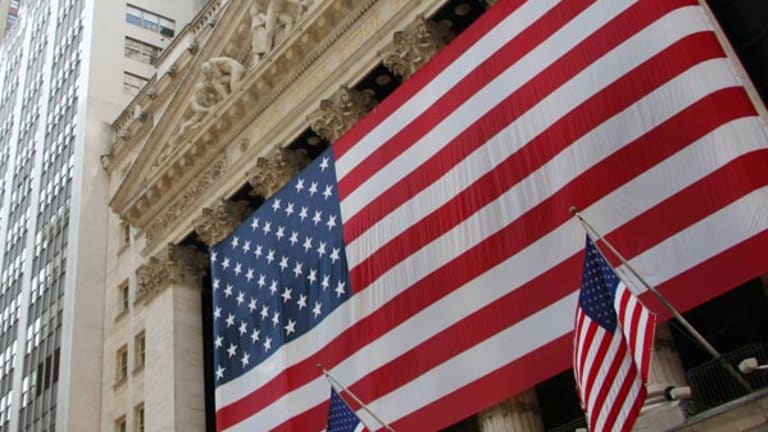 NEW YORK (TheStreet) -- U.S. stocks on Friday were extending their rally, with the Dow Jones Industrial Average at one point up more than 300 points, a sign that investors were regaining confidence after punishing selloffs in five of the past seven sessions.
However, volatility remained a looming threat after days of big irrational swings that afflicted equities this week. 
"There's potentially more room for volatility in this market cycle," said Kevin Mahn, chief investment officer of asset management firm Hennion & Walsh, in a phone call. "The market is looking for clear-cut direction in terms of whether or not some of the problems we're seeing overseas with respect to the economic recovery in Europe and other developed markets is going to hinder the U.S. economic recovery." 
Watch the video below for a closer look at how U.S. markets are doing in midday trading Friday:
Those fears on Friday seem to have been alleviated, if only temporarily, by stronger-than-expected U.S. data. U.S. home building in September was the latest snippet of data to support investors' renewed confidence in the strength of the U.S. economy. Housing starts spiked 6.3% last month to 1.017 million units after several months of dips and dives in the measure. Economists had expected starts to increase 4.6%.
The University of Michigan consumer sentiment index hit a seven-year high, boding well for a rapidly approaching holiday shopping season. The Thomson Reuters/Univserity of Michigan preliminary reading for October jumped to 86.4 compared with an expected decline to 84.1.
"I still believe that the United States is the shining city on the hill of the global economic picture right now," added Mahn.
Hints of flexibility from the Federal Reserve calmed investors on Thursday who feared the central bank was committed to raising interest rates mid-2015 no matter the economic climate.  St. Louis Fed President James Bullard said the central bank was considering extending quantitative easing beyond the third quarter. The stimulus measure was due to end by the end of October.
Federal Reserve Chair Janet Yellen made little mention of monetary policy in an address to a Boston Fed conference on Friday. Instead, Yellen's speech centered on income inequality, which she questioned was "compatible with the values rooted in our nation's history."
Though at one point over 1.5%, all major indices remained in rally mode through to the final hour of trading. The S&P 500 was up 0.97%, the Nasdaq added 0.65% and the Dow Jones Industrial Average spiked 1.3%. Before Friday's pop, all major indices were down more than 5% since Thursday, Oct. 9, with the S&P 500 and Nasdaq at one point nearing correction territory.
"We have so far only fallen around 9.75% as measured from the all-time high to the Wednesday low," wrote Raymond James' Jeffrey Saut in a note. "With the proximity of this highly discussed retracement so near, the market may feel it necessary to at least tag the 1817 level to complete the overdue 10% correction, but the April lows around 1815 sit just below that point, too, and should offer additional support."
Stronger earnings reports have also helped to distract Wall Street from fears of sluggish global demand and panic surrounding the spread of Ebola. 
"The earnings season is coming along beautifully," Phil Orlando, chief market strategist at Federated Investors, told CNBC. "No one is talking down the next quarter or next year based on currency." Investors had feared dampening global outlook could harm U.S. businesses which do extensive business in overseas markets. 
Of the 70 S&P 500 companies that have reported earnings this quarter, 70% have beat analysts' estimates, according to S&P Capital IQ. Next week, 127 companies are due to report, including Apple (AAPL) - Get Apple Inc. (AAPL) Report , Chipotle (CMG) - Get Chipotle Mexican Grill, Inc. Report and IBM (IBM) - Get International Business Machines (IBM) Report . 
Textron (TXT) - Get Textron Inc. Report shares were the best performers on the S&P 500, up 9.4%, after third-quarter net income beat estimates by a nickel. The aviation manufacturer reported revenue 17.2% higher to $3.4 billion. 
Morgan Stanley (MS) - Get Morgan Stanley (MS) Report shares were up 1.8% after the bank reported quarterly net income of 77 cents a share, 23 cents higher than consensus. Revenue spiked 7.4% to $8.7 billion.
General Electric's (GE) - Get General Electric Company (GE) Report third-quarter earnings topped analysts' expectations. The stock was the best performer of the Dow, rising 2.3%.
SunEdison (SUNE) was spiking after considering building a $2 billion factory in China with capacity to produce 20,000 to 30,000 metric tons a year of polysilicon. Shares were up 7.1%.
Advanced Micro Devices (AMD) - Get Advanced Micro Devices, Inc. Report was shrugging off weak guidance, climbing 3.2% over Friday's session. The company warned of a 13% quarter-on-quarter revenue drop in its fourth quarter and disclosed plans to cut 7% of its work force.
--Written by Keris Alison Lahiff in New York.