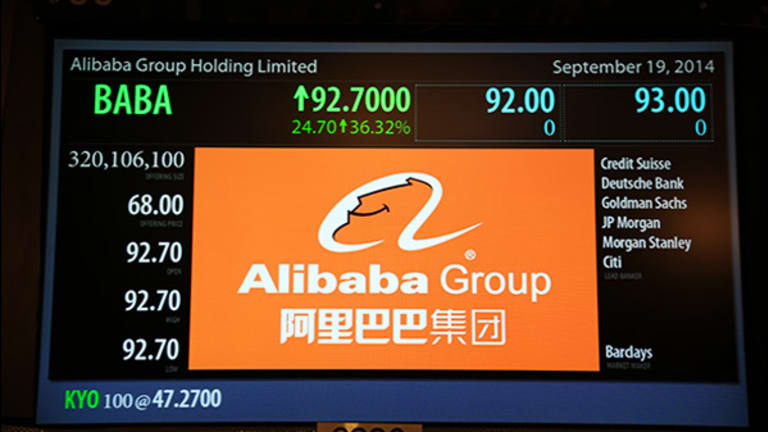 Stock Market Today: Dow Ends at Record as Alibaba Thrills
U.S. stock indices mostly end higher on Friday, with the Dow finishing at a record.
U.S. stock indices mostly end higher on Friday, with the Dow finishing at a record.
NEW YORK (TheStreet) -- U.S. stock markets mostly finished higher Friday with the Dow ending at a record and booking a weekly gain as Alibaba (BABA) - Get Report shined in its IPO debut.
The Dow Jones Industrial AverageI:DJI  closed 0.08% higher at 17,279.74. The S&P 500I:GSPC  fluctuated between gains and losses before closing 0.05% lower at 2,010.40 while the NasdaqI:IXIC fell 0.3% to 4,579.79.
Alibaba began trading at 11:53 a.m. EDT on the New York Stock Exchange after the e-commerce giant's initial public offering on Thursday was priced at $68 a share, the top of the expected price range. The IPO values Alibaba at about $168 billion, which is bigger than the current market value of companies such as Amazon (AMZN) - Get Report , Cisco (CSCO) - Get Report  and eBay (EBAY) - Get Report .
Alibaba debuted on Wall Street at $92.70 a share in the largest IPO ever with market capitalization at $227 billion. Shares of Alibaba closed up 38.07% to $93.89 from its IPO price on its first day.
Chief market analyst Andrew Wilkinson at Interactive Brokers said all eyes today were firmly fixed on the Alibaba IPO and how much of a pop it would get at the open. He added, "There was little fresh economic data to derail the recent bullish run and investors were encouraged to riskier bets this week after the Fed signaled it was in no hurry to raise interest rates and the favorable 'no' vote among Scottish voters. It remains difficult to see what catalyst will suddenly undermine investors' enthusiasm, especially when government bond yields remain so low."
European stock indices rose on Friday after a strong day of trading in Asia and as Scotland rejected independence from the rest of the U.K. The Scots voted about 55% to 45% to stay with the United Kingdom but the Scottish parliament will receive significant devolved powers from Westminster as a result of the referendum. The FTSE 100 closed up 0.27% to 6,837.92 and the pound fell 0.59% to 1.62977 vs. the dollar after an initial surge on Scotland's "no" vote. In Frankfurt, the DAX closed up 0.01% to 9,799.26.
In China, news that Alibaba Group had raised $21.8 billion galvanized indices.
In other top corporate headlines on Friday, SAP (SAP) - Get Report , the business software maker from Germany, said it would buy Concur Technologies (CNQR) , a maker of travel and expense management software, for $129 a share, or about $7.36 billion. Concur surged 19.02% to $126.82 and SAP fell 3.38% to $3.38.
Shares of Yahoo! (YHOO)  closed down 1.15% to $40.93 on Friday after Alibaba (BABA) - Get Report made its debut.
Home Depot (HD) - Get Report said that a data breach that lasted for months at its stores in the U.S. and Canada affected 56 million debit and credit cards, far more than a pre-Christmas 2013 attack on Target (TGT) - Get Report customers. Home Depot shares closed 0.25% to $92.34.
The SPDR Gold Trust Gold (GLD) - Get Report  slid 0.69% to $117.09 in its third weekly loss, while United States Oil Fund (USO) - Get Report  declined 0.05% to $34.57.
The Conference Board's leading economic index was up 0.2% in August compared to the consensus estimate of a 0.4% gain.
-- Kurumi Fukushima in New York