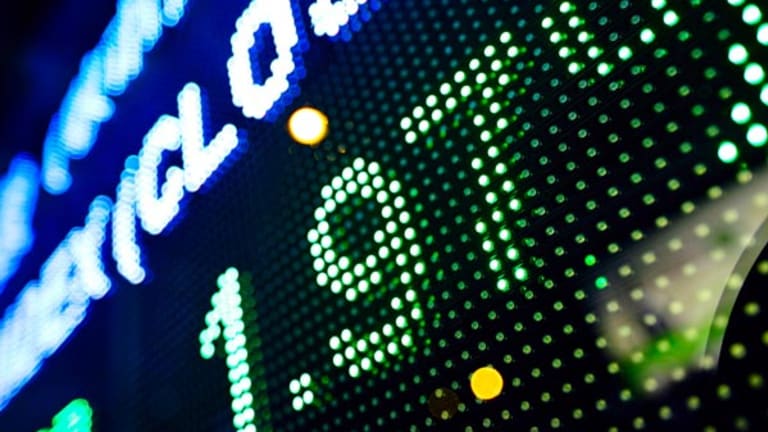 Stock Market Today: S&P 500 Scores Record High as Global Markets Rally
U.S. stocks rise after inflation picks up at the producer level in October and as global markets surge.
NEW YORK (TheStreet) -- Cheers all around for the S&P 500 which scored a new record high on Tuesday as global markets rallied, U.S. homebuilder confidence hit a nine-year high and oil prices continued to slide. The benchmark index surged 0.4% to a new intraday record high of 2,049.19 before settling 0.27% higher.
The Dow Jones Industrial Average was up 0.11% and the Nasdaq recovered from Monday's poor performance, adding 0.45%.
Global markets were making big moves on Tuesday, led by Japan's Nikkei which spiked more than 2% ahead of Prime Minister Shinzo Abe's call for snap elections and an expected delay in an unpopular sales tax increase to 2017. A day earlier, the world's third-largest economy unexpectedly dipped into recession in its third quarter, taking the Nikkei down 3%.
European markets were higher after Germany's confidence indicator, the ZEW survey, showed an increase in sentiment in November, the first positive result for the year.
"The recent growth figures for the euro area suggest that the economy is stabilizing," said ZEW President Clemens Fuest in a release. "However, the economic environment remains fragile, not least due to ongoing geopolitical tensions."
Stateside, the NAHB housing market index for November spiked to a reading of 58, above economists' estimates for a reading of 55, marking the fifth consecutive month above 50. Builder confidence increased in all regions but the Midwest.
U.S. producer prices increased 0.2% month on month in October. Excluding food and energy, the "core" Producer Price Index rose as high as 0.4%. Forecasts called for a 0.1% decline in overall PPI and a 0.1% increase in "core" prices.
Crude oil prices continued to slide. The commodity has been hit hard, dropping around 25% since summer as supply far outstripped demand. West Texas Intermediate crude fell 1.3% to $74.68 a barrel on Tuesday. Economists hope the falling prices in gasoline will translate to higher consumer spending in other areas of the economy.
Earnings were once again in focus as major retailers issued quarterly reports. Urban Outfitters (URBN) - Get Report was tumbling more than 7% after missing profit estimates while comparable sales at its flagship brand slid 7%.
Home-improvement retailer Home Depot (HD) - Get Report was down 1%, though earnings beat forecasts by 2 cents a share. Sales guidance for 2014 of 4.8% growth was restated.
TJX (TJX) - Get Report slipped more than 2% after cutting back on its full-year earnings guidance. Comparable-store sales in its third quarter rose 2%.
SunEdison (SUNE) and TerraForm Power (TERP) - Get Report were gaining after announcing a joint venture to purchase U.S. wind energy developer First Wind for $2.4 billion. SunEdison surged more than 24% and TerraForm spiked 22%.
Finland's Nokia (NOK) - Get Report was nearly 4% higher after launching a 7.9-inch Android tablet to rival Apple's (AAPL) - Get Report iPad line.
Himax Technologies (HIMX) - Get Report slipped more than 5% after receiving a downgrade to "perform" from Oppenheimer following a weak third quarter and light guidance.
--Written by Keris Alison Lahiff in New York.