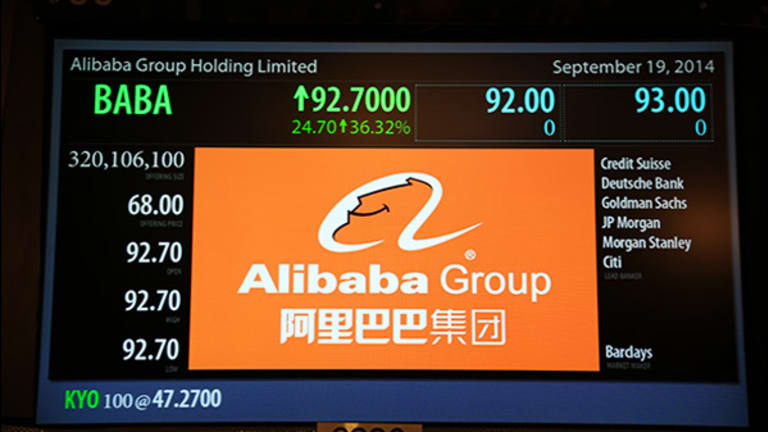 Stock Market Today: Stocks Retreat From Records Following Alibaba Debut
U.S. stock markets pulled back from record highs in afternoon trades after Alibaba debuted at $92.70 a share.
U.S. stock markets pulled back from record highs in afternoon trades after Alibaba debuted at $92.70 a share.
NEW YORK (TheStreet) -- U.S. stock markets turned mixed in midday trading Friday as Alibaba (BABA) - Get Report  made its debut on Wall Street at $92.70 a share in the largest IPO ever this morning.
The stock traded as high as $99.70 before paring gains. Most recently the stock was trading at $92.57.
Alibaba began trading at 11:53 a.m. EDT on the New York Stock Exchange after the e-commerce giant's initial public offering on Thursday was priced at $68 a share, the top of the expected price range. The IPO values Alibaba at about $168 billion, which is bigger than the current market value of companies such as Amazon (AMZN) - Get Report , Cisco (CSCO) - Get Report , and eBay (EBAY) - Get Report . 
Alibaba's market capitalization is now at $222 billion, making it one of the largest U.S.-listed companies, with a larger market capitalization than Amazon. Shares of Alibaba were up 35.1% from its IPO price.
Watch the video below for a closer look at how U.S. markets are doing in midday trading Friday:

WATCH: More market update videos on TheStreet TV
The Dow Jones Industrial AverageI:DJI was up 0.1%, while the S&P 500I:GSPC  was down 0.05% and the NasdaqI:IXIC   fell 0.39%.
"I have a dream that in the next 15 years, the world changes because of us," Alibaba's Executive Chairman Jack Ma told CNBC as the markets awaited for the shares to begin trading. He said the company will use proceeds to "make sure that other people get rich."
The Dow and S&P closed at record highs on Thursday after the Federal Reserve eased concerns that the central bank could initiate its first rate hike before the summer. The markets had also been awaiting the results of a Scottish independence vote.
BTIG's chief strategist Dan Greenhaus raised his year-end price target for the S&P 500 to 2,075-2,100, up from his earlier target of about 1,980, and increased his 2015 EPS estimate to $125. This would imply a price appreciation of 13.6% for 2014, leaving the index trading at 16.8x his 2015 EPS estimate.
"We have been unapologetically bullish for some time now, but as we approach the year's final quarter, some 'catch-up' is necessary," said Greenhaus. "Given the underperformance of so many and the seasonal bias that dominates the winter months, the bias remains to the upside for equities in the coming three months. However, we temper this enthusiasm by noting the Federal Reserve's shift from policy accommodation to policy tightening is likely to lead to equity weakness, no matter how temporary it may be."
European stock indices rose on Friday after a strong day of trading in Asia and as Scotland rejected independence from the rest of the U.K. The Scots voted about 55% to 45% to stay with the United Kingdom but the Scottish parliament will receive significant devolved powers from Westminster as a result of the referendum. The FTSE 100 rallied 0.27% and the pound was down 0.53% vs. the dollar after an initial surge on Scotland's "no" vote. In Frankfurt, the DAX was up 0.01%.
In China, news that Alibaba Group had raised $21.8 billion galvanized indices.
In other top corporate headlines on Friday, Oracle (ORCL) - Get Report  CEO Larry Ellison is stepping aside as CEO of the business software maker after 37 years at the helm. Oracle shares were down 4.08%.
Shares of Yahoo! (YHOO)  were down 3.53% on Friday after Alibaba (BABA) - Get Report  made its debut. 
SAP (SAP) - Get Report , the business software maker from Germany, said it would buy Concur Technologies (CNQR) , a maker of travel and expense management software, for $129 a share, or about $7.36 billion. Concur surged 17.96% and SAP fell 4.01%.
Home Depot (HD) - Get Report said a data breach that lasted for months at its stores in the U.S. and Canada affected 56 million debit and credit cards, far more than a pre-Christmas 2013 attack on Target (TGT) - Get Report customers. Home Depot shares were up 0.48%.
The drug maker GlaxoSmithKline (GSK) - Get Report  faces $491.5 million in fines after its subsidiary was found guilty of bribery in China. The stock was up 0.69%.
Clorox (CLX) - Get Report announced late Thursday that its CEO Donald Knauss is stepping down and will be replaced by chief operating officer Benno Dorer starting Nov. 20.
The SPDR Gold Trust Gold (GLD) - Get Report  was sliding 0.78% toward a third weekly loss, while United States Oil Fund (USO) - Get Report also declined 0.69%.
The Conference Board's leading economic index was up 0.2% in August compared to the consensus estimate of a 0.4% gain.
-- By Andrea Tse and Kurumi Fukushima in New York