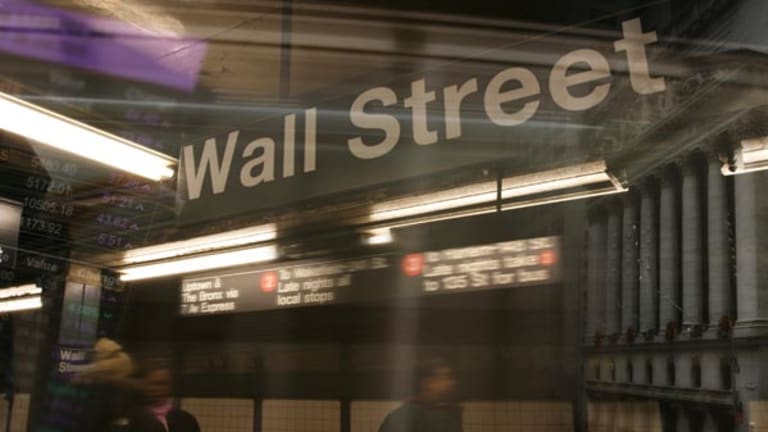 Stock Market Today: Dow Falls Further on Speculation of Fed Rate Hike
The Dow is now down for the sixth time in the last seven sessions on gloomy global economic forecasts.
The Dow is now down for the sixth time in the last seven sessions on gloomy global economic forecasts.
NEW YORK (TheStreet) -- U.S. stocks continued their descent on Tuesday, with the DowIndustrial AverageI:DJIdown for the sixth time in the last seven sessions. 
The market was jittery as clipped global growth estimates highlighted strength at home and supported the case for the Federal Reserve to hike interest rates sooner than expected.
The S&P 500I:GSPC was 0.85% lower in afternoon trading. The Dow dropped over 185 points, or 1.1%. The NasdaqI:IXIC fell 0.96%.
Watch the video below for a closer look at how U.S. markets are doing in midday trading Tuesday:
The International Monetary Fund pulled back on its macroeconomic growth forecasts, forecasting the global economy to expand 3.3%, slightly lower than a 3.4% increase anticipated in July. Full-year 2015 growth estimates were revised to 3.8% from a previous 4%.
Another report indicated stagnating growth in Germany. In Europe's largest economy, industrial output fell 4% in August compared to an expected 1.5% drop. Concerns were mounting Germany could be headed into recession after data a day earlier showed the largest decline in factory orders since 2009.
It's a different story stateside where U.S. economic indicators continue to paint a picture of an economy bouncing back from the depths of the turn-of-the-decade recession. Job openings increased to 4.835 million as of the last business day of August, up from 4.673 million a month earlier, according to the Labor Department's JOLTS report. The latest data on the U.S. jobs market supports a sunny snapshot given on Friday of U.S. unemployment at its lowest level in six years.
"The market is just a little uneasy with the health and vigor that was recently displayed from the economy and the implications that it could mean the Federal Reserve is actually on a path towards tightening mid-year 2015," explained Robert Keiser, vice president of Global Markets Intelligence, in a phone interview.
"If the recent trend of better-than-expected data actually holds up ... tightening could come potentially even sooner if the economy starts to gather momentum," he added.
Traders will have the chance to tap into the Federal Reserve's state of mind after minutes of the Federal Open Market Commitee from Sept. 17 are released Wednesday afternoon.
By market close Wednesday, Wall Street will turn its focus to the unofficial kickoff to earnings season with Alcoa's (AA) - Get Report third-quarter report. Analysts anticipate third-quarter corporate earnings growth as a whole could increase more than 10%, according to S&P Capital IQ. Should that happen, it would mark the first consecutive quarters of double-digit growth since 2011.
In company news, TheAssociated Press reported that Walmart (WMT) - Get Report plans to eliminate health insurance coverage for employees who work less than an average of 30 hours a week, or about 5% of its total part-time workforce, starting on Jan. 1. The aim is to help control rising healthcare costs. Walmart was trading slightly higher.
Sodastream (SODA) - Get Report shares were in free fall, down 21.07%, after management warned of a 13% drop in revenue this quarter. The homemade soda machine company has struggled with lower demand after Keurig (GMCR) entered the space via a partnership withCoca-Cola (KO) - Get Report earlier this year.
Hewlett-Packard (HPQ) - Get Report slid 2.22% as investors continued to digest the negative ratings watch actions of Fitch, Standard & Poor's and Moody's, taken on
their uncertainties surrounding the company's decision to split into two.
Rio Tinto (RIO) - Get Report fell 3.17% after revealing that it had turned down a merger proposal over the summer by smaller peer Glencore. The combination would have resulted in a $160 billion mining and commodities behemoth. Glencore confirmed in press statement on Tuesday that it is no longer actively considering any possible deal with Rio Tinto.
Storage solutions retailer The Container Store's (TCS) - Get Report third quarter augured poorly for the earnings season ahead after reporting weaker-than-expected results Monday evening. The company expects full-year earnings as high as 46 cents a share, short previous forecasts of 54 cents a share. Shares were plummeting 22.75%.
Yum! Brands (YUM) - Get Report will report third quarter earnings after the bell. Expectations have been tempered after the owner of KFC and Pizza Hut warned of same-restaurant sales in China down 13% over the quarter following a food supplier scandal in July.
-- Written by Keris Alison Lahiff in New York.