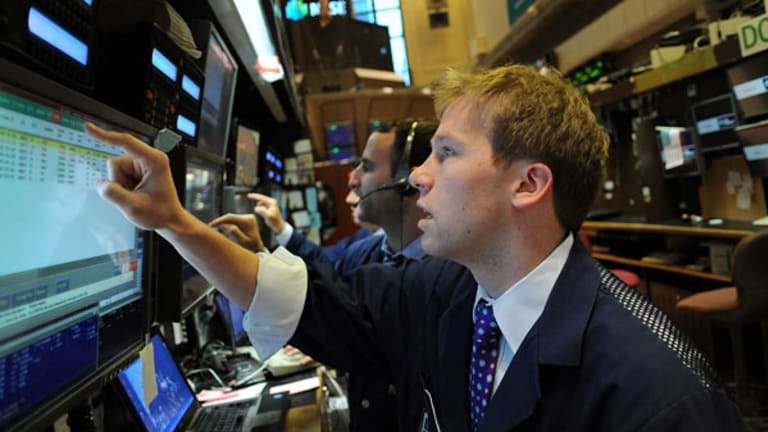 Stock Market Today: Stocks End in Worst Shape Since July
U.S. stock markets nosedived Thursday as equities threatened to continue a broad-based selloff in the upcoming trading session.
NEW YORK (TheStreet) -- September has historically been weak in terms of market performance and investors seem determined to play that out in the month's final days, giving the benchmark U.S. indices their biggest down day since July 31.
U.S. stock markets nosedived Thursday as investors reacted to news of bombings in the Middle East and heightened terrorist threat levels on U.S. and French soil. That negativity only exacerbated an end-of-quarter sell-off already in progress. Trading volume was thin as a result of the Jewish holidays. 
The Dow Jones Industrial Average dropped 1.54% or more than 250 points, to 16,945.80. The S&P 500undefined gave up 1.62% to 1,965.99. The Nasdaqundefined surrendered 1.94% to 4,466.75. The rotation out of stocks was accompanied by a 17/32 surge in the 10-year note.
Watch the video below for a closer look at what sparked the market selloff Thursday:
It was a typical selling-begetting-selling situation that could very well extend into Friday should U.S. second-quarter gross domestic product estimates and consumer index figures for September offer no surprises. Markets could, of course, still could swing higher should the numbers come in unexpectedly strong.
"When markets are moving one direction and things stay dicey in the short-run, the market should continue to go south," said John Buckingham, chief investment officer for the AFAM Capital.
That being said, Buckingham, a long-only investor, remains fully committed to U.S. equities, pointing to favorable valuations, expectations of strong corporate earnings continuing into next year and the historical guarantees of rewards for long-term investors of U.S. stocks. Buckingham said Thursday's pullback was expected, given that periodic breathers have been needed after the markets essentially shot straight up since Oct. 2011.
The S&P is currently down nearly 3% from its peak all-time high peak of 2,019.26 reached on Sept. 19 -- a "normal" fluctuation, said the investment manager. Thursday's sell-off presented opportunities, he noted.
"If things go on sale, you should be attracted to it, not repulsed by it," Buckingham said.
All 10 sectors of the S&P 500 were in the red, with most posting a drop of more than 1%, and the heaviest losses seen in the S&P 500 information technology sector as both Apple (AAPL) and Yahoo! (YHOO) tumbled. The iPhone maker stumbled 3.81% after pulling its iOS 8.0.1 update mere hours after releasing it. Yahoo! slipped 2.33% after revealing that it agreed to a one-year lock-up period that restricts the sale of the remaining ordinary shares it owns in Alibaba (BABA) . Microsoft (MSFT)  dipped 2.21% and Intel (INTC)  declined 1.76%.
In individual stock reports, travel services company Travelport Worldwide (TVPT) jumped 2.5%. The initial public offering of the stock was priced at $16 a share late Wednesday. U.S. Bancorp (USB) fell 1.64% after the U.S. Office of the Comptroller of the Currency and the Consumer Financial Protection Bureau said the bank must pay $9 million in fines and $47.9 million in compensation to customers who were unfairly billed for identity theft protection products.
-- By Andrea Tse and Kurumi Fukushima in New York