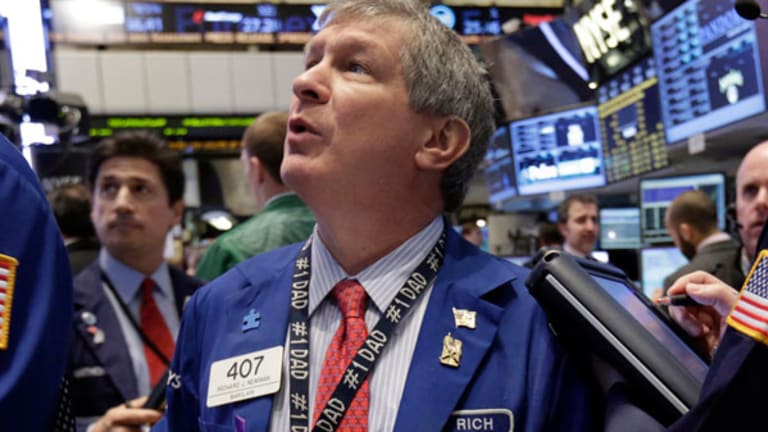 NEW YORK (TheStreet) -- Geopolitics have been shoved to the backburner with the spotlight for U.S. investors now on Federal Reserve Chief Janet Yellen and the U.S. central bank.
Stocks were mooted early Wednesday afternoon following the sharp run-up of the last two sessions, with investors awaiting any potential surprises in the Fed minutes to be released at 2 p.m. EDT.
The Dow Jones Industrial Average ticked up 0.17% to 16,948.81. The S&P 500 was up 0.1% to 1,983.54, and the Nasdaq was up 0.03% to 4,528.96.
Despite essentially directionless trading since the opening bell and slightly negative futures, the mood of the market remains cautiously bullish.
"The prevailing momentum that has built into trading over the last five sessions is evident," said Keith Bliss, senior vice president at brokerage Cuttone & Co., who expects the S&P to reach new all-time highs based on a positive momentum indicator the he picked up on Tuesday evening.
The Fed will release the minutes of its July 29-30 meeting on Wednesday, preceding the annual symposium in Jackson Hole, Wyo., of global central bankers that will carry on for the rest of the week. A key question that the minutes might answer is whether Yellen faced increased pressure from the more hawkish officials to begin raising interest rates shortly after QE wraps up in October vs. the more dovish officials who are not worried about "falling behind the curve" amid concerns over continued labor market slack and a lack of wage growth. Yellen has a speech planned for Friday at Jackson Hole.
In top corporate headlines Wednesday,Target (TGT) - Get Target Corporation Report shares gained more than 1% to $59.90 despite a disappointing quarter and a full-year earnings warning. 
Lowe's (LOW) - Get Lowe's Companies, Inc. (LOW) Report  was flat at $51.58 after cutting its full-year sales guidance as it fell short of compensating for sales lost during the unusually harsh U.S. winter.
International Rectifier (IRF) was surging 47.18% to $39.09 on the announcement that it is being bought for $3 billion in cash by Germany's largest chipmaker, Infineon Technologies.

Hewlett-Packard (HPQ) - Get HP Inc. (HPQ) Report is expected by Wall Street on Wednesday to report fiscal third-quarter earnings of 89 cents a share on revenue of $27 billion. HP reports after the close of trading on Wednesday. The stock was down 0.56% to $35.28.
--By Andrea Tse in New York