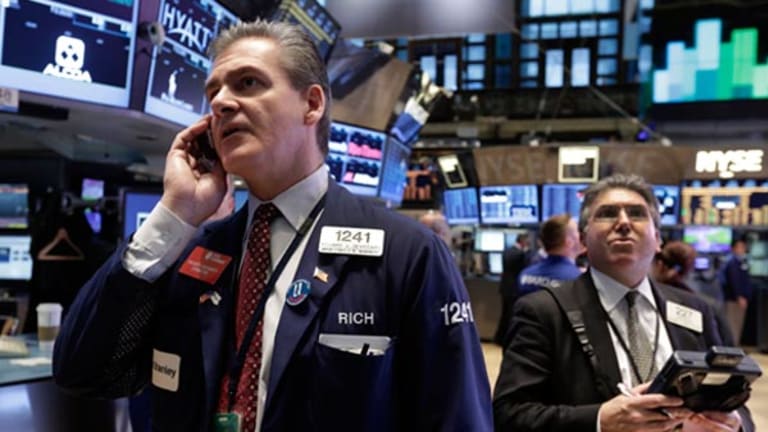 Stock Market Today: Stocks Climb on Series of Deals, Buybacks, Takeover Bids
U.S. stock indices are marching higher Wednesday as Time Warner soars on reports that it's being courted by 21st Century Fox.
NEW YORK (TheStreet) -- U.S. stock markets were marching higher Wednesday as the first acceleration of Chinese economic growth in the past three quarters bolstered international markets and Time Warner (TWX) soared after rejecting an $80 billion takeover bid by Rupert Murdoch's 21st Century Fox (FOX) - Get Report.
The Dow Jones Industrial Average was rising 0.33% to 17,117.26. The S&P 500 was gaining 0.3% to 1,979.15. The Nasdaq was adding on 0.3% to 4,429.83.
Time Warner shares were jumping more than 15% to $82.07 as Time Warner rejected Fox's offer to combine the two New York-based entertainment conglomerates.
July 16 Premarket Briefing: 10 Things You Should Know
Stock Market Today: Social Media, Biotech Suffer as Janet Yellen Shares Concerns on Valuation
Time Warner Skyrockets as 21st Century Fox Confirms Rejected Bid
IBM (IBM) - Get Report shares were tacking on more than 2.3% and Apple (AAPL) - Get Report was popping more than 1% after Big Blue signed an exclusive deal with Apple aimed at bringing a slew of new business apps to the mobile market.
China's economic growth numbers were garnering much attention with a 7.5% gain in GDP, highlighting that the government's stimulus strategies are working.
In the U.S., the Producer Price Index for June rose 0.4% vs. the expected 0.2%. Industrial production increased by 0.2% in June, while capacity utilization remained at 79.1%. The NAHB Housing Market Index showed a 4-point bump to 53 in July, higher than analysts' estimates of 51. The Fed's Beige Book for July will be released at 2 p.m.
In her second day of semiannual monetary policy testimony to Congress, Federal Reserve Chair Janet Yellen elaborated on her remarks Tuesday that some sectors of the markets, notably biotech and social media, were overvalued.
"We understand that maintaining interest rates at low levels for a long time can incent reach-for-yield or asset bubbles, so we are monitoring this very closely, and that's in part why I referenced some of these trends in my opening testimony," she said.
Bank of America (BAC) - Get Report was retreating more than 2% after reporting a 43% drop in second-quarter net income to $2.3 billion, driven down by a decline in mortgage revenue and a surge in legal costs tied to the sale of mortgage-backed securities during the financial crisis.
Stocks drawing attention Wednesday also include Intel (INTC) - Get Report, Yahoo! (YHOO) and Hershey (HSY) - Get Report. Hershey said it's raising prices for most of its products about 8%, on average. Yahoo! agreed to hold onto more Alibaba shares, once the e-commerce giant goes public on the New York Stock Exchange in what is expected to be the largest-ever initial public offering in the United States. Intel, the chip giant, said second-quarter earnings jumped 40%, topping Wall Street forecasts, as revenue rose 8% to $13.83 billion.
-- Written by Andrea Tse in New York
>Contact by Email
IBM, Apple Just Made an Historic Announcement for its Business Customers