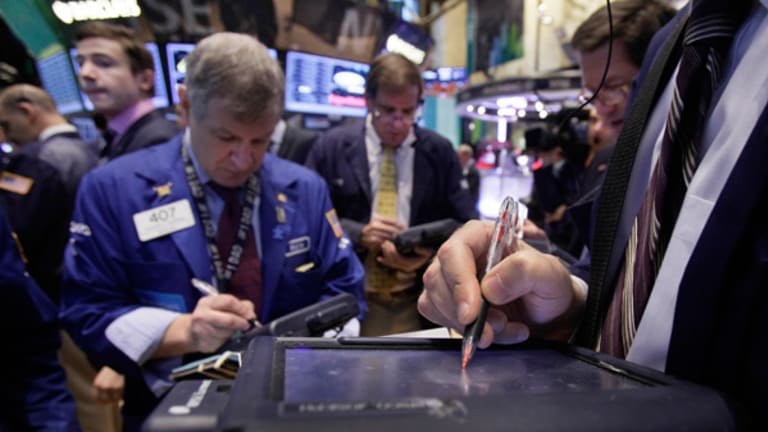 Stock Market Today: Stocks Climb Even as McDonald's, Coca-Cola Miss Estimates
U.S stocks are resuming their climb Tuesday despite mixed global economic data and a mixed basket of earnings reports.
U.S stocks are resuming their climb Tuesday despite mixed global economic data and a mixed basket of earnings reports.
NEW YORK (TheStreet) -- U.S. stocks were resuming their climb Tuesday despite expectations of Federal Reserve tightening in the face of geopolitical uncertainties, the mixed global economic data of recent months, and a mixed basket of earnings reports.
The Dow Jones Industrial Average was rising 0.4% to 17,122.77. The S&P 500 was up 0.58% to 1,985.04. The Nasdaq was gaining 0.82% to 4,460.81.
The remains of the 298 victims of the Malaysian Airlines crash in eastern Ukraine have been moved into government territory, while pro-Russian rebels, accused of downing the jet, have surrendered the black box recording to Malaysian authorities. The moves have calmed markets somewhat.  
July 22 Premarket Briefing: 10 Things You Should Know
Stock Market Today: Markets Recover From Session Lows, Geopolitical Wariness Remains
U.S. stock markets closed lower Monday but recovered from deep losses suffered over the morning session, a product of geopolitical tensions in Ukraine and the Gaza Strip pulling markets lower.
While bulls continue to point to the resiliency of U.S. stocks as the S&P 500 persistently makes new highs, short-term bears such as Michael Pento, president and founder of Pento Portfolio Strategies, are expecting the long-awaited correction of 10% or more to be triggered finally by the fourth quarter.
Pento explained that up until now the Fed's quantitative easing program forced an increase in the money supply that had nowhere else to go except into equities and real estate given that interest rates have been too low to offer any real competition. Therefore, geopolitical events and bad economic data didn't produce the usual negative effects on stock prices.
"The ending of QE in October should produce a selloff in the magnitude of 20% plus," Pento forecast. "QE1 one ended with a 13% drop and QE2 ended with a 17% drop in the S&P 500. I don't see why it would be different this time around."
Pento predicted that the Fed will return to QE next year and also move the interest rate on excess reserves to below zero, which will cause the asset bubbles in real estate and stocks to expand into record territory.
A spate of earnings reports arrived Tuesday morning, including McDonald's (MCD) - Get Report, Coca-Cola (KO) - Get Report, Verizon (VZ) - Get Report, DuPont (DD) - Get Report and Netflix (NFLX) - Get Report.
McDonald's was down 1.6% to $96.04 after missing second-quarter earnings estimates by 4 cents at $1.40 a share and as U.S. same-stores sales declined. TheStreet's Julia Sun has details on McDonald's quarterly report:

WATCH: More market update videos on TheStreet TV
Coca-Cola was off 2.9% to $41.19 after net income declined by 3% to $2.6 billion and revenue dipped 1% to a less-than-expected $12.57 billion. Verizon was up only incrementally to $50.80 after posting second-quarter adjusted earnings of 91 cents a share on revenue of $31.48 billion. DuPont slipped marginally to $65.33 after posting in-line earnings per share of $1.17. Netflix fell 1.58% to $444.79 after announcing a second-quarter profit of $1.15 a share, a penny above analysts' expectations. Revenue rose 25% to $1.3 billion, matching estimates.

Microsoft (MSFT) - Get Report is expected by analysts to post earnings on Tuesday of 60 cents a share in its fiscal fourth quarter on revenue of $23 billion. Apple (AAPL) - Get Report is estimated by Wall Street to report fiscal third-quarter earnings of $1.23 a share on revenue of $37.99 billion.
Corporate headlines Tuesday also featured Yahoo! (YHOO) , Starbucks (SBUX) - Get Report and Burger King (BKW) .
Yahoo! reached a deal to buy Flurry, a startup that helps other programmers build better mobile applications and craft marketing campaigns for smartphones and tablets. A meat scandal in China engulfed Starbucks and Burger King on Tuesday and spread to Japan where McDonald's said the Chinese supplier accused of selling expired beef and chicken had provided 20% of the meat for its chicken nuggets.
The headline consumer price index increased by another 0.3% in June, the third consecutive month of at least 0.3% readings, keeping some investors on the lookout for the beginning of bigger-than-expected interest rates hikes in March. The FHFA purchase-only House Price Index rose 0.4% in May, though the pace of appreciation appears to be slowing; the FHFA index is now up 5.5% year over year but down from the 8.5% peak recorded last July.
U.S. home resales spiked in the second quarter with sales of existing homes gaining 2.6% in June to 5.04 million, higher than estimates of 4.99 million. June growth was at its fast pace in eight months. 
-- Written by Andrea Tse and Keris Alison Lahiff in New York
>Contact by Email