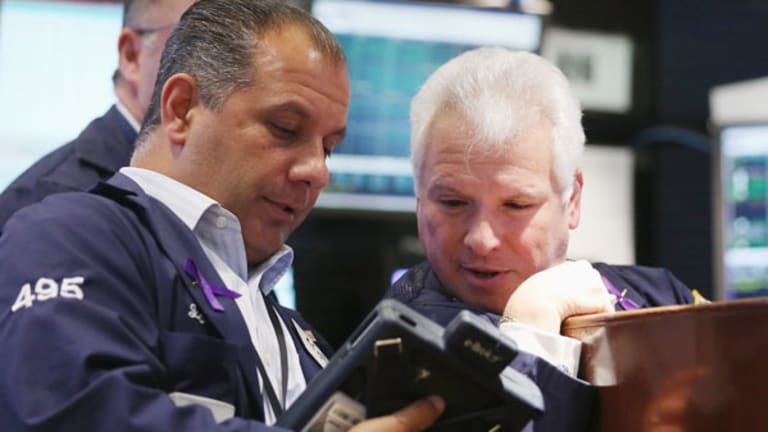 Stock Market Today: S&P Closes Above 2,000 for Second Day
U.S. stock indices close above 2,000 for the second day after flitting in and out of positive territory throughout Wednesday's session on a lack new economic catalysts.
NEW YORK (TheStreet) -- After flitting in and out of positive territory throughout Wednesday's entire trading session, the S&P 500undefined  ended almost where it was after Tuesday's closing -- just above 2,000. The markets were trading indecisively throughout the day, catching their breath in the absence of any new economic catalysts.
Watch the video below to see how U.S. markets ended the trading day Wednesday:

WATCH: More market update videos on TheStreet TV
The Dow Jones Industrial Average I:DJI  closed up 0.09% to 17,122.01. The S&P closed flat at 2,000.12. The NasdaqI:IXIC fell 0.02% to 4,569.62.
Market-watchers are generally convinced that equities will continue to grind higher thanks to the reassurances of more years of ultra-low interest rates in the U.S., accommodative policy in Europe, and improving corporate performances with help from the Federal Reserve. Stocks, though, also are risingincreasingly on their own merits.
"Earnings are just getting better," said Karyn Cavanaugh, senior market strategist with Voya Investment Management. "The Fed has helped, but companies going out there and growing their profits has been the catalyst for the market."

Historical market statistics suggest a general trend higher after major psychological and technical breakthroughs are achieved. Chad Gassaway, an equities trader at Grace Trading, recently posted his study showing that the S&P 500 was, on average, positive almost 79% of the time two weeks after its first close above a big round number, 89% of the time three months after, and 82% of the time one year later.
With the S&P also just coming off a 4% pullback, Raymond James' chief investment strategist Jeffrey Saut added that the average gain following at least a 4% pullback since the last 10% correction in 2012 has been 12.13%. As of Tuesday's high, the market has rallied only about 5%.
"We may still have some room to run if history decides to rhyme this time," said Saut.
Companies grabbing the headlines Wednesday include Tiffany (TIF) - Get Tiffany & Co. Report and Express (EXPR) - Get Express, Inc. Report following their solid earnings results. Tiffany popped 0.97% to $101.75 after the luxury jewelry retailer posted better-than-expected second-quarter earnings of 96 cents and raised its full-year earnings outlook to $4.20 to $4.30 a share. Express surged 12.75% to $16.45 after beating earnings expectations and hiking its full-year outlook to between 85 cents and 95 cents a share.
Elizabeth Arden (RDEN) jumped 2.95% to $17.79 after the beauty products company said it plans to review a tender offer from affiliates of Rhone Capital.
In commodities trades, the United States Oil Fund LP ETF (USO) - Get United States Oil Fund LP Report   fell 0.03% to $35.03. The SPDR Gold Trust ETF (GLD) - Get SPDR Gold Shares Report fell 0.02% to $123.33.
--By Andrea Tse in New York