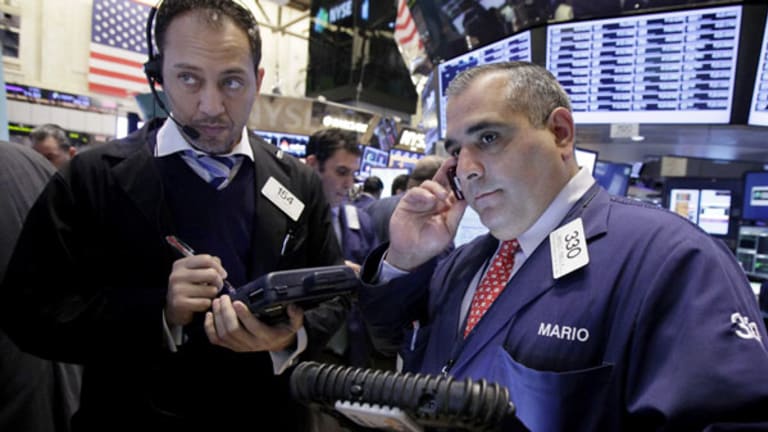 Stock Market Today: S&P Books Best August Since 2000 Despite Geopolitical Threats
U.S. markets closed just slightly higher on Friday, capping four straight weekly gains and their best August since 2000.
U.S. markets closed just slightly higher on Friday, capping four straight weekly gains and their best August since 2000.
NEW YORK (TheStreet) -- It was one of the slowest trading days of the year heading into the Labor Day weekend, but U.S. markets closed just slightly higher on Friday, capping four straight weekly gains and booking their best August since 2000. The close also marks the biggest monthly gain since February. 
The S&P 500I:GSPC  hit a new closing high. A continued flow of good economic data and speculation about European Central Bank stimulus both played bolstering roles in the markets relentless advance.
"It's amazing that with all the geopolitical tension in the world, the U.S. market was able to post its strongest August in 13 years, while the other 25 developed markets as a group were in the red. Speaks to the relative strength and stability of the U.S. system," said S&P Dow Jones Indices' senior index analyst, Howard Silverblatt.
TheStreet's Jill Malandrino takes a look at what we can expect in the shortened holiday week ahead:

WATCH: More market update videos on TheStreet TV |
The Dow Jones Industrial AverageI:DJI  rose 0.11% to 17,098.45. The S&P was up 0.33% to 2,003.37. The NasdaqI:IXIC ticked up 0.5% to 4,580.27. Despite the thin volume of 2.3 billion shares changing hands on the New York Stock Exchange and 1.3 billion shares on the Nasdaq, 184 companies made new 52-week highs vs. 10 making new lows.
Traders have been betting on renewed economic stimulus from the ECB in the coming weeks following weaker eurozone data. A month-on-month fall of 1.4% in German retail sales in July and continuing falls in Spain, coupled with wholesale price declines in France for industrial and food products, all point to a further decline in inflation. The flash reading of 0.3% for the eurozone consumer price index from Eurostat seemed to confirm that trend.
A spate of poor economic figures from Japan, which is still trying to pull itself out of its decade-long deflationary slump, added to the pressure for the eurozone bank to act before Europe enters a similar swoon. "If the ECB does refer to quantitative easing, that means more liquidity in the world markets as well. In retrospect we benefit from that in terms of easy money," said Peter Cardillo, chief market economist at Rockwell Global Capital.
Damping sentiment somewhat, the U.K. raised its terror threat level to "severe" in response to intensifying armed conflict in Syria and Iraq.
Generally upbeat U.S. economic numbers on Friday added to the positive surprises of Thursday's results. The final reading on the Reuters/University of Michigan consumer sentiment index for August provided an upward revision to 82.5, beating expectations of 80.2. Even though the latest consumer spending number disappointed, readings on consumer confidence keep improving. The Chicago PMI jumped to 64.3 in August from 52.6 in July. U.S. personal income rose 0.2% in July, slightly less than the consensus 0.3%, the Bureau of Economic Analysis reported before the market open. Consumer spending fell 0.1%.
U.S. stocks fell Thursday as investors fretted about renewed geopolitical risks after Ukraine President Petro Poroshenko's statement that Russia has invaded Ukraine.
In individual corporate news Friday, Johnson & Johnson (JNJ) - Get Report advanced 0.76% to $103.73 after the Wall Street Journal reported that the health care conglomerate plans to seek a buyer for Cordis, its business that makes medical devices including stents and catheters.
Tesla (TSLA) - Get Reporttacked on 2.21% to $269.70 after the electric carmaker partnered with China's No.2 mobile carrier China Unicom to build 400 charging stations in 120 cities across China. Big Lots (BIG) - Get Report was down 1.8% to $46.35 after reporting slightly lower-than-expected second-quarter revenue. Same-store sales increased 1.7%, in the middle of its guidance of a rise of 1% to 3%.
The Guggenheim CurrencyShares Euro Trust (FXE) - Get Report was down 0.36% to $129.54 and the Guggenheim CurrencyShares Japanese Yen Trust (FXY) - Get Report was off 0.36% to $93.61 on expectations of further stimulus measures by the Bank of Japan and ECB and some anticipation that the Federal Reserve will raise interest rates sooner than expected.
--By Andrea Tse in New York