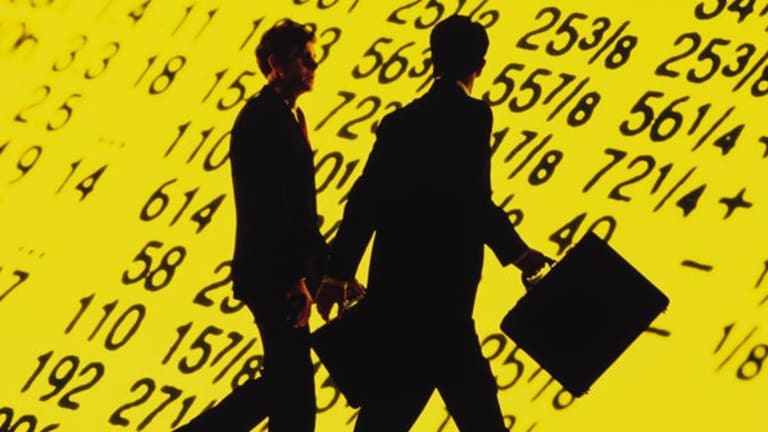 NEW YORK (TheStreet) -- News? What news? After a brief rally following the release of the Federal Reserve's October minutes, stocks fell back as investors concluded that the central bank hadn't really signaled anything new about interest rate policy.
For Fed watchers, it was the same playbook from the past few months: inflation remains a concern, there's still bickering as to when the central bank should raise interest rates, and members promise to keep an eye out for curveballs from global markets.
"I don't think there were any surprises," Wells Fargo's chief fixed income strategist Brian Rehling said on a call. "There was no specific discussion about when the Fed might remove the 'considerable time' language, although it was mentioned but no hints as to if that will come at the next meeting and definitely no hints regarding when interest rates may begin to increase."
As for the all-important rate hike timetable, the Fed appeared comfortable with raising interest rates next year, given their bond-buying program has concluded. Some members argued for a removal of the "considerable time" range phrasing which has accompanied recent statements, noting that it would be "helpful to include new language in the Committee's forward guidance to clarify how the Committee's decision about when to begin the policy normalization process will depend on incoming information about the economy."
"Many participants observed the committee should remain attentive to evidence of a possible downward shift in longer-term inflation expectations," the statement read. "Some of them noted that if such an outcome occurred, it would be even more worrisome if growth faltered." Members said inflation was likely to edge lower in the short term, farther from the Fed's 2% target, though would pick up again in the medium term.
The Fed also said it predicted higher market volatility as Wall Street adjusts to policy normalization. "The trend is up, but it's going to be a bumpier ride than the last several years," Nuveen Asset Management's chief equity strategist Bob Doll told CNBC earlier. "The Fed had a lot to do with volatility. When there's ample and excess liquidity, it does dampen volatility." The Fed said it had ended its bond-buying program in its October policy statement.
Even though the S&P 500 settled 0.27% lower in the afternoon session, record highs were within its reach. "The stock market seems to be continuing to be supported by the economic data in general," Sterne Agee chief economist Lindsey Piegza said in a phone call. "It almost seems like the market is cherry-picking the data, finding the positive green shoots to suggest that the U.S. is on firmer footing." 
Like Tuesday, when the S&P 500 gradually made new intraday highs as momentum kept stocks grinding higher, Wednesday's session seemed characterized by the markets losing steam. "The sharp equity rally of the past month may be near its 2014 end with additional advances likely in 2015," Citibank analyst Tobias Levkovich wrote in a report earlier in the week. "While many seem to want the trade to continue rising, several data points suggest that the bulls might be too optimistic near term though the secular run has more upside in 2015 and beyond."
Earlier in the day, investors couldn't overlook an unexpected 2.8% decline in October housing starts to 1.01 million, leading markets to post modest losses. However, building permits (an indicator of future construction) jumped 4.8% to a 6.5-year high, a hint that the housing market recovery was still very much on track. Starts for single-family homes, which typically give a bigger economic boost than apartment dwellings, also increased for the second consecutive quarter.
Tech giants, in particular, were dragging on markets with Microsoft (MSFT) - Get Microsoft Corporation (MSFT) Report and Yahoo! (YHOO) leading the Nasdaq lower, dropping 1.3% and 1.6%, respectively, while software-as-a-service provider Salesforce.com (CRM) - Get salesforce.com, inc. Report tumbled 2.1% ahead of its earnings report after Wednesday's closing bell.
BlackBerryundefined shares were falling 4.7% after getting hit with a downgrade from Morgan Stanley. Analysts said the market is currently too optimistic on the company's turnaround. Morgan Stanley analysts also snipped 2015 earnings estimates for Tesla (TSLA) - Get Tesla Inc Report on the back of the delayed Model X launch. Shares of the electric-vehicle maker slid 4.1%.
Consumer names were among the best performers of the day. Lowe's (LOW) - Get Lowe's Companies, Inc. (LOW) Report added 5.5% after beating earnings estimates and lifting its full-year sales growth forecasts. Office-supplies retailer Staples (SPLS) was also higher, up nearly 10%, after posting a 9% increase in sales over its online platform.
Target (TGT) - Get Target Corporation Report was up 6.7% after beating profit forecasts and reporting a 1.2% increase in U.S. comparable-store sales. The retailer also said year-to-date costs for its 2013 data breach have amounted to $140 million. Total expenses of $248 million since its fourth quarter have been partially relieved by a $90 million insurance claim.
--Written by Keris Alison Lahiff in New York.