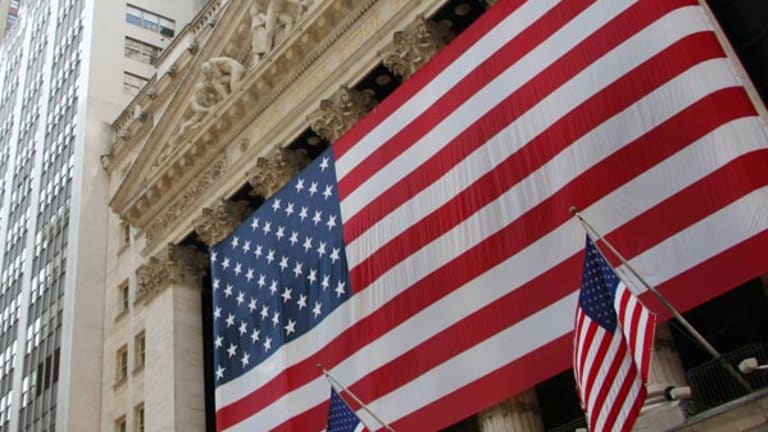 Stock Market Today: Small Gains For U.S. Stocks as Mergers Overshadow Global Anxieties
U.S. stock indices recoup losses sustained earlier in the day as merger news outweighs weaker-than-expected housing data and stricter Russia sanctions from the U.S. and European Union in coming days.
NEW YORK (TheStreet) -- U.S. stocks recouped losses sustained earlier in the day as merger news outweighed weaker-than-expected domestic housing data, and Russia was hit by sanctions from the U.S. and promises of more from the European Union in coming days.
Equities may get a boost later this week from the Federal Reserve's policy committee and second-quarter growth numbers on Wednesday followed by July government jobs report on Friday.
The Dow Jones Industrial Average  (DIA) - Get Free Report closed 0.13% higher to 16,981.95 while he S&P 500undefined was little changed at 1,978.89. The Nasdaq (QQQ) - Get Free Report fell 0.1% to 4,444.91.
All major indices were in the red earlier in the day as the EU warned of tighter sanctions against Russia over its alleged involvement in the Ukrainian conflict, particularly in the sectors of finance, defense and energy. The White House also said it expected to increase its own restrictions already in place.
Stateside, June pending home sales slipped 1.1% month on month to 102.7, well below analysts' estimates for a 0.3% gain. Last month's decline compares to May's 6% increase.
In deal news, Dollar Tree (DLTR) - Get Free Reportagreed to buy Family Dollar (FDO) for $8.5 billion in cash and stock. Family Dollar shares surged 24.9% to $75.74, while Dollar Tree added 1.2% to $54.87. Truliaundefined closed 15.4% higher to $65.04 on news Zillow had entered into a definitive agreement to buy the real estate search engine for $3.5 billion in stock.
Tyson Foods (TSN) - Get Free Report climbed 2.6% to $40.56 on the news it will sell its Mexico and Brazil assets, in line with its focus on reducing its foreign operations. Pilgrim's Pride (PPC) - Get Free Report will buy the Mexican poultry business for $400 million, while Brazil-based JBS will purchase the remainder.
Rite Aid  (RAD) - Get Free Report, the heaviest-traded stock on U.S. markets on Monday, slipped 5.1% to $6.69 after investor David Einhorn announced his hedge fund Greenlight Capital had sold its position in the drugstore chain last quarter. 
McDonald's (MCD) - Get Free Report shares were little changed even as the company reels from the continuing tainted-meat scandal. On Monday, chains in China were offering a much-reduced menu. The world's largest hamburger chain has stuck with the offending supplier, Shanghai Husi Food, and its owner, U.S.-based OSI, out of necessity.
Markets were mixed in Europe on a mixed bag of results this morning and with little by way of direction from economic data. Germany's market -- still more sensitive to events in Ukraine than elsewhere in Europe -- was down, while London and Paris were in positive territory.
In Asia, the Shanghai Composite rose 2.41% to 2,177.95, after official data showed industrial profits in China rose 17.9% in the year to June. In Hong Kong the Hang Seng closed up 0.88% at 24,428.63 and in Tokyo, the Nikkei 225 was up 0.46% at 15,529.4.
U.S. stock markets slipped on Friday as some of the largest names, including Amazon (AMZN) - Get Free Report and Visa (V) - Get Free Report, reported unimpressive earnings.
While the S&P 500 is still higher by 6.8% in 2014 and less than 1% off its latest all-time-high achievement last week with the help of generally-solid earnings reports, the Russell 2000 (IWM) - Get Free Report and the Dow Jones Industrial Average did not join the S&P 500 at new records.
"This coming week should provide another major test for markets, as we prepare for another big week of earnings reports, the FOMC statement and a barrage of economic news," noted Gina Martin Adams, senior analyst at Wells Fargo Securities Equity Strategy.
A whopping 152 S&P 500 companies are expected to report this week, including 29 financial companies, 22 energy companies and 21 industrials companies. Currently, the consensus expects 6.7% year-over-year S&P 500 earnings-per-share growth for the second quarter, up from forecasts of 6.3%, according to Wells Fargo Securities Equity Strategy.
Goldman Sachs economists say they expect this week's FOMC statement to show very little change. The FOMC might choose to upgrade the language on growth in economic activity somewhat and also strengthen its language on labor market indicators a touch in recognition of the strong June employment report.
For the most part, however, recent data have supported the slightly more-accommodative-than-expected June statement. In particular, the softer June CPI print likely will reinforce the Committee's decision to downplay the firmer inflation prints seen from March to May. Weak housing starts and new-home sales reports will likely underscore concerns about the housing sector, according to Goldman Sachs.
Also out on Wednesday will be second-quarter GDP data, which is expected by economists to show 3% growth after the first quarter's 2.9% contraction. First-quarter upward revisions are anticipated when the Commerce Department this week provides revisions for three years.
--By Andrea Tse and Keris Alison Lahiff in New York