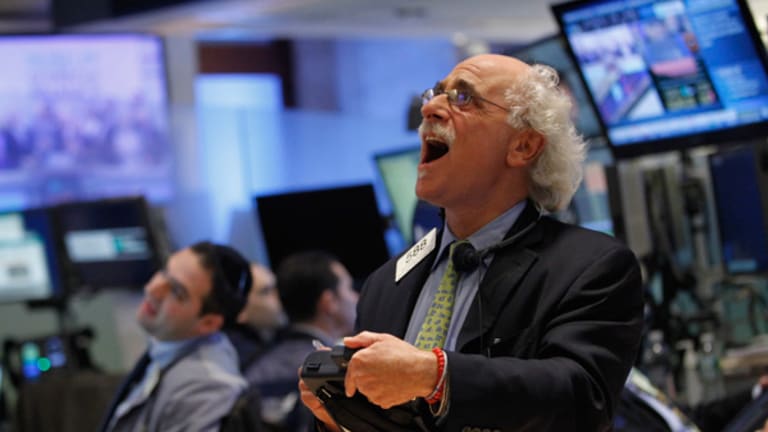 Publish date:
Stock Market Today: Dow Jumps to New High as Jobless Claims Drop
U.S. stock markets are getting a boost after initial claims for unemployment fell to its second-lowest level in 14 years.
U.S. stock markets are getting a boost after initial claims for unemployment fell to its second-lowest level in 14 years.
NEW YORK (TheStreet) -- U.S. stock markets were trading higher early Thursday afternoon, with the Dow Jones Industrial AverageI:DJI  again reaching new highs as jobless claims fell 36,000 to a lower-than-expected 280,000 for the week ended Sept. 13, the Labor Department reported.
The news came a day after the Federal Reserve pledged to hold down interest rates, saying it would keep rates near zero for a "considerable time." Markets also got a lift from a move by China's central bank on Thursday to cut short-term borrowing costs for banks.
The global markets also were keenly focused on developments in Scotland, where polling stations are open for potentially more than 4.2 million people to vote on whether Scotland should remain in the United Kingdom or break away as an independent country. The polling places are expected to close at 10 p.m. Edinburgh, Scotland time or 5 p.m. EDT.
Watch the video below for a look at how U.S. markets are doing in midday trading Thursday:

WATCH: More market update videos on TheStreet TV
The vote in Scotland is expected to be a close one, with numerous economic and political implications. According to USA Today, Scottish independence would take with it "one-third of the United Kingdom's land mass, 8% of its population, about 10% of its tax revenue, and an incalculable amount of cultural and intellectual capital."
As the world watched the referendum closely, traders have surprisingly sent the British pound to fresh multi-year highs vs. the euro and multi-week highs against the greenback. David Rodriguez, quantitative strategist at DailyFX, said foreign exchange traders sent overnight volatility prices on the British pound to their highest since the last U.K. general election in 2010, unable to dismiss the threat of a major upset if Scottish voters did indeed vote for secession.
"Many traders have closed GBP-short positions in a hurry on what promises to be big volatility as results come in," said Rodriguez. "The lack of actual vote results and a ban on exit polls tells us this [increase] is largely a technical correction."
The pound gained 0.55% against the U.S. dollar in early afternoon trades, rising to as much as 1.64078. The pound-euro exchange rate rose 0.21% after hitting a high of 1.2731.
The FTSE 100 in the U.K. was up 0.57%.
The People's Bank of China reduced interest rates on 14-day repurchase agreements by 20 basis points to 3.5%. This follows the PBOC's move earlier this week to use its standing lending-facility to boost liquidity in the country's five biggest banks by 500 billion yuan ($81 billion).
The Dow Jones Industrial AverageI:DJI was up 0.52% after hitting a fresh intraday record on Thursday of 17,255.01. The S&P 500I:GSPC rose 0.38%. The NasdaqI:IXIC was up 0.52%.
U.S. stocks rallied to record levels Wednesday after the Federal Reserve eased concerns that the central bank could initiate its first rate hike before the summer.
On the economic front, U.S. housing starts for August dropped 14.4% to a seasonally adjusted annual pace of 956,000 vs. the 1.05% increase expected by economists.
The general business conditions index of the Philadelphia Fed's Business Outlook Survey came in at a lower-than-expected 22.5 for September, down from 28.
Stocks to watch include Rite Aid (RAD) - Get Report  which plunged 17.09% after the drugstore chain cut its fiscal 2015 earnings guidance to reflect the possibility of a decrease in pharmacy margins during the second half of the year.
ConAgra Foods (CAG) - Get Report advanced 3.41% following the food company reported its fiscal first-quarter earnings that more than doubled as cost-savings programs across the country offset essentially flat revenue.
Yahoo! (YHOO)  fell 1.39% after CNBC reported Alibaba plans to price its IPO within its range of $66 to $68, rather than at the speculated amount of $70 or more. The company has a 22.5% stake in the Chinese e-commerce giant.
Shares of Target (TGT) - Get Report continued to climb, up 1.59% on Thursday after announcing it will hire up to 70,000 seasonal workers during the holidays as the retailer gears up for its busiest time of the year.
The United States Oil Fund (USO) - Get Report was down 0.89% and the SPDR Gold Trust (GLD) - Get Reportwas up 0.21%.
-- By Andrea Tse and Kurumi Fukushima in New York