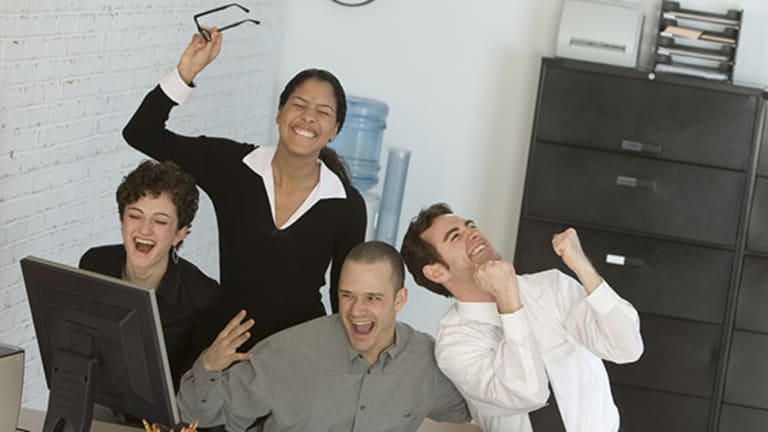 Stock Market Today: October Stock Scare Turns to Rally as Dow Hits Record
Fears of an October stock market slump are a distant memory as central banks print money and the U.S. economy kicks into gear.
NEW YORK (TheStreet) -- Fears of an October stock market slump are a distant memory as central banks prepare to print more money, even as the Federal Reserve ends its stimulus to financial markets.
Strong third-quarter earnings in the U.S. combined with better-than-expected economic data globally and central bank stimulus outside of North America pushed markets to new highs Friday.
U.S. stocks surged Friday morning after the Bank of Japan unexpectedly increased its annual stimulus targets by 10 trillion yen to 80 trillion yen. The Nasdaq opened at a 14-year high and the Dow Jones Industrial Average and S&P 500 hit new record highs shortly after the market open as buying picked up.
The S&P 500 was trading higher by 0.97% at 2,013 in afternoon trading. The Nasdaq was up 1.34% to levels not seen since the dot-com bubble burst. The Dow gained 1.02%, touching a new record high with all 30 Dow components rising.
Watch the video below for a closer look at how U.S. markets started the trading day Friday:
The BOJ's surprise move came just days after the Fed formally ended its monthly bond purchases, which supported U.S. financial markets in recent years. The BOJ previously had targeted annual stimulus of between 60 trillion to 70 trillion yen.
International markets surged on the BOJ's stimulus increase, which wasn't expected by economists. Japan's Nikkei 225 surged almost 5% in trading on Friday, while the Euro STOXX 60 and FTSE 100 rose over 1%.
The U.S. dollar surged more than 2% vs. the Japanese yen to 111.97, while gold continued an October plunge, falling 2% to 1,171 per troy ounce. Oil continued to tumble, with Nymex West Texas Intermediate Crude falling more than 1% to $80.13 a barrel.
The IT sector led the S&P 500 higher, while utilities were the only industry group trading lower.
In corporate news, oil giants Exxon Mobil (XOM) - Get Exxon Mobil Corporation Report and Chevron (CVX) - Get Chevron Corporation Report beat third-quarter earnings estimates, as did drugmaker AbbVie (ABBV) - Get AbbVie, Inc. Report .
Exxon Mobil reported earnings of $1.89 a share in the third quarter, beating estimates of $1.71. Shares of Exxon were rising 1.5% in midday trading. Chevron also beat earnings Friday morning, reporting $2.95 in third quarter EPS vs analysts forecasting $2.52 in EPS.
AbbVie reported better-than-expected third-quarter earnings of 89 cents a share. The drugmaker also adjusted its EPS guidance to $3.25-$3.27 from $3.05-$3.16. Shares in AbbVie were rising 3.88%.
Hilton Worldwide (HLT) - Get Hilton Worldwide Holdings Inc Report reported better-than-forecast third-quarter earnings of 18 cents a share on revenue of $2.64 billion. Hilton shares were more than 1%.
In economic data, personal personal income rose 0.2% in September, slightly less than the 0.3% rise economists had expected. Personal spending, meanwhile, unexpectedly fell 0.2% in September after rising 0.5% the previous month. That data, however, didn't impact the rise in U.S. stock markets.
That represented the largest drop in spending this year. Friday's economic calendar also included Chicago PMI for October, which spiked to a reading of 66.2, far exceeding forecasts of a reading of 60. The University of Michigan final sentiment index for October was 86.9, slightly exceeding consensus of 86.4.
Starbucks (SBUX) - Get Starbucks Corporation Report missed analysts for its fiscal fourth quarter after the market closse on Thursday, reporting $4.18 billion in sales and earnings of 74 cents a share. Analysts had forecast $4.23 billion in sales and EPS of 74 cents. Starbucks shares were over 2% in Friday trading.
GoPro (GPRO) - Get GoPro, Inc. Class A Report beat earnings after reporting a profit of 12 cents a share that exceeded analyst estimates by 4 cents. Shares in GoPro surged more 14%.
LinkedIn (LNKD) reported better-than-expected results and gave optimistic fourth-quarter guidance after the market close. The company reported adjusted earnings of 52 cents a share in the third quarter, exceeding forecasts of 47 cents. Full-year EPS is now expected to be $1.89, a slightly higher figure than analysts had forecast. Shares surged 12%.
Citigroup (C) - Get Citigroup Inc. Report revised its third-quarter earnings lower, saying that recent investigations by regulators have altered the results it reported earlier this month. The bank adjusted its quarterly net income to $2.8 billion from a previously reported $3.4 billion, citing legal expenses.
On Thursday, U.S. stock markets surged after the Commerce Department said U.S. gross domestic product rose 3.5% in the third quarter.
GDP growth in the U.S. hit its strongest six-month pace since the financial crisis, while the four-week average of initial jobless claims in October was the lowest in a decade. U.S. gross domestic product grew 3.5% in the third quarter, beating economists' estimates.
GDP and employment data bodes well for the upcoming holiday season, especially if consumer confidence holds up amid falling gasoline prices. Earlier this week, the Conference Board said consumer confidence reached a seven-year high.
After the worst weekly sell-off to begin October, markets have rallied through the second-half of the month and are set to close nearly 4% higher. 
-- Written by Antoine Gara in New York