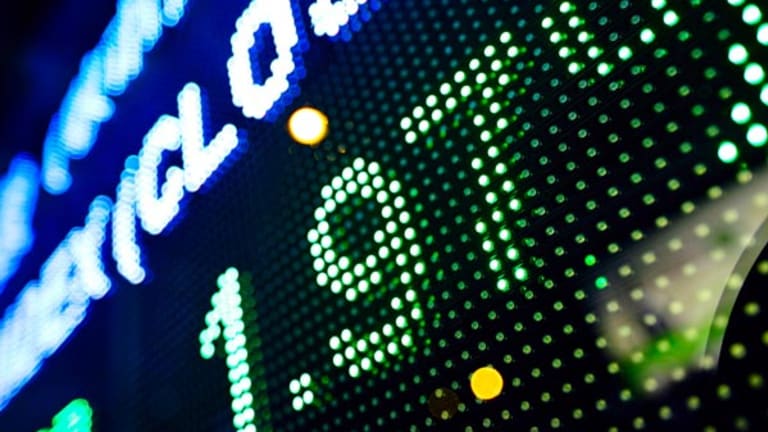 Stock Market Today: Markets Recover From Session Lows, Geopolitical Wariness Remains
U.S. stock markets remain lower but recover from deep losses suffered over the morning session.
NEW YORK (TheStreet) -- U.S. stock markets closed lower but recovered from deep losses suffered over the morning session, a product of geopolitical tensions in Ukraine and the Gaza Strip pulling markets lower. In a busy week of earnings, outlook for growth remains optimistic.
The Dow Jones Industrial Average fell 0.28% to 17,051. The S&P 500 was behind by 0.23% to 1,973.63. The Nasdaq slipped 0.17% to 4,424.7. Benchmark indices have proven volatile over the last few sessions, closing the session and week higher Friday as investors piled into equities after Thursday's pullback. 
President Obama addressed press from the South Lawn of the White House on Monday, pressing President Vladimir Putin to urge pro-Russian separatists in Ukraine to allow international access to the Malaysian Airlines crash site for investigation. The plane was shot down on Thursday, killing 298 people onboard, as it flew over Ukrainian airspace.
The possibility of additional Western sanctions against Russia are mounting this week as more and more evidence leads back to Russia as being responsible for arming Ukrainian rebels.
Israel and Gaza remain in the headlines after a major ground battle on Sunday between Israel and the Hamas killed 65 Palestinians and 13 Israeli soldiers. The death toll over the past two weeks has risen to 500 people, including two soldiers of Israeli-American citizenship.
July 21 Premarket Briefing: 10 Things You Should Know
The 3 Things to Look for in Netflix Earnings
While the U.S. economic calendar was light on Monday, some big names are due to report after the bell. Netflix (NFLX) - Get Report popped 1.4% in extended trading after reporting second-quarter earnings of $1.15 a share and revenue of $1.14 billion. 
Chipotle Mexican Grill (CMG) - Get Report gained 7.8% as earnings of $3.50 a share beat estimates of $3.08 and revenue spiked 28.6% year over year to $1.05 billion.
Tuesday will see Apple (AAPL) - Get Report report its latest financial statement, while Boeing (BA) - Get Report and Facebook (FB) - Get Report earnings are due Wednesday.
An S&P Capital IQ report said analysts are currently expecting earnings growth for calendar 2014 to come in at 9.6% on top of the -2.1% result from 2013. All 10 sectors, with the exception of utilities and telecom, are expecting earnings growth in 2014, with IT leading the growth. S&P Capital IQ said of the 84 companies that have reported earnings results for the second quarter, 56 have topped analysts' estimates, 15 have missed and 13 have met.
In corporate news, McDonald's (MCD) - Get Report and Yum! Brands' (YUM) - Get Report KFC in China faced a new food safety scare Monday after a Shanghai television station reported a supplier sold them expired beef and chicken. McDonald's shares were off 1.5% and Yum! shares were down 4.3% to $74.13.
Time Warner (TWX) is slightly higher on reports 21st Century Fox (FOXA) - Get Report is considering using proceeds from the sale of its Italian and German pay-TV assets to boost a second-round offer, Bloomberg reported. Time Warner shares are up 0.15% to $87.36.
Elliott Management Corp. has taken a stake of more than $1 billion in EMC (EMC) and plans to push the data-storage giant to break itself apart, according to The Wall Street Journal. The hardware developer is up 5% to $28.33.
Severstal, the Russian steelmaker, will sell its U.S. plants to Steel Dynamics (STLD) - Get Report and AK Steel (AKS) - Get Report for $2.33 billion. The sale would mark Severstal's exit from the U.S. and comes amid tightening sanctions against Russian concerns because of Russia's alleged involvement in the crisis in Ukraine. Steel Dynamics gained 11.7% to $20.75, while AK Steel dropped 4.2% to $8.46.
Toymaker Hasbro (HAS) - Get Report reported quarterly earnings that were in line with expectations but revenue came in below forecasts. The company added that its inventory currently is positioned adequately to support consumer demand during the all-important holiday season. Shares were down 2.7% to $51.78.
-- Written by Keris Alison Lahiff and Andrea Tse in New York