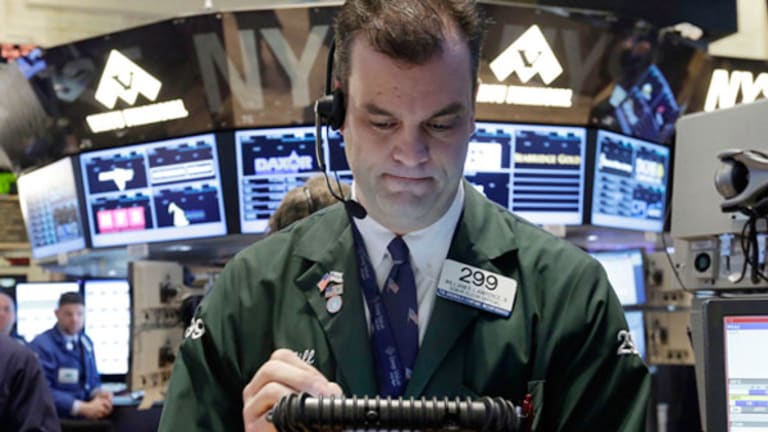 Stock Market Today: Futures Up as GDP Revised Higher; Gross Quits Pimco
U.S. stocks could potentially open lower even after U.S. GDP figures got a boost.
NEW YORK (TheStreet) -- U.S. stock index futures were pointing to a better start on Wall Street Friday after the deep selloff of the prior session attracted bargain-hunters and the third estimate of second-quarter GDP was revised higher. 
The U.S. economy expanded by 4.6% in the second quarter, the government said Friday, matching estimates and coming in higher than the prior estimate of 4.2%.
Meanwhile, Pimco founder Bill Gross announced Friday he was resigning from the bond giant and would be joining Janus Capital (JNS) on Monday.
Dow Jones Industrial Averageundefined futures were 37 points higher, or 81.2 points above fair value. S&P 500undefined futures rose 3.25 points, or 7.01 points above fair value. Nasdaqundefined futures were up 9.3 points, or 18.48 points above fair value.
Apple (AAPL)  shares appeared to be recovering after playing a substantial role behind the Nasdaq's pronounced drop on Thursday. Apple released a new update late Thursday that the tech giant said would repair the problems caused by software it released Wednesday morning. Shares were up 0.51% in premarket trading. 
U.S. stocks nosedived Thursday in their biggest down day since July 31 as investors reacted to news of bombings in the Middle East and heightened terrorist threat levels on U.S. and French soil. The negativity only exacerbated an end-of-quarter sell-ff already in progress. Apple shares ended Thurday's session down nearly 4%.
AFAM Capital's long-only chief investment officer, John Buckingham, said the pullback was expected, given that periodic breathers were needed after the markets essentially shot straight up since October2011. It was a good buying opportunity, he added. "If things go on sale, you should be attracted to it, not repulsed by it," Buckingham said.
The final reading on the University of Michigan Consumer Sentiment Index for September will be released at 9:55 a.m. EDT.
In more corporate headlines Friday, struggling smartphone maker BlackBerryundefined posted a narrower-than-expected loss of 2 cents a share as the company continues to sharpen its focus on enterprise mobility and security. Its second-quarter revenue of $916 million missed estimates. Shares were off 0.2% in premarket trading.
Nike, the global footwear and athletic apparel company, reported fiscal first-quarter earnings of $1.09 a share, up from 86 cents a share a year earlier and above analysts' estimates of 88 cents. Nike surged 6.8% in premarket trading.
Micron Technology's (MU) fiscal fourth-quarter earnings and revenue topped analysts' forecasts. The stock jumped 6.75%.
Fyffes (FYFFF) , the Irish banana producer, agreed to raise Chiquita's (CQB) ownership of a proposed merged company to 59.6% from 50.7% in an effort to hold off a rival bid for Chiquita from Brazilian juice maker Grupo Cutrale and Safra Group.
-- By Andrea Tse in New York