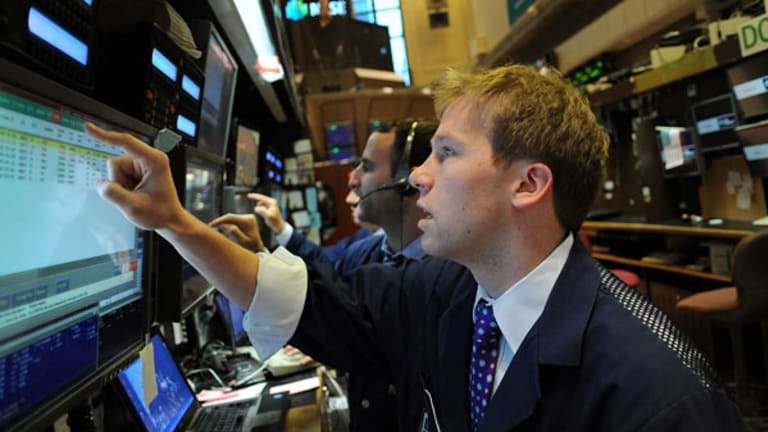 Stock Market Today: U.S. Indices Remain Weak in Final Hour
U.S. stocks continue to fall late Thursday afternoon after an early selloff in equities driven by end-of-quarter profit-taking led to exaggerated moves in a light trading day.
NEW YORK (TheStreet) -- U.S. stocks were tanking Thursday, heading into the final trading hour as an early selloff driven by end-of-quarter profit-taking led to exaggerated moves in a day of light volume. The tech-heavy Nasdaqundefined  bore the brunt of the losses after a wave of selling in the sector led by heavyweight Apple (AAPL) .
Atlanta Fed Bank President Dennis Lockhart, often thought to be a good bellwether of consensus thinking at the FOMC, said Thursday he believes the central bank will hold off on raising interest rates until mid-2015. Chicago Federal Reserve President Charles Evans on Wednesday maintained his dovish views after a strong showing in U.S. new home sales for August.
The Dow Jones Industrial Averageundefined dropped 1.37%, or more than 235 points. The S&P 500undefined gave up 1.42%. The Nasdaqundefined surrendered 1.75%. The rotation out of stocks was accompanied by a 12/32 rise in the 10-year note and slight spike in longer-dated gold futures contracts.
"A lot of people are away today for the Jewish holidays, which possibly exacerbates liquidity," said Andrew Wilkinson, chief market analyst at Interactive Brokers. Wilkinson noted that Apple has contributed to as much as 17 points of the Nasdaq composite's around 70-point decline. 
All 10 sectors of the S&P 500 were in the red, with most posting a drop of more than 1%, with the heaviest losses seen in the S&P 500 information technology sector as both Apple and Yahoo! (YHOO) tumbled. The iPhone maker was down 3.49% after pulling its iOS 8.0.1 update mere hours after releasing it. Yahoo! fell 2.22% after revealing that it agreed to a one-year lock-up period that restricts the sale of the remaining ordinary shares it owns in Alibaba (BABA) . Microsoft (MSFT) lost 1.93% and Intel (INTC)  shed 1.55%.
Watch the video below for a closer look at how U.S. markets are doing in midday trading Thursday:
In U.S. economic news Thursday, the Markit "flash" PMI services index for September fell to 58.5 from 59.5 in August. Economists expected a reading of 59.
U.S. weekly initial jobless claims increased by 12,000 to 293,000 compared to the 300,000 estimated by economists. Durable goods orders for August tanked 18.2% but that was in line with the 18% decline expected by economists. Durable goods orders rose 22.5% in July, led mostly be new contracts for Boeing (BA) jets.
In individual stock reports, travel services company Travelport Worldwide (TVPT)  jumped 5.62% in late afternoon trading. The initial public offering of the stock was priced at $16 a share late Wednesday.
U.S. Bancorp (USB) fell 1.53% after the U.S. Office of the Comptroller of the Currency and the Consumer Financial Protection Bureau said the bank must pay $9 million in fines and $47.9 million in compensation to customers who were unfairly billed for identity theft protection products.
H.B. Fuller (FUL) dropped 13.6% after the specialty chemical products maker provided fourth-quarter earnings guidance of between 60 cents to 70 cents share, missing the average analyst estimate of 85 cents.
-- By Andrea Tse and Kurumi Fukushima in New York