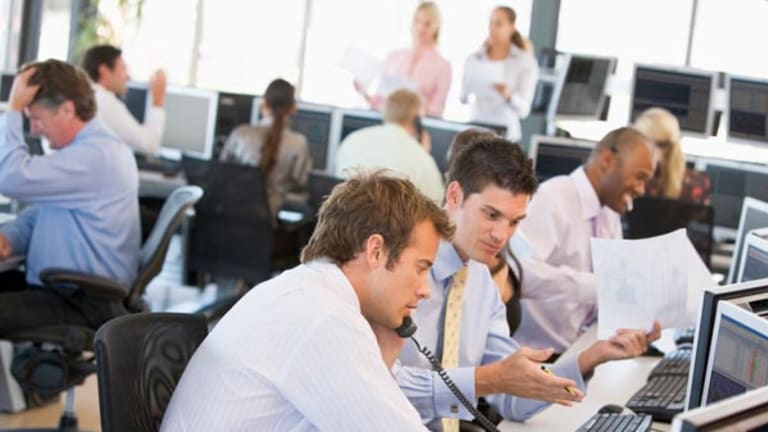 Stock Market Today: Stocks Poised for Third Straight Weekly Loss
U.S. stocks are leaning towards a negative bias heading into the close following a choppy trading session.
NEW YORK (TheStreet) -- U.S. stocks looked to be settling in the red Friday, poised to rack up a third week of losses following a choppy trading session. The chip sector was falling sharply amid global growth concerns but was offset somewhat by gains in consumer staples.
The Dow Jones Industrial Average (I:DJI)   fell 0.34% at last check. The S&P 500undefined   surrendered 0.74%. Widespread jitters about a cooling Chinese economy and a questionable economic recovery in Europe coming just as U.S. quantitative easing nears its end has brought the S&P down by nearly 2% so far this week. The index is on track for a third straight weekly decline. 
The Nasdaqundefined   shed 1.92% as the PHLX Semiconductor Index (SOX) tumbled 6.58%. The semiconductor sector tanked following a revenue miss on Thursday from Microchip Tech (MCHP) . The company's guidance indicated a potential industry correction after a slowdown in sales in China during the traditionally strong September quarter. Shares were dropping 11.8%. Chip giant Intel (INTC) slumped 4.9%.
"We expect volatility to remain elevated throughout October, and if the history of past 'growth scares' is a guide, further S&P 500 weakness will result," said Julian Emanuel, executive director of U.S. equity and derivatives strategy at UBS.
Emanuel suggested using the additional weakness to buy stocks expected to outperform in a continued strong U.S. dollar environment, particularly bank stocks. 
The strategist is anticipating relief rallies later in the third-quarter earnings season to move shares back toward his 2014 year-end S&P 500 price target of 1,950.

Chip suppliers were seeing more pain after Juniper (JNPR) and Procera (PKT) issued third-quarter warnings -- the latest bad earnings news for an industry that has seen plenty due to soft wireline capital expenditures. Juniper was off 8.5% while Procera dropped 33.16%. Analysts were defending Juniper, arguing that the bad news has been priced in and that telecom capex is likely to improve in 2015. Bulls have argued that Web and mobile traffic growth as well as software-defined networking and network functions virtualization investments will ultimately boost capex in spite of industry-service revenue pressures. 
Coca-Cola (KO) shares rose 1.68%, PepsiCo (PEP) shares jumped 1.54% and Procter & Gamble (PG) shares were up 1.72%.
The Labor Department reported Friday that U.S. import prices fell 0.5% in September vs. the 0.7% decline expected by economists. The latest report, the third straight negative reading, demonstrated that inflationary pressures were falling amid continued evidence of a slowing global economy and an appreciating U.S. dollar. 
In other corporate headlines Friday, Symantec (SYMC) , the security software maker, said it plans to split itself into two separately traded companies. The stock lost 6.1%.
Starboard Value has won all 12 seats on the board of Olive Garden's parent company, Darden Restaurants (DRI) , according to preliminary results. Darden shares fell 1.22%.
Shares of Dave & Buster's (PLAY)  rose 8.3% in their debut on Nasdaq.
-- By Andrea Tse in New York