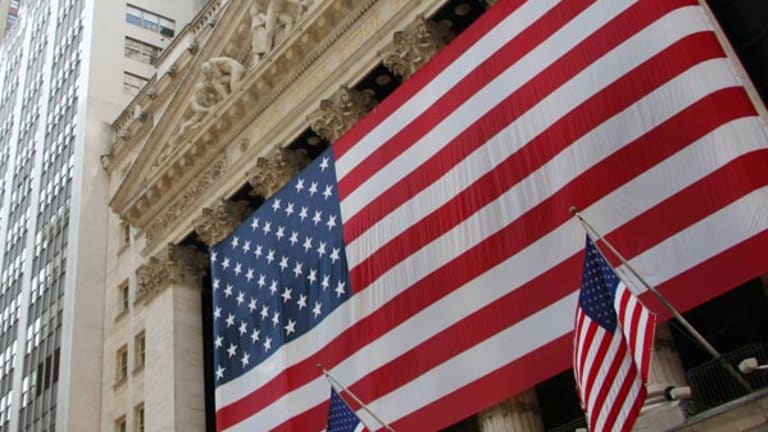 NEW YORK (
) -- Stocks snapped three days of losses Wednesday with buying fueled by optimism about President Obama's jobs plan and Germany's continued support of eurozone bailouts.
Shakeups in the executive ranks of
Bank of America
(BAC) - Get Bank of America Corp Report
and
Yahoo!
(YHOO)
also triggered healthy gains in those two bellwether stocks, improving overall market sentiment.
All three major averages gained more than 2%, setting the stage for the first positive trading session of September. The
Dow Jones Industrial Average
advanced 276 points, or 2.5%, to finish at 11,415. The
S&P 500
rose 33 points, or 2.9%, to close at 1199, while the
Nasdaq
jumped 75 points, or 3%, to settle at 2549.
The more positive tone in the U.S. on Wednesday follows gains in the global market, where European stocks rallied strongly after a German court ruling that upheld the country's involvement in bailing out its troubled neighbors. Over the course of the session, the Dow added another 100 points to where it opened.
"We were due for something of a bounce," says Sam Stovall, chief investment strategist at Standard & Poor's. "Investors can breathe a sigh of relief on the German supreme court's ruling. At least we dodged a bullet in the near term."
The FTSE in London gained 3.1%, and the DAX in Frankfurt added 4%. In Asia, Hong Kong's Hang Seng rose 1.7% while Japan's Nikkei lost 2.01%
Shares of Yahoo! surged 5.4% to $13.61 after the company announced late Tuesday that it had fired chief executive officer Carol Bartz. Tim Morse, chief financial officer, will serve as interim chief executive.
Bank of America also saw a strong bounce after CEO Brian Moynihan ousted two top executives -- head of wealth and investment management Sallie Krawcheck and president of consumer and small-business banking Joe Price. Shares of the company have plummeted almost 50% this year amid fears over the bank's losses in the mortgage business but the stock rose more than 7% on Wednesday, making it the biggest percentage gainer in the Dow.
Anticipation about President Obama's speech to Congress Thursday night had Wall Street speculating that help may be on the way for the country's poor employment situation. According to
Bloomberg
, Obama has a $300 billion package in the works that includes tax cuts, infrastructure spending and help for local governments.
After the debt ceiling fiasco in Washington, however, many are skeptical that lawmakers can come together with an effective strategy to revive the struggling economy. The dismal jobs picture has been weighing heavily on investors' minds since last week's unemployment report that showed no new jobs creation in August.
"Investors will be listening to President Obama very closely, although no one expects the Republicans to take up his agenda. What we will be looking for are signs of concessions," writes Marc Pado, U.S. market strategist at Cantor Fitzgerald. "Like Bernanke, Obama is no magician. There is no black hat. There is no bunny rabbit. The best that we can hope for is a request for stimulus in the short-term in exchange for something closer to $2 trillion in cuts longer-term."
All 30 Dow components closed in the green, with
McDonalds
(MCD) - Get McDonald's Corporation (MCD) Report
,
Verizon Communications
(VZ) - Get Verizon Communications Inc. Report
and
AT&T
gaining the least. Leading the Dow were financial stocks
JPMorgan Chase
(JPM) - Get JPMorgan Chase & Co. (JPM) Report
and
Bank of America
(BAC) - Get Bank of America Corp Report
.
In other corporate news, graphics chipmaker
Nvidia
(NVDA) - Get NVIDIA Corporation Report
projected a
revenue of $4.7 billion to $5 billion for fiscal 2013, starting in Jan. 30, 2013, compared to the current average estimate of analysts polled by
Thomson Reuters
for a revenue of $4.45 billion in fiscal 2013. The stock advanced 8.1% to $14.25.
In the afternoon, the
Federal Reserve
's Beige Book confirmed sluggish economic growth in the latter part of the summer, leaving the possibility of further monetary stimulus from the central bank on the table. Speculation has been swirling that the central bank may pursue a strategy known as
Operation Twist
, in which it would simultaneously buy long-term assets and sell short-term assets.
Gold for December delivery was slipped $55.70 to settle at $1,817.60 an ounce as stocks looked to set to record gains for the first time this month.
The October crude oil contract gained $3.32 to $89.34 a barrel.
The benchmark 10-year Treasury was losing 20/32, pushing the yield to 2.045%. The dollar weakened against a basket of currencies, with the dollar index slipping 0.55%.
-- Written by Chao Deng in New York
.