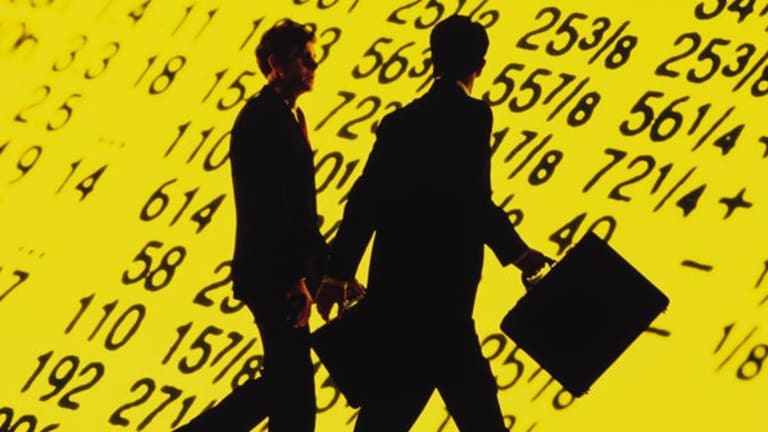 Stocks End Worst Quarter Since Crisis
A late swoon causes stocks to close near session lows, as the Dow, S&P 500, and Nasdaq all lose more than 10% in the third quarter. In the video, Chao Deng reviews the day's action.
NEW YORK (
) -- Stock accelerated losses into Friday's closing bell to finish at session lows as investors took risk off the table before the weekend amid continued fears for a global slowdown.
All three major U.S. indices lost more than 10% during the third quarter, making it their worst since the financial crisis kicked into gear in late 2008 following the implosion of Lehman Bros.
The
Dow Jones Industrial Average
closed just four points above its intraday low, down by 240.6 points, or 2.2%, at 10,913. The
lost 29 points, or 2.5%, to settle at 1131, while the
Nasdaq
dropped 65 points, or 2.6%, to finish at 2415.
Trading got off to a choppy start as investors waded through the latest influx of global economic data. The Chicago Purchasing Managers Index for August rose to 60.4 in September from 56.5 in August. The report was a welcome surprise given that August saw the lowest level since November 2009. The consensus view was for a third straight sequential decline to 54.
Also setting the tone this morning was a slightly better read on consumer sentiment. The University of Michigan reported that consumer sentiment rose to 59.4 in September, following an August reading of 57.8 that was comparable to levels seen during 2008 financial crisis.
The past two sessions have seen the Dow open solidly higher, only to lose steam by the close, suggesting that buying conviction has been weak. Recent technical analysis suggests that stocks might slip into a bear market, leading investors to try to hedge amid hope that a possible solution to stem Europe's debt crisis provides upward momentum in the market.
A raft of negative data from abroad weighed on investors. A reading on manufacturing in China declined for a third month in September, according to a report from HSBC Holdings and Markit Economics. Retail sales in Germany, Europe's largest economy, came in below expectations, dropping 2.9% in July. The reading marked the biggest drop in more than four years and underscored a possible slowdown in the global economy.
Eurozone inflation jumped 3% in September, exceeding the European Central Bank's target of below 2%, as well as economists' expectations for 2.5%. The latest reading on inflation cooled speculation that the ECB may take monetary easing measures in addition to lowering interest rates.
Before the open, personal income slipped 0.1% and spending increased 0.2% in August, according to the Commerce Department. Economists were looking for slight gains to income and spending of 0.1% and 0.2%. In July, spending rose a revised 0.7%, while income decreased a revised 0.2%.
In Europe, stocks were headed to close out the worst quarter since 2008. London's FTSE dropped 1.3% and Germany's DAX lost 3%. Japan's Nikkei Average closed off 0.01% and Hong Kong's Hang Seng plummeted 2.32%.
Buyers used the final session of the quarter to snap up defensive sectors such as healthcare and consumer staples, which showed the best performance of Friday's session.
Merck
(MRK) - Get Free Report
,
Wal-Mart
(WMT) - Get Free Report
,
Johnson & Johnson
(JNJ) - Get Free Report
and
Procter & Gamble
(PG) - Get Free Report
were the Dow's top-performers.
Conglomerates were the day's worst-performing stocks with
Hewlett-Packard
(HPQ) - Get Free Report
,
Alcoa
(AA) - Get Free Report
and
General Electric
(GE) - Get Free Report
among the Dow's biggest laggards.
Shares across the financial sector also declined.
Morgan Stanley
(MS) - Get Free Report
saw its stock drop 10.5% to $13.51 as investors worried about
its exposure to European banks
despite several analyst reports saying that the fears were unwarranted.
The
Financial Select Sector SPDR ETF
(XLF) - Get Free Report
was down by 3.5% at $11.81 and both
Bank of America
(BAC) - Get Free Report
and
JPMorgan Chase
(JPM) - Get Free Report
traded near the bottom of the Dow.
Of the 4.8 billion shares that traded on the New York Stock Exchange, only 21% rose while 77% declined. Some 2.1 billion stocks changed hands on the Nasdaq.
On the upside, Europe is getting closer to passing a proposal to expand the eurozone bailout fund. The last two countries to approve the plan were Germany and Estonia on Thursday. However, a more comprehensive plan of possibly levering up the fund to inject capital into the European financial system is still in debate.
"The drama in Europe continues to play out like a dreary soap opera with daily twists and turns," according to investment firm D.A. Davidson & Co. "Traders have been whipsawed by highly volatile stock market price action as unexpected rumors or reports on the European situation continue to hit the tape."
China-based companies with U.S. listings continue to face pressure after Reuters reported Thursday afternoon that the U.S. Justice Department and Securities and Exchange Commission are digging deeper into the companies' accounting practices.
In corporate news, trading of
Eastman Kodak
undefined
shares was halted after the stock plunged on reports that the company
hired law firm Jones Day for restructuring advice
. The stock lost 53.8% to 78 cents.
Chipmaker
Micron Technology
(MU) - Get Free Report
posted a
surprise quarterly loss on flat sales and declining margins
. The company said it lost $135 million, or 14 cents a share, for the fourth quarter on revenue totaling $2.14 billion, down from a year-ago profit of $342 million, or 32 cents a share, on revenue of $2.49 billion.
Micron also gave a word of warning to investors about the coming jury decision in its antitrust case with
Rambus
(RMBS) - Get Free Report
, saying it can't "reasonably" estimate the range of possible losses from the suit. Shares plunged 14.1% to $5.04.
Industrial and commercial products company
Ingersoll-Rand
(IR) - Get Free Report
has lowered its third-quarter earnings projections to 77 cents a share to 80 cents a share, from 85 cents a share to 95 cents a share. Shares fell 12.1% to $28.09.
The benchmark 10-year Treasury rose 26/32, diluting the yield to 1.910%. The euro dropped while the dollar strengthened against a basket of currencies, with the dollar index up 1.108%.
Gold for December delivery gained $5, or 0.3%, to settle at $1622.30.
The November crude oil contract lost $2.94, or 3.6%, to settle at $79.20 a barrel.
-- Written by Chao Deng and Melinda Peer in New York
.
Disclosure: TheStreet's editorial policy prohibits staff editors and reporters from holding positions in any individual stocks.