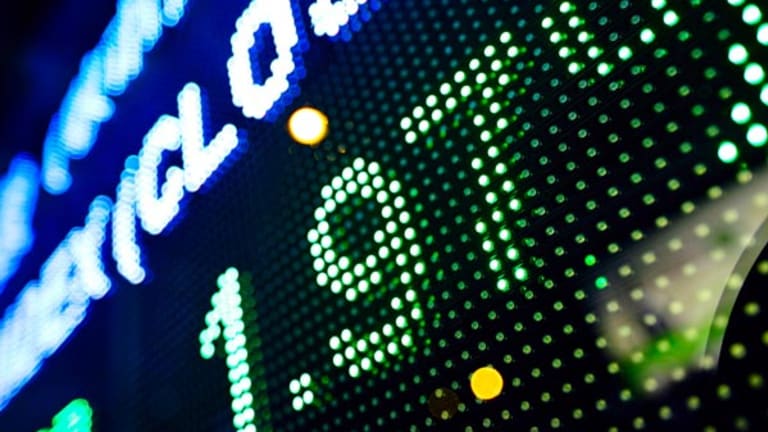 Stocks Finish Mixed as Nasdaq Slumps
The Dow rallies on progress toward expanding Europe's bailout fund but AMD's warning weighs on tech. In the video, Chao Deng reviews the day's action.
NEW YORK (
) -- Stocks had a mixed finish Thursday with blue-chip stocks getting a jolt from better-than-expected U.S. economic data and progress on the expansion of the eurozone rescue fund but the
Nasdaq
slumping on tech losses.
The
Dow Jones Industrial Average
gained 143 points, or 1.3%, at 11,154, after a 200 point surge at the beginning of the session. The
S&P 500
was up 9 points, or 0.8%, at 1160. The tech heavy Nasdaq was left in the dust, down 10 points, or 0.4%, at 2481.
Estonia joined Germany in giving a green light to expand the eurozone bailout fund. That news helped trigger a surprise bounce just one hour before the close. The Dow surged from its intraday low of 10,968 to 11,154.
The dollar index and commodities market also appeared to drive some of the late day market action. The dollar was gaining against a basket of currencies in the after but eased off minutes before the close. The index was last down by 0.318%. Gold for December delivery was up by $4.30 to settle at $1,622.40 an ounce.
"It's almost like a tug of war between optimistic fundamentalists and more realistic technical analysts," says Sam Stovall, market strategist with Standard & Poor's. While recent steps that Europe's policy makers have taken in addressing their debt problems are encouraging, most investors agree that Wall Street is not out of the woods yet and is still in danger of slipping into a bear market.
As the third quarter draws to a close tomorrow, window-dressing by portfolio managers likely contributed to gains in some stocks. Stovall notes that "the last two days and first three days of a month have historically been stronger performers." So far the Dow is down almost 4% for September.
On Thursday, the tech sector was among the session's weakest with
Microsoft
(MSFT) - Get Microsoft Corporation Report
and
Intel
(INTC) - Get Intel Corporation Report
were the only two Dow components that slumped. The electronic traded fund Technology Select Sector SPD slipped by 0.21%.
"On days that market has been moving up, the Nasdaq has started to pull back," says Quincy Krosby, market strategist at Prudential Financial. "That might be a bad omen that another one of the cyclical sectors that's supposed to demonstrate growth is pulling back."
One of the biggest losers within tech was
Advanced Micro Devices
(AMD) - Get Advanced Micro Devices, Inc. Report
, whose shares lost 14% to $5.31.
Bank of America
downgraded the chip maker to underperform
after the company made a deep cut to its revenue growth forecast because of manufacturing issues at a plant in Germany.
Financials and conglomerates showed the strongest gains.
Traveler Cos
(TRV) - Get Travelers Companies, Inc. Report
,
Bank of America
(BAC) - Get Bank of America Corp Report
and
JPMorgan Chase
(JPM) - Get JPMorgan Chase & Co. Report
topped the Dow.
Trading was light with the Jewish holiday Rosh Hashanah starting yesterday evening. Of the 4.5 billion shares trading on the New York Stock Exchange, about 70% rose and 30% declined. Some 2.3 billion stocks changed hands on the Nasdaq.
Earlier in the session, stocks surged after a plunge in weekly initial jobless claims to below 400,000. The drop in the week ended Sept. 24, fell to 391,000. Economists had only expected initial claims to drop to 420,000, according to Thomson Reuters.
The welcome sign of potential improvement in jobs market came one day after Federal Reserve Chairman Ben Bernanke deemed unemployment a "national crisis." "We've had close to 10% unemployment now for a number of years, and of the people who are unemployed, about 45% have been unemployed for six months or more. This is unheard of," Bernanke said.
In addition to jobs data, the government's economic growth estimate for the second quarter came about in line with expectations. The Department of Commerce increased its final gross domestic product reading to 1.3% from 1%. Economists had only anticipated an upward revision to 1.2%.
Also contributing to positive sentiment, the German parliament approved a proposal to expand the European Financial Stability Facility, following green lights from Slovenia and Finland earlier in the week. So far, 11 out of 17 members of the eurozone have agreed to pass the proposal.
The FTSE in London closed 0.4% lower, while the DAX in Frankfurt jumped 1.1%. Overnight, in Asia, the Hong Kong's Hang Seng lost 0.7%, while Japan's Nikkei added 1%.
The National Association of Realtors said pending-home sales dropped 1.2% in August, after falling 1.3% in July. The decline was slightly better than the decrease of 1.5% that economists had been expecting for August.
In corporate news,
Johnson & Johnson
(JNJ) - Get Johnson & Johnson Report
affiliates bought
Merck's
(MRK) - Get Merck & Co., Inc. Report
50% stake in the Johnson & Johnson-Merck Consumer Pharmaceuticals joint venture
. Shares of Johnson & Johnson rose 1% to $63.90 and Merck's stock climbed 2.3% to $32.66.
Microsoft
(MSFT) - Get Microsoft Corporation Report
nabbed a key win in a smartphone patent war with
Samsung
, which
agreed to pay Microsoft royalties
for every handset with the Android operating system that Samsung sells. Microsoft's stock slipped 0.5% to $25.45.
Shares of
Nokia
rose 4% to $5.77 on news that the Finnish handset company
plans to cut another 3,500 jobs by 2012
.
In commodities markets, the November crude oil contract added $1.85 to settle at $83.06 a barrel.
The benchmark 10-year Treasury was declining 7/32, lifting the yield to 2.004%.
-- Written by Chao Deng and Melinda Peer in New York
.