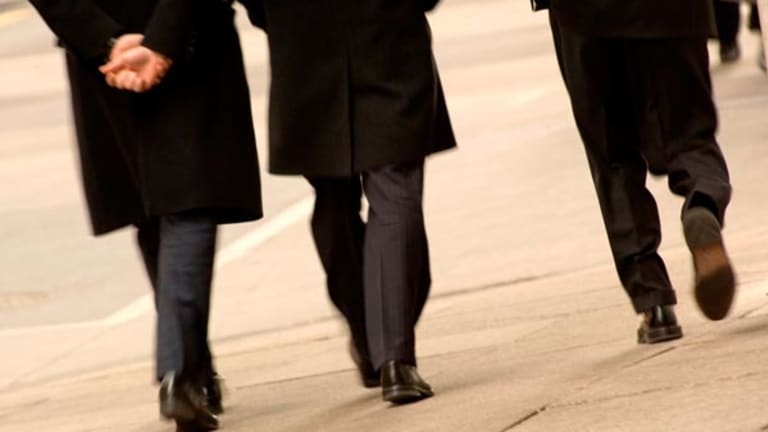 Dow Closes Above 11,000 on Hope for Europe
Financials give stocks a boost as investors eye presumably positive developments in Europe. In the video, Chao Deng reviews the day's market.
NEW YORK (
) -- The
Dow Jones Industrial Average
jumped above the 11,000 level to finish near session highs Monday on news that European leaders are close to finalizing plans for a eurozone rescue.
The
Dow Jones Industrial Average
, which added as many as 286 points during Monday's session, closed near its highest level, up by 272 points, or 2.5%, at 11,044. Both the
and the
Nasdaq
also ended within reach of their session highs of 1164 and 2519, respectively. The S&P 500 rose by 27 points, or 2.3%, to 1163 and the Nasdaq closed ahead by 34 points, or 1.4%, at 2517.
Stocks accelerated gains on media reports that surfaced in the final hour of trading that European policymakers are in advanced planning stages to use bailout funds to increase the capital levels of eurozone banks.
Earlier, European stocks closed ahead on optimism from meetings held over the weekend. European leaders appeared convinced that swifter action must be taken to stabilize the eurozone. A business confidence survey in Germany that was better than expected also fueled some optimism.
The FTSE in London finished up 0.45% while the DAX in Frankfurt gained 2.76%. Overnight, in Asia, the Hong Kong's Hang Seng dropped 1.48%, and Japan's Nikkei finished down 2.17%
Earlier, Fred Dickson, chief market strategist with D.A. Davidson, said that he wouldn't be surprised by a rally since the news out of Europe wasn't negative and the final week of the quarter there tends come with some portfolio rebalancing that could give some upward momentum.
Financial stocks, which saw the best performance throughout Monday's session, held their lead to the close. with
JPMorgan Chase
(JPM) - Get Free Report
was the Dow's top performer followed by
Boeing
(BA) - Get Free Report
, which
delivered its first 787 Dreamliner to
All Nippon Airways
(ALNPY)
of Japan on Monday. Shares gained 4.2% to $62.01.
U.S. financial stocks took a cue from European bank shares earlier in the session. The
Financial Select Sector ETF
(XLF) - Get Free Report
surged 4.5% to $12.20.
Shares of Warren Buffett's
Berskhire Hathaway
(BRK.B) - Get Free Report
rose 8.6% to $72.09 on news that the company's board has approved a plan to buy back some of its shares, marking the first such authorization since 2000, according to a
Wall Street Journal
report.
The technology sector saw the weakest performance on Monday.
Intel
(INTC) - Get Free Report
was the only Dow component to close in negative territory and
Apple
(AAPL) - Get Free Report
lost 0.3% to $403.17 on a report from JPMorgan suggesting that iPad manufacturing in Asia was slowing. The firm's analysts later tried to downplay their negative report, underscoring that the bank still maintains an overweight ranking on Apple.
Market breadth was weighted to the positive at the close. Of the 4.5 billion shares that traded on the New York Stock Exchange, 69% advanced while 29% declined. On the Nasdaq, 2 billion stocks changed hands.
Investors will continue to keep an eye on plans to expand Europe's rescue fund, also known as the European Financial Stability Facility. Over the weekend, officials debated the possibility of increasing the fund to trillions of euros by leveraging it. Votes are planned throughout the week, including one in Germany on Thursday.
Last week, the Dow lost 6.4% amid concerns of a global slowdown and worries that central banks have reached their limits. Gold erased all of its gains from the past two months, and investors rushed to the dollar and Treasuries as safe havens.
"Everyone is looking for a catalyst, a leader, and no one is moving quickly enough," wrote Marc Pado of Cantor Fitzgerald in a research note. "That has left the market flat, back down at the lower end of the trading range of the past six weeks."
Countries worldwide, including the U.S., have increasingly pressed eurozone nations to take swifter action, but domestic politics in the European countries have prevented leaders there from committing to any solution grand in scale. Discussions over how best to address Europe's problems could continue through a meeting between leaders in the Group of 20 in early November.
Meanwhile, China, which was seen as a possible buyer of European debt, sent strong messages in its weekend meeting with the International Monetary Fund that the country has limited risk appetite for additional debt and that it would not bail out Europe.
Economic reports for the U.S. were disappointing, although investors put an overwhelming amount of their focus on headlines from Europe. Chicago Federal Reserve's index on national economic activity, a measure of several economic indicators, decreased to -0.43 in August from 0.02 in July. The latest reading, dragged down by the weak job and housing market, was about in line with expectations.
The housing market continues to weigh down on sentiment with new-home sales in August falling by 2.3% on a monthly basis to an annual rate of 295,000, down from a revised 302,000 in the prior month. Sales have now fallen for four straight months.
Also from the morning, the Dallas Fed reported that business activity fell to -14.4 in September from -11.4 in the prior month. The latest survey of manufacturers in Texas was worse than the -8.0 level economists expected.
The benchmark 10-year Treasury was fell 18/32, pushing the yield to 1.899%. The dollar weakened against a basket of currencies, with the dollar index losing 0.4%.
Gold for December delivery lost $45, or 2.7%, to settle at $1,594.80 an ounce after dropping to as low as $1,535. The precious metal's prices were falling as some investors took advantage of recent gains to cover losses in stocks and other assets. The Chicago Mercantile Exchange also raised the amount of money traders must pay to trade a 100-ounce gold futures contract by 21%.
Elsewhere in commodities, the November crude oil contract added 39 cents, or 0.5%, to settle at $80.24 a barrel.
In corporate news,
Clorox
(CLX) - Get Free Report
shares slumped 4.3% to $66.44 Monday after investor Carl Icahn
his slate of nominees for the board of the cleaning products maker, essentially backing off his bid to engineer a sale of the company.
Shares of
UBS
(UBS) - Get Free Report
8% to $12.15 after the Swiss bank appointed Sergio Ermotti as interim CEO after a $2.3 billion rogue trading loss forced the resignation of Oswald Gruebel over the weekend.
-- Written by Chao Deng and Melinda Peer in New York
.
Disclosure: TheStreet's editorial policy prohibits staff editors and reporters from holding positions in any individual stocks.