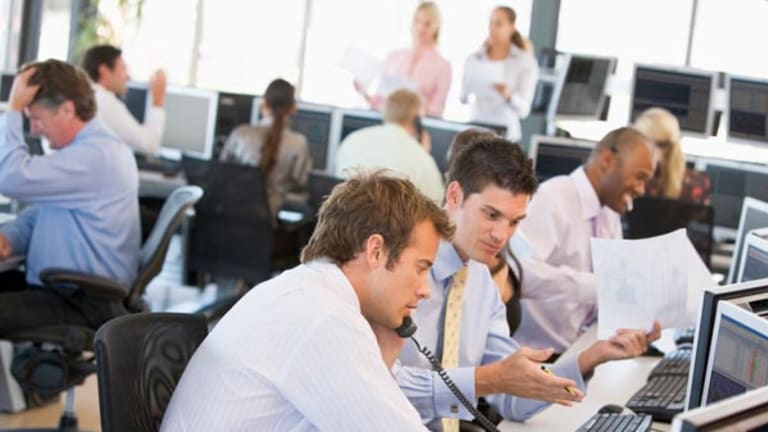 Stocks Suffer Worst Week Since 2008
Friday's slight bounce notwithstanding, the Dow posts its biggest weekly decline in almost three years, losing 6.4%. In the video, Chao Deng analyzes the action.
NEW YORK (
) -- Stocks finished Friday with slight gains but ended a brutal week of trading with losses in excess of 5% on fears that the U.S. is facing an economic slowdown and Europe will be unable to contain its unstable debt situation.
The
Dow Jones Industrial Average
turned in its worst weekly performance since October 2008, down by 6.4%, despite locking in gains of 38 points, or 0.4%, to settle at 10,771 on Friday. The blue-chip index was down as much as 95 points earlier in the session.
The
added 7 points, or 0.6%, to close at 1136 on Friday, and it held above a key technical threshold, but the index still fell more than 6% for the week. The
Nasdaq
rose 28 points, or 1.1%, to finish at 2483, putting it down 5.3% for the week.
Friday's slight rebound came despite lingering apprehension about the uncertain debt situation in Europe, weak manufacturing numbers from China, a dreary outlook from package delivery giant
FedEx
(FDX) - Get Free Report
, and nervousness stoked by the
policy statement.
Those factors sent investors streaming out of equities and into the dollar and Treasuries on Thursday. The three major averages fell more than 3% with the blue chips losing almost 400 points, and the S&P 500 breaking a key technical level of 1120.
The Dow and S&P 500 have lost about 16% and 17% from their respective highs of the year. Meanwhile, global markets have entered bear market territory.
"Some bargain hunters and traders will step up to find some opportunities," said Robert Pavlik, chief market strategist with Banyan Partners, explaining that the market usually sees a bounce in this sort of scenario even if further selling is to come.
Retail and technology stocks put in some of the strongest performances on Friday with
Intel
(INTC) - Get Free Report
,
Cisco Systems
(CSCO) - Get Free Report
,
McDonald's
(MCD) - Get Free Report
and
Home Depot
(HD) - Get Free Report
and
Bank of America
(BAC) - Get Free Report
topping the Dow. Eighteen of the Dow's 30 component finished higher.
Hewlett-Packard
(HPQ) - Get Free Report
, which
Meg Whitman, the former head of
eBay
(EBAY) - Get Free Report
, as
late Thursday, was the Dow's biggest laggard. Its stock lost 2.1% to $22.32.
Basic materials stocks saw the session's biggest losses.
On Friday, 57% of the 4.7 billion shares trading on the
gained ground while 41% declined. On the Nasdaq, 2 billion stocks changed hands.
On Thursday, the G20 pledged to take necessary action to calm the global financial system, with the central bank prepared to inject additional liquidity. The move gave some relief to European markets. The FTSE in London closed 0.5% higher and the DAX in Frankfurt gained 0.6%.
Overnight in Asia, the Hong Kong's Hang Seng dropped 1.36%, and Japan's Nikkei finished down 2.07%
Ratings agency Moody's downgraded eight Greek banks early Friday, underscoring continued fears about a shaky financial system in the eurozone. Still, European leaders and the Greek government have not reached a definitive conclusion about whether Greece will get its next round of bailout funding, leading investors to believe that a Greek default could be imminent.
"Since Europe appears to be the source of our ills, we continue to look toward Europe to solve its debt crisis, in order to put the global picture back on a stable footing," wrote Marc Pado, U.S. market strategist at Cantor Fitzgerald. "The solutions currently being discussed are Band-Aids, not long-term resolutions to the problems of capitalizing the banks to insulate them from the probable default in Greece and more significant concerns about Italy."
The benchmark 10-year Treasury was down 32/32, pushing the yield to 1.832%.
Gold prices plunged for a third consecutive day Friday. Gold for December delivery plummeted $101.90, or 5.9%, to settle at $1,639.80 an ounce. The safe haven has been pummeled by a stronger greenback recently, although on Friday the dollar index was weakening, down 0.08% against a basket of currencies.
The November crude oil contract lost 66 cents, or 0.8%, to settle at $79.85 a barrel.
In corporate news,
Nike
(NKE) - Get Free Report
sprinted past Wall Street's profit expectations for its fiscal first quarter as revenue grew 18% year over year, thanks to robust global demand. The maker of athletic footwear and apparel reported earnings of $645 million, or $1.36 a share, with revenue totaling $6.08 billion.
The performance was
well ahead
of the average estimate of analysts polled by
Thomson Reuters
for earnings of $1.21 a share in the period on revenue of $5.75 billion. Shares surged 5.3% to $88.64.
There were no U.S. economic reports released during Friday's session.
-- Written by Chao Deng and Melinda Peer in New York
.
Disclosure: TheStreet's editorial policy prohibits staff editors and reporters from holding positions in any individual stocks.