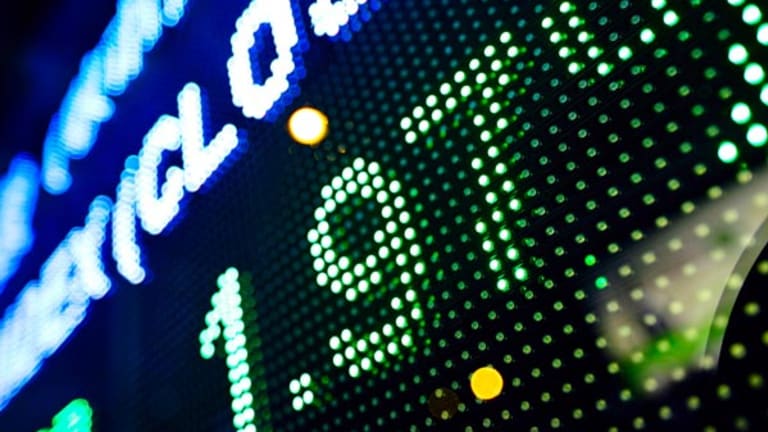 NEW YORK (
) -- Stocks finished sharply lower Wednesday after the
Federal Reserve
announced its widely anticipated "Operation Twist" strategy and used its policy statement to signal deepening concerns about the health of the economy.
The Fed
announced that it would buy $400 billion in long-term Treasuries with maturities ranging from six to 30 years and sell an equal amount of short-term Treasuries. The central bank also reaffirmed its decision to keep interest rates low until mid-2013.
The three major averages reacted negatively on the news, with the selloff deepening minutes before the close. The
Dow Jones Industrial Average
saw a triple digit decline, falling 284 points, or 2.5%, to close at 11,123. The
S&P 500
lost 35 points, or 3%, to settle at 1167, and the
Nasdaq
, in the green before the announcement, plunged 52 points, or 2%, at finish at 2538.
Federal Reserve Chairman Ben Bernanke
Although the central bank refrained from additional quantitative easing and launched a "twist" as expected, investors were surprised by the Fed's wording that the economic outlook faced "significant downside risks," a slight change from its last statement that said that "downside risks" had increased. Some analysts say that the tweak in language was in part behind today's disappointing reaction.
In addition to the "twist" decision, the Fed said it would reinvest principal payments from its mortgage-backed securities to support the housing market. The unemployment rate is expected to decrease only gradually, the central bank's statement said.
Late afternoon, yields on the benchmark 10-year Treasury fell further below 2%, last at 1.87%, while yields on the 30-year benchmark dropped to 3.04%. The dollar index rose against a basket of currencies by 1.039%.
"The weighting on the longer end of the curve is greater than the market would appear to have been expecting," writes David Semmens, strategist with Standard Charter. "This is Operation Twist with a twist," said Erik Davidson, deputy chief investment officer for Wells Fargo Private Bank. "It's probably more aggressive than what the market was expecting."
"The twist in the yield curve is more pronounced, meaning that the Fed's move wasn't fully priced in," said Jeff Friedman, senior market strategist with MF Global.
Despite the range of reactions to the Fed's latest move, with some economists underscoring the need for more aggressive measures such as quantitative easing, the consensus is that the Fed will face difficulty in trying to motivate banks to increase lending and therefore can do little for the economy.
"Even if we're slightly disappointed, it won't mean anything. Stocks are still stuck in a range," said Friedman of MF Global.
Cramer: Too Much Pressure on Bernanke
Negative corporate news also was pressuring the market Wednesday. Earlier, Moody's Investors downgraded
Bank of America
(BAC) - Get Bank of America Corp Report
debt by two notches to Baa1, still above junk territory, causing shares of the company to fall 7.5% to $6.38. The ratings agency cited an increased probability that the government would allow the bank to fail compared to during the financial crisis.
Bank of America
(BAC) - Get Bank of America Corp Report
,
JPMorgan Chase
(JPM) - Get JPMorgan Chase & Co. (JPM) Report
and
Caterpillar
(CAT) - Get Caterpillar Inc. Report
plunged to the bottom of the Dow. Materials, transportation and capital goods stocks put the most pressure on U.S. indices.
Also pulling down stocks were coal producers that lowered their outlooks for 2011. Metallurgical coal producer
Walter Energy
(WLT)
said it
anticipates a delay in its projected production growth
, sending shares down 11.7% to $66.25. Meanwhile, coal producer
Alpha Natural Resources
(ANR)
which lowered its full-year shipment guidance
, fell 17.1% to $22.30.
Technology was the session's bright spot with
Hewlett-Packard
undefined
,
IBM
(HPQ) - Get HP Inc. (HPQ) Report
and
Intel
(INTC) - Get Intel Corporation (INTC) Report
surging to the top of the Dow.
Helping the tech sector was
Oracle
(ORCL) - Get Oracle Corporation Report
, whose shares advanced 4.2% to $29.54 after the database software maker
reported better-than-expected first-quarter results
with earnings of 48 cents a share on sales of $8.43 billion.
Market breadth was to the negative, with about 80% of the 4.9 billion shares trading on the New York Stock Exchange declining and 17% rising. Some 2.1 billion stocks changed hands on the Nasdaq.
Earlier, the National Association of Realtors said existing-home sales jumped 7.7% in August to 5.03 million, exceeding expectations for a slight rise to 4.7 million. In July, sales came in at 4.67 million.
European markets traded lower as European policymakers continued to gauge whether Greece is enacting the reforms and spending cuts that it promised in exchange for financial support. If Greece isn't given its next tranche of bailout funds by October, the country will likely default on its debts.
On Tuesday, the European Commission said a "full mission" made up of representatives from the European Commission, the European Central Bank and the International Monetary Fund, will return to Greece next week to assess whether criteria for the next bailout have been met.
Investors are also keeping an eye on the rest of the eurozone. On Tuesday, ratings agency Standard & Poor's unexpectedly downgraded Italy's debt to A from A+.
On Wednesday, the FTSE in London lost 1.4%, and the DAX in Frankfurt dropped 2.5%. In Asia, markets closed mixed, with the Hong Kong's Hang Seng off by 1%, and Japan's Nikkei finishing up by 0.2%
Orexigen Therapeutics
(OREX)
is restarting development of its rejected obesity drug Contrave
after U.S. regulators agreed to allow the company to conduct a potentially shorter follow-up clinical trial. Shares surged 49% to $2.19.
The November crude oil contract lost $1 to settle at $87.35 a barrel. Elsewhere in commodity markets, gold for December delivery lost $1 to settle at $1,808.10 an ounce.
-- Written by Chao Deng and Melinda Peer in New York
.