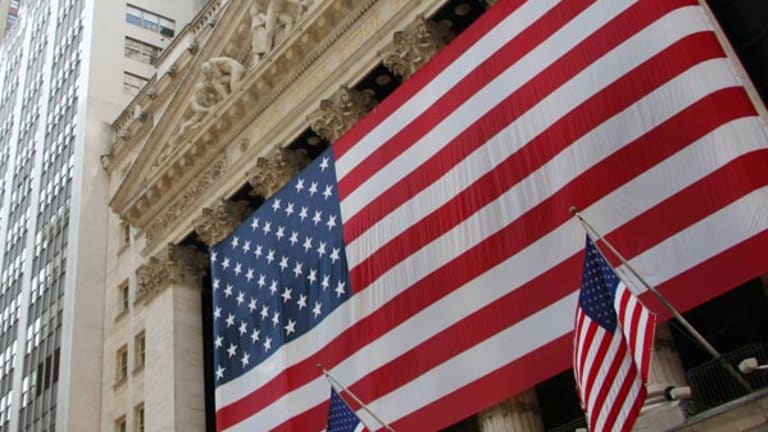 Stocks Edge Up on Housing Data, Japan's Easing
Japan's surprise stimulus announcement and promising existing home sales data prompt mild gains for U.S. equities.

NEW YORK (TheStreet) -- The major U.S. stock averages finished with slight gains Wednesday, buoyed by another batch of encouraging housing data and an unexpected easing of monetary policy by Japan's central bank.
The
Dow Jones Industrial Average
closed up 13 points, or 0.10%, at 13,578. Already up more than 11% year-to-date, the blue-chip index is on track for its biggest monthly point gain since October 2011.
Within the Dow, breadth was positive with winners outpacing losers 18 to 11 and
American Express
(AXP) - Get American Express Company Report
finishing flat.
The top gainers were
Walt Disney
(DIS) - Get Walt Disney Company Report
,
Home Depot
(HD) - Get Home Depot, Inc. (HD) Report
and
Kraft Foods
( KFT).
The biggest laggards were
Exxon Mobil
(XOM) - Get Exxon Mobil Corporation Report
,
Hewlett-Packard
(HPQ) - Get HP Inc. (HPQ) Report
, and
Intel
(INTC) - Get Intel Corporation (INTC) Report
.
The
S&P 500
added less than 2 points, or 0.12%, to settle at 1461, while the
Nasdaq
tacked on nearly 5 points, or 0.15%, to finish at 3182.
The strongest sectors in the broad market were consumer cyclicals, services and conglomerates. Only the energy sector was lower. Volume was again light at 3.40 billion on the New York Stock Exchange and 1.85 billion on the Nasdaq.
Once again, the latest reads on the housing market were generally promising. The National Association of Realtors said before the open that existing-home sales rose 7.8% to a seasonally adjusted annual rate of 4.82 million in August from 4.47 million in July, better than the increase to a rate of 4.58 million expected by economists as buyers take advantage of "excellent housing affordability conditions," said Lawrence Yun , chief economist at the NAR.
The national median price rose on a year-over-year basis for the sixth straight month.
Paul Pagnato, managing director and partner at HighTower's Pagnato-Karp Group, has a lot of concerns on the investment outlook -- first and foremost on weak corporate revenue growth amid the slowdown across the world's largest economies. However, he said that's it's not all gloom and doom out there, and that there are a couple of very positive investment opportunities, one of them being real estate.
Noting the jump in existing August home sales, Pagnato said there are four major real estate sectors that are particular appealing: student housing, medical facilities, self-storage and senior living.
"These are all very recession-proof areas," he explained. "At the end of the day, you want to buy an asset class that's low and sell it when it's high. So those asset classes, they're low, so you're able to buy real estate, student housing, that's 60, 70 cents on the dollar, down 40%, 30%. And from day one, they're cash flowing 10% to 13%. So you get a nice, positive cash flow, from day one, and when the real estate market does recover, there should be additional capital appreciation of the real estate."
He's also eying agriculture, particularly the financing of the agricultural companies, as the demands and needs of the global population continues to increase.
"So the large companies like a
ConAgra
(CAG) - Get Conagra Brands, Inc. Report
; they have their cycles with their crops ... so if they have cocoa beans they need to plant or say they just harvested cocoa crop ... they need to borrow capital to plant their next crop and they will pay for short-term loans six month, nine month loans, will receive 10% to 15%. So these are short-term loans and it's backed by the actual commodity. So they're secured," Pagnato explained. "And we view that as another opportunity. In the past, Europe, the European banks have really dominated that space, so 90% of agricultural financing occurred at the European banks. With all the financial issues occurring over in Europe, it's lent us to some opportunities."
In other promising housing data Wednesday, the Census Bureau and Housing Department said that housing starts rose 2.3% to a seasonally adjusted annual rate of 750,000 in August from a downwardly revised July estimate of 733,000. Economists were expecting a rate of 770,000 in August.
Weakness mostly showed up in the volatile multi-family segment, which declined, while there was a rise in the more stable, single-family construction category.
"While the increase in starts for August was a bit less than expected and July's level was revised modestly lower, the general trend is higher," said a BTIG note.
Building permits fell 1% to 803,000, compared with expectations of an 800,000 pace, from the downwardly revised July rate of 811,000.
Overseas Wednesday, the Bank of Japan announced after its policy meeting overnight that it will boost its asset purchase and loan program by 10 trillion yen ($127 billion) to 80 trillion yen, and extend the deadline on its purchase program by six months to the end of 2013, amid more disappointing data including weakness in exports and factory output.
"Bank of Japan opened a new chapter on the global trend competitive currency devaluation, following aggressive steps by the ECB and the FOMC with a strong response of its own," said a Cantor Fitzgerald note.
"The market (including us) had expected the BoJ to make another easing move at the October policy meeting when the BoJ will publish its semi-annual economic outlook," said Kiyoko Katahira, an analyst at Societe Generale. "However, the easing happened earlier."
"We think action from the ECB and the Fed was also a factor that led the BoJ to act sooner, with a special concern for further yen appreciation. Moreover, rising tensions with China in the past week may turn out to be another drag on exports at least in the short term."
The FTSE in London closed up 0.35% and the DAX in Germany finished up 0.59% Wednesday. Hong Kong's Hang Seng index closed higher by 1.16% and the Nikkei in Japan finished up by 1.19%.
The benchmark 10-year Treasury rose 11/32, diluting the yield to 1.773%. The greenback was slipping 0.10%, according to the
November crude oil futures fell $3.32 to settle at $92.30 a barrel. December gold futures settled up 50 cents at $1,771.70 an ounce.
In corporate news, shares of
Hovnanian Enterprises
(HOV) - Get Hovnanian Enterprises, Inc. Class A Report
advanced 1.6% as the home builder offered up to $797 million in 10-year senior notes with the plan to use the proceeds to buy back other notes.
Approach Resources
(AREX) - Get Approach Resources Inc. Report
shares shed 5.8% after the energy company announced that it's offering 5 million shares of its common stock in a public offering and intends to use the net proceeds to fund capital expenditures for the development of its Wolfcamp oil shale resource play and for general working capital needs, and also possibly to repay outstanding debt.
Cracker Barrel
(CBRL) - Get Cracker Barrel Old Country Store, Inc. Report
shares surged 5.9% after the company announced fiscal fourth-quarter earnings that almost doubled as the restaurant chain booked a stronger-than-anticipated 3.8% rise in same-store sales. In addition, the company decided in favor of another dividend hike of 25%.
AutoZone
(AZO) - Get AutoZone, Inc. Report
shares gained 3.4% after the retailer and a distributor of automotive replacement parts booked a 7.4% gain in fiscal fourth-quarter earnings.
General Mills
(GIS) - Get General Mills, Inc. (GIS) Report
, the maker of Cheerios, posted fiscal first-quarter earnings of 66 cents a share, excluding special items, which topped analysts' expectations of 62 cents a share. Revenue came in at $4.05 billion, below forecasts of $4.08 billion. Shares rose 1.8%.
Pagnato of HighTower's Pagnato-Karp commented that slowing revenue growth among many corporations could begin hurting their earnings, with one of the main culprits behind this issue being the global economic slowdown.
"The United States has slowed down -- currently GDP is about 1.5%; you have Europe, that's in a recession, and you have China, that is also slowing down. So the three largest economic engines are all slowing down ... It's really a global picture."
"Earnings are the fundamental drivers of valuation and stock prices going forward, and over the last 30, 60 days, we've had more revisions by companies and analysts downward and larger revisions than we've ever had," said Pagnato.
He continued: "So what's happened in the last three or four years is a lot of the large corporations, these billion dollar corporations , they've been able to, they've done an incredible job of cutting and becoming very, very lean, but that's starting to come to an end. Unless, these corporations have good revenue increase, it's going to start hurting their earnings, and I think we're starting see that now in this quarter coming up."
--Written by Andrea Tse in New York.
>To contact the writer of this article, click here:
Andrea Tse
.