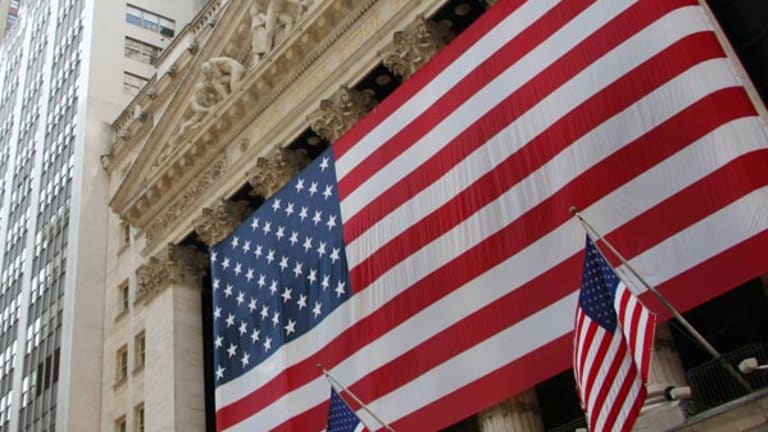 Dow Bumps Higher; S&P 500, Nasdaq Lag
Wall Street endures a mixed session as investors balance the murky eurozone outlook against more good housing data.
Wall Street endures a mixed session as investors balance the murky eurozone outlook against more good housing data.

NEW YORK (TheStreet) -- The major U.S. equity averages finished mixed in sluggish trading Tuesday with lingering eurozone uncertainties set against more evidence of a recovery in the housing market.
A gloomy assessment of the global economy by package delivery giant
FedEx
(FDX) - Get Report
put an early damper on sentiment but the latest data from the National Association of Home Builders was a bright spot. The group's measure of builder confidence in the market for newly built, single-family homes rose for a fifth straight month in September to a level of 40, the highest reading since June 2006.
The
Dow Jones Industrial Average
gained nearly 12 points, or 0.09%, to close at 13,565. The blue-chip index has now risen in five of the past six sessions and is up 11.03% so far in 2012.
Within the Dow, losers outpaced winners, 17 to 13. The biggest percentage decliners were
Alcoa
(AA) - Get Report
,
American Express
(AXP) - Get Report
,
du Pont
(DD) - Get Report
, and
United Technologies
.
Blue-chip gainers included
Caterpillar
(CAT) - Get Report
,
Kraft Foods
( KFT), and
McDonald's
(MCD) - Get Report
.
The
S&P 500
fell nearly 2 points, or 0.13%, to settle at 1459, while the
Nasdaq
was off less than a point, or 0.03%, to finish at 3178.
Most sectors in the broad market were lower with the consumer cyclicals, financial, transportation and energy sectors seeing the deepest selling. Health care and consumer non-cyclicals were in the green. Volume was very light, just above 3.36 billion on the New York Stock Exchange and 1.71 billion on the Nasdaq.
Europe was once again becoming a concern for investors with both Spanish and Italian bond yields on the rise in recent sessions, reflecting worries that both countries will eventually have to ask for official bailouts. Some media reports this week have already indicated the Spanish government is getting ready to seek a rescue facility, likely subsequent to regional elections in Galicia and the Basque country on Oct. 21.
The FTSE in London fell 0.61% while the DAX in Germany was off 0.69%.
In Germany, the closely followed ZEW Economic Sentiment Survey gave a mixed picture of the eurozone, increasing 7.3 points to -18.2 points in September, the indicator's first increase after four declines in a row, as the ECB's bond buying announcement may have provided a lift, according to the Centre for European Economic Research. However, the negative value of the indicator shows that financial market experts still expect the German economy to lose momentum over the next six months, according to the report.
Hong Kong's Hang Seng index closed down 0.27% and the Nikkei in Japan finished lower by 0.39% as anti-Japan protests escalated in China, leading more Japanese firms to halt their manufacturing operations in the country.
As for U.S. economic data, the Commerce Department reported that the U.S. current account deficit narrowed to $117.4 billion in the second quarter from a downwardly revised $133.6 billion in the first quarter. Economists expected the deficit to shrink to $126.8 billion.
The benchmark 10-year Treasury rose 9/32, diluting the yield to 1.816%. The greenback was up 0.30%, according to the
Leo Kelly, managing director and partner at HighTower, said that he and his team are beginning to reduce equities modestly, after increasing equity holdings and reducing an overweight cash position during the recent volatility, with the markets now having moved so quickly on the anticipation of and execution of QE3.
"We have also shifted some of our equity allocation to a hedged position on the S&P 500 with significant downside protection," said Kelly. "We still favor equity for the long term and see opportunity in sectors such as energy, technology and healthcare. That said, we are concerned with the potential for volatility over the next several months when the euphoria of Bernanke 3 wears off. After all, the Fed would not engage in such an action if it were not very concerned about the economic landscape."
Kelly expects to use volatility to increase equity holdings in areas HighTower sees performing well over the next several years, including select European stocks.
"The dichotomy of attractive valuations of companies with solid fundamentals, sound business models that are geographically diversified and strong balance sheets makes the area attractive," he said. "Timing of entry in such a potentially volatile market is always a concern. Again, we will look for volatility to add to the market directly and are actively pursuing a hedged European equity holding."
Bonds, however, are another story with Kelly saying HighTower is "significantly underweight" in Treasuries.
"Over the last several months we have reduced the average duration of our portfolios," he said. "We are very concerned with interest rate risk. QE3 is yet another injection of liquidity into a market awash in liquidity. Eventually, rates must move higher, we want to be prepared. High quality municipal bonds, high quality corporates, floating rate bank loans and emerging market bonds are areas we are currently investing in."
October crude oil futures slipped $1.27 to settle at $95.29 a barrel, while December gold futures settled up 60 cents at $1,771.20 an ounce on Tuesday.
In corporate news, shares of FedEx fell more than 3% after the package delivery giant lowered its full-year earnings outlook to between $6.20 and $6.60 a share, down from its prior estimate of $6.90 to $7.40 a share, as the company continues to feel the pain of the sluggish global economy.
The company estimates earnings of $1.30 to $1.45 a share in the current quarter, down from $1.57 a share a year earlier. FedEx posted fiscal first-quarter earnings of $1.45 a share versus the $1.40 a share predicted by Wall Street.
"Earnings for the first quarter were below our expectations as weak global economic conditions dampened revenue growth, drove a shift by our customers to our deferred services and outpaced our near-term ability to reduce FedEx Express operating costs to match demand levels," Alan Graf, the company's chief financial officer, said in a press release.
AMD's
(AMD) - Get Report
stock was roiled by nearly 10% following the abrupt resignation of the company's well-regarded chief financial officer, Thomas Seifert.
The No. 2 chip maker behind
Intel
(INTC) - Get Report
said Monday that Seifert, who joined AMD in 2009 and served as interim CEO in 2011, is leaving to pursue other opportunities.
Also,
Apple
(AAPL) - Get Report
shares
in regular-session trading for the first time on Tuesday, following through on the strength seen in Monday's after-hours action. The stock finished at $701.91, up 0.30%.
Shares of
Dole Food
(DOLE)
dipped less than 1% after the company agreed to sell its worldwide packaged foods and Asia fresh produce businesses for $1.7 billion to
Itochu
, the Japanese trading house.
--Written by Andrea Tse and Joe Deaux in New York.
>To contact the writer of this article, click here:
Andrea Tse
.