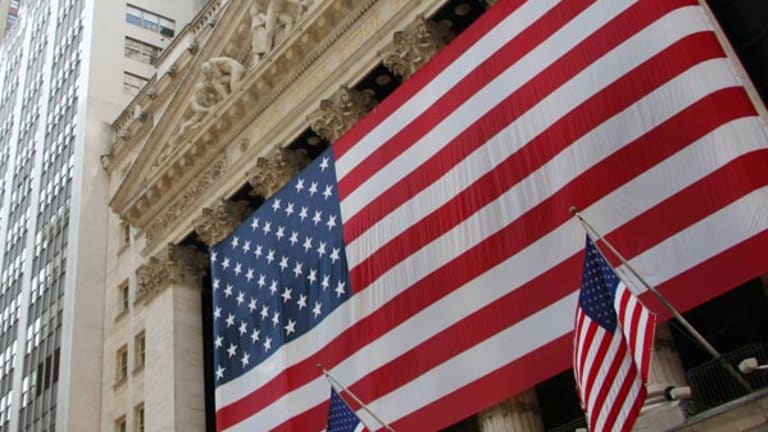 Stocks Soar as Fed Delivers QE3
The Dow jumps more than 200 points after the central bank details an aggressive monetary policy action to combat the elevated unemployment rate.
The Dow jumps more than 200 points after the central bank details an aggressive monetary policy action to combat the elevated unemployment rate.

NEW YORK (TheStreet) -- The major U.S. equity averages soared Thursday after the Federal Reservemore than fulfilled expectations for another round of quantitative easing.
Not only did the central bank announce an open-ended plan to purchase $40 billion worth of mortgage-backed securities per month and extend its pledge to keep interest rates at their zero levels until at least mid-2015, the central bank also opted to maintain Operation Twist through the end of the year and said it believes a highly accommodative monetary policy "will remain appropriate for a considerable time after the economic recovery strengthens."
Stocks stretched their initial gains even further as Fed Chairman Ben Bernanke defended the aggressive action in a press conference shortly after the decision was announced, saying "We want unemployment to come down in a sustained way."
The
Dow Jones Industrial Average
closed up more than 206 points, or 1.55%, at 13,540. The day's intraday peak of 13,573 was the blue-chip index's highest level since December 2007.
All 30 Dow components finished in the green. The biggest percentage gainers were
Alcoa
(AA) - Get Report
,
American Express
(AXP) - Get Report
JPMorgan
(JPM) - Get Report
and
Bank of America
(BAC) - Get Report
.
The
S&P 500
jumped more than 23 points, or 1.63%, to settle at 1460, also a multi-year closing high. The
Nasdaq
surged nearly 42 points, or 1.33%, to close at 3156.
The strongest sectors in the broad market were basic materials, energy and financials. Volumes totaled more than 4.57 billion on the New York Stock Exchange and 1.87 billion on the Nasdaq. Advancers outnumbered decliners by a nearly 4-to-1 ratio on the Big Board and 3-to-1 on the Nasdaq.
The Fed estimated Thursday's moves will increase the amount of longer-term securities on its balance sheet by roughly $85 billion per month through the end of 2012. Operation Twist, which was announced in June, involves buying a comparable amount of longer-term securities as shorter-term bonds mature.
The central bank said it expects to continue its monthly purchases of mortgage-backed securities until the labor market "improves substantially," adding that it could also "undertake additional asset purchases, and employ its other policy tools as appropriate until such improvement is achieved in a context of price stability."
"In short, quite dovish and largely as we expected, with the exception that all of the new QE program will be in MBS rather than Treasuries," wrote Jim O'Sullivan, chief U.S. economist at
High Frequency Economics
, in the wake of the Fed's move. "As noted, though, they could well come back and add Treasuries after Operation Twist ends at year end."
Eleven of the 12 members of the Fed's open market committee voted in favor of the policy action with Jeffery Lacker, president of the Federal Reserve Bank of Richmond, serving as the lone dissenter.
The impact of the Fed's move was also felt in other asset classes. The benchmark 10-year Treasury rose 10/32, diluting the yield to 1.727%. The greenback fell 0.56%, according to the
October crude oil futures rose $1.30 to settle at $98.31 a barrel and December gold futures settled up $38.40 at $1772.10 an ounce.
Prior to the Fed decision, stocks were modestly higher and early economic data was uninspiring. Before the bell, the Labor Department said initial jobless claims for the week ended Sept. 8 increased 15,000 to 382,000, up from the previous week's upwardly revised 367,000. Analysts were expecting jobless claims of 369,000.
The four-week moving average was 375,000, an increase of 3,250 from the previous week's revised average of 371,750.
Continuing claims in the week ended Sept. 1 were 3.283 million, a decrease of 49,000 from the preceding week's revised level of 3.332 million. Continuing claims were predicted by economists to have fallen to 3.3 million.
Also, the Bureau of Labor Statistics said Thursday that the producer price index for finished goods rose by a seasonally adjusted 1.7% in August, more than the 1.2% that economists were expecting, after advances of 0.3% in July and 0.1% in June. August marks the largest monthly rise since June 2009.
The core figure increased 0.2%, as expected, after gaining 0.4% in July.
The DAX in Germany lost 0.53% as the Organization for Economic Cooperation and Development reported that both Germany and France, the biggest eurozone economies, could face softer growth in the months ahead. Italy, China, India and Russia were also on the list of economies that could weaken in coming months.
The FTSE in London gained 0.43% on Thursday.
A bright spot for the European markets today was the decline of Italian three-year yields to their lowest levels in nearly two years at a sale Thursday, indicating that European Central Bank efforts were bringing results.
The Hong Kong Hang Seng index settled down 0.14% and the Nikkei in Japan finished up 0.39%.
On the corporate front,
Apple
(AAPL) - Get Report
shares built on Wednesday's gains after the iconic company unveiled of the
at a media event in San Francisco on Wednesday. Shares popped 2% amid a wave of positive sell-side commentary about the new device, including a number of price target boosts.
Pier 1 Imports
(PIR) - Get Report
, the specialty retailer, said fiscal second-quarter earnings rose 58%. It also announced it was raising its full-year earnings guidance. The stock rose a little less than 1%.
Dole Food
(DOLE)
was an active issue following a report that the company is in advanced talks to sell its packaged foods and Asian fresh fruit and vegetable businesses to Japan's
Itochu
. A report from the
Nikkei
business daily reported that Itochu may pay as much as $1.7 billion. Shares fell incrementally on heavier than normal volume.
Vical Incorporated
(VICL)
shares gained 6.6% after the San Diego, Calif.-based biopharmaceutical company said that it was licensing DNA immunization technology and Vaxfectin adjuvant for use in the production of antibodies to
Bristol-Myers Squibb
(BMY) - Get Report
.
--Written by Andrea Tse and Joe Deaux in New York.
>To contact the writer of this article, click here:
Andrea Tse
.