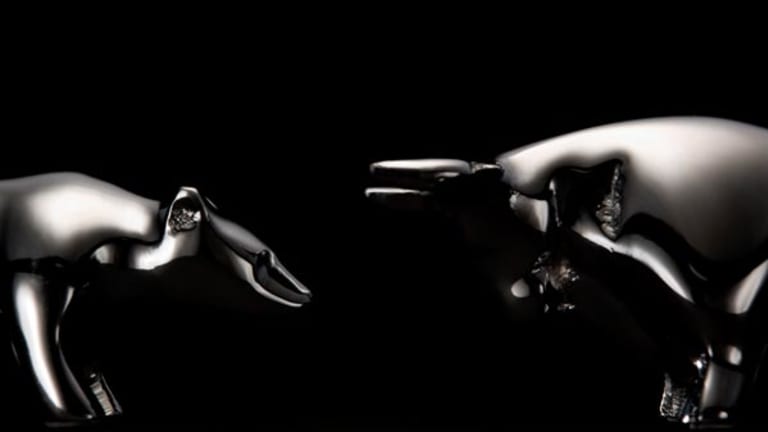 Stocks Finish Higher Ahead of Fed Decision
The major U.S. equity averages edge up ahead of the central bank's policy decision on Thursday. Apple shares enjoy a boost from the debut of the iPhone 5.

NEW YORK (TheStreet) -- U.S. stocks finished in positive territory Wednesday as investors mostly stood pat as the Federal Reserve kicked off a two-day policy meeting widely anticipated to yield another round of quantitative easing.
The big events of the day --
Apple's
(AAPL) - Get Report
launch of the iPhone 5 and a German court ruling supporting the country's participation in eurozone bailout efforts -- both went according to expectations.
The
Dow Jones Industrial Average
closed up 10 points, or 0.07%, at 13,333. The blue-chip index, which grabbed scored its fifth gain in the past six sessions, ranged less than 55 points on the day.
Winners outpaced losers within the Dow, 18 to 12, led by
General Electric
(GE) - Get Report
,
Verizon Communications
(VZ) - Get Report
and
Travelers
(TRV) - Get Report
.
Blue-chip decliners included
Bank of America
(BAC) - Get Report
,
du Pont
(DD) - Get Report
,
Boeing
(BA) - Get Report
and
McDonald's
(MCD) - Get Report
The
S&P 500
added 3 points, or 0.21%, to finish at 1436.56. The
Nasdaq
overcame a late-session dip to rise 10 points, or 0.32%, to settle at 3114.
Apple provided a needed boost as its stock enjoyed a surge in the final hour to close up 1.4% at $668.79, just below its high for the day. The iconic company unveiled
at a media event in San Francisco, while also announcing redesigns for its iPod line and an updated version of iTunes.
The iPhone 5 represents a fairly major overhaul of the world's most popular smartphone with a bigger screen, LTE capabilities, Retina Display technology and an improved camera. The device is also thinner and lighter than its predecessors. Pricing starts at $199 with a two-year contract, Apple said, with pre-orders starting Friday and shipping set to begin on Sept. 21. Check out
TheStreet's
of the event.
The strongest sectors in the broad market were consumer cyclicals, financials and capital goods. Consumer non-cyclicals, utilities and health care were in the red.
Volume totaled 3.62 billion on the New York Stock Exchange and 1.69 billion on the Nasdaq. Gainers were ahead of decliners by a nearly 2-to-1 ratio on the Big Board and 1.5-to-1 on the Nasdaq.
The stakes are high for the Fed's latest policy meeting, which concludes Thursday afternoon. In addition to expectations for another large asset-purchase program, the central bank could extend its promise to keep interest rates at historic lows into 2015 from the current pledge of late 2014.
U.S. stocks got an early boost after Germany's Federal Constitutional Court decided to throw out a request for an injunction against the European Stability Mechanism bailout fund. The mood also picked up after some heartening overseas data.
While ruling in favor of the ESM, the court also imposed conditions whereby German liability on the fund should not rise beyond €190 billion without parliamentary approval.
"Beyond this soft cap, the court is clear that political decisions on European integration and crisis management have to be taken by democratically elected people, which is a very soft stance as there seems to be nothing in terms of constitutional constraints on further integration," said Chris Walker, a strategist at UBS. "It is probably the most market-friendly outcome investors could have hoped for."
The ESM can now be formally approved soon; the ESM's first board meeting is expected in October.
"The ruling simply removed a near term item that was more speed bump than hurdle," commented Dan Greenhaus, chief global strategist at BTIG. "The constraints specified by the court aside, what matters for U.S. investors is less clear."
The FTSE in London was down 0.32% after staying in the green for much of the European session. The DAX in Germany gained 0.31% and was off session highs. On Wednesday, data showed that eurozone industrial production turned sharply higher in July and UK jobless claims fell more than expected in August.
The Hong Kong Hang Seng index settled up 1.10% and the Nikkei in Japan closed up 1.73% after Chinese Premier Wen Jiabao indicated that there's much room for the use of fiscal and monetary tools to help bolster the world's second largest economy and Japanese machinery orders rose more than expected in July.
The benchmark 10-year Treasury lost 16/32, lifting the yield to 1.762%. The greenback fell 0.25%, according to the
October crude oil futures settled down 16 cents at $97.01, while December gold futures fell $1.20 to settle at $1,733.70 an ounce.
In U.S. economic news, the Commerce Department said wholesale inventories rose 0.7% in July, up the most in five months. Economists were expecting an increase of 0.2% after a decline of 0.2% in June.
Also, the Bureau of Labor Statistics reported Wednesday that import prices declined 2.2% last month from the same time last year and were down 0.5% excluding the fuel component. Meanwhile, August export prices fell 0.9%, and were down 1.9% excluding the agriculture component.
On the corporate front,
Facebook
(FB) - Get Report
CEO Mark Zuckerberg said he was disappointed in the performance of the social networking giant's stocks since its IPO at an appearance at a media conference in San Francisco on Tuesday.
Zuckerberg also disclosed the company wasn't building a Facebook phone, saying that "building a phone is the wrong strategy for us." Shares tacked on 7.6%.
Oncolytics Biotech
(ONCY) - Get Report
shares plunged 15.1% as the development stage, cancer therapeutic company announced that it plans to expand enrollment in the first stage of its study on a treatment of head and neck cancers. The company said it intends to submit protocol amendments to regulators in the immediate near term to reflect these changes, and that it will require additional time to follow the expanded group of patients.
Xyratex
(XRTX)
shares tumbled 10.2% after the provider of data storage technology cut its fiscal third-quarter revenue estimates amid weaker demand from key customers in the core enterprise data-storage unit.
Ford's
(F) - Get Report
board is expected this week to discuss a succession plan for CEO Alan Mulally, who is expected to retire by the end of 2013, according to
Bloomberg
, which cited a person familiar with the matter. Shares closed up 0.59%.
--Written by Andrea Tse and Joe Deaux in New York.
>To contact the writer of this article, click here:
Andrea Tse
.