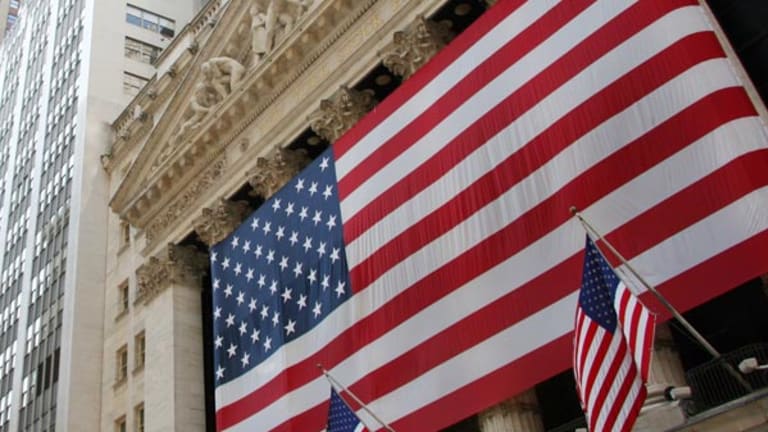 Publish date:
Stocks Finish Mixed Amid Uncertainty on Fed Plans
The Dow drifts lower as a lack of details about the extent of the Fed's stimulus plan overshadowed a surprise drop in initial weekly jobless claims. Gregg Greenberg has The Real Story.
The Dow drifts lower as a lack of details about the extent of the Fed's stimulus plan overshadowed a surprise drop in initial weekly jobless claims. Gregg Greenberg has The Real Story.
NEW YORK (
) -- Stocks stalled Thursday as continued uncertainty about the
Federal Reserve's
plan to support the economic recovery overshadowed a surprise drop in initial weekly jobless claims.
The
Dow Jones Industrial Average
lost 16 points, or 0.1%, to finish at 11,109. The
S&P 500
gained a point to close at 1,183, while the
Nasdaq
added 4 points, or 0.2%, to settle at 2,507.
Weighing down the Dow were
3M
(MMM) - Get Report
,
Caterpillar
(CAT) - Get Report
and
Alcoa
(AA) - Get Report
, while
Pfizer
(PFE) - Get Report
,
Walt Disney
(DIS) - Get Report
and
Intel
(INTC) - Get Report
were the biggest losers.
After the closing bell,
Microsoft
(MSFT) - Get Report
said its fiscal first-quarter profits rose 51% to 62 cents per share
, beating Wall Street's consensus view of 55 cents. Shares were rising 1.2% in extended trading.
Investors sought safety in gold and Treasury bonds on Thursday. The December gold contract added $20.30, or 1.5%, to settle at $1,342.50 an ounce and the benchmark 10-year Treasury note strengthened 19/32, diluting the yield to 2.659%.
The U.S. Treasury's $29 billion auction of 7-year notes saw strong demand. The auction had a high yield of 1.970% and a bid-to-cover ratio of 3.06 compared to a recent average of 2.87. Indirects took 50% of the bids.
"In the last day or two, it seems like the market has started to look at Fed easing more realistically. Expectations were very high for significant and immediate easing. Those expectations have come down -- and rightly so -- the Fed wasn't going to go in with guns blazing," said Mike Schenk, senior economist at the Credit Union National Association. "The nervousness related to the potential increases in inflation that a big move in easing could have is well understood by the Fed."
On Wednesday, the market reacted to a
Wall Street Journal
report that the
Fed is likely to purchase a few hundred billion dollars
of U.S. Treasury bonds over several months to lower long-term interest rates and bolster the recovery. The estimate was lower than some forecasts and well below the $2 trillion of purchases that the Fed enacted during the financial crisis, creating some doubt among investors that measures will be large enough to be effective.
Stocks were on the rise early in Thursday's session following news that
initial weekly claims shed 21,000, to 434,000 in the week ended Oct. 23, falling to the lowest level in three months. Economists had expected the level to rise to 458,000, from an originally reported level of 452,000, according to Briefing.com.
"A good deal of the optimism we saw earlier was related to the favorable jobs number, which is good and moving in the right direction, but when all is said and done, it doesn't change the fundamental outlook for the jobs market," Schenk said. "Consumers are still behaving cautiously and in the mode of deleveraging."
General Motors
said it will lower its debt by roughly $11 billion. The automaker also plans to shore up liquidity by buying back all of the government's preferred stock and by paying a note held by the UAW retiree medical benefits trust.
Shares of
Halliburton
(HAL) - Get Report
plunged 7.9% to $31.68 after a presidential commission showed that tests completed prior to the BP Macondo oil spill revealed that cement used by Halliburton could create unstable conditions.
The oil sector also saw some key earnings reports.
Exxon Mobil
(XOM) - Get Report
reported better-than-expected adjusted earnings of $1.44 a share, topping analysts' estimates for earnings of $1.39 a share. The oil company said cash flow from operations and asset sales was $13.9 billion. Revenue rose to $95.3 billion, from $82.3 billion, which missed expectations for sales of $98.1 billion. The stock rose 0.8% to $66.22.
Europe's top oil company
Royal Dutch Shell
(RDS.A)
said third-quarter net earnings rose 7% to $3.46 billion on higher oil prices. Revenue gained 21% to $90.7 billion. Shares listed on the
New York Stock Exchange
ticked 1.6% higher to $63.79.
Sirius
(SIRI) - Get Report
hit a new 52-week high of $1.47 after the satellite radio company said it will retire a portion of its debt. Sirius reports third-quarter earnings on Nov. 4. Shares were last up by 1.9% at $1.43.
Thomson Reuters
(TRI) - Get Report
topped analysts' forecasts by 5 cents with a third-quarter profit of 49 cents and said sales rose 1.2% to $3.26 billion. Shares fell 0.7% to $37.96.
Shares of
Electronic Arts
(ERTS)
fell 1% to $15.63 on news that it cut a number of Canadian jobs in "seasonal roll-offs." The company confirmed the reductions Wednesday to
AOL
(AOL)
tech blog
Joystiq
.
Potash
(POT)
handily beat expectations for earnings of $1.16 a share with a third-quarter profit of $1.32 a share and sales of $1.58 billion surpassed revenue expectations for $1.3 billion. The company issued bullish 2011 earnings guidance of $8 to $8.75 a share, which was well ahead of the $7.59 a share that analysts have been expecting. Shares slipped 3.2% to $142.53.
Colgate-Palmolive
(CL) - Get Report
met consensus estimates with third-quarter earnings of $1.21 a share while lower sales of $3.94 billion missed expectations for revenue of $4.03 billion. The company also forecast double-digit earnings per share growth in 2010. The stock declined 0.7% to $74.92.
3M
(MMM) - Get Report
shares lost 5.8% to $85.07 after the company predicted it would earn as much as $5.74 a share this year, less than the earlier forecast of $5.80. The company's third-quarter earnings of $1.53 a share beat estimates by 2 cents.
Shares of
Motorola
(MOT)
traded 0.5% higher to $8.13 after the company said it swung to a third-quarter adjusted profit of 16 cents a share, topping expectations for earnings of 11 cents. Strong Android phone sales helped revenue rise 6% to a better-than-expected $5.8 billion.
Dow Chemical
(DOW) - Get Report
reported a drop in third-quarter earnings but topped estimates with an adjusted profit of 54 cents a share. The stock lost 1.1% to $30.86.
Moody's
(SYMBOL)
rose earlier in the morning after it beat expectations and raised its forecast for full-year earnings. But the stock was later beaten down after an executive said the company included a 7 cent tax benefit.Shares fell 2% to $26.57
In commodity markets, the December crude oil contract gained 24 cents, or 0.3%, to settle at $82.18 a barrel.
Meanwhile, the dollar traded lower against a basket of currencies, with the dollar index down by 1.1%.
Overseas, Hong Kong's Hang Seng climbed 0.2% while Japan's Nikkei slipped 0.2%. The FTSE in London rose 0.6% and the DAX in Frankfurt gained 0.4%.
--Written by Melinda Peer and Shanthi Venkataraman in New York
.
Disclosure: TheStreet's editorial policy prohibits staff editors and reporters from holding positions in any individual stocks.