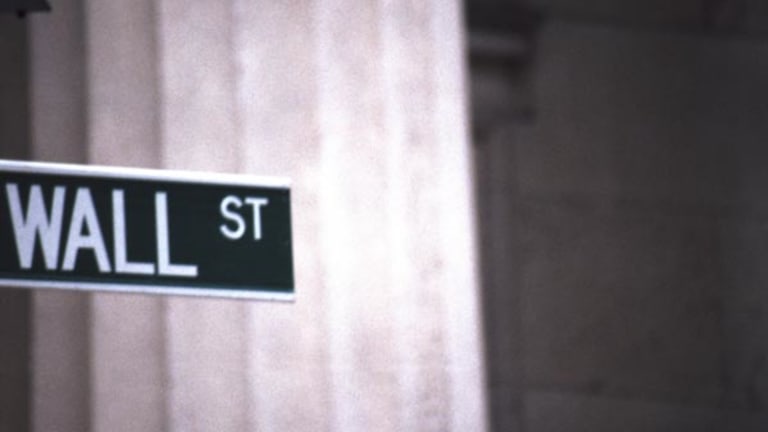 Stocks Gain on Strong Home Sales Data, Weak Dollar
The Dow got a boost from a heartening jump in existing-home sales in September and a rally in materials stocks driven by weakness in the dollar.
The Dow got a boost from a heartening jump in existing-home sales in September and a rally in materials stocks driven by weakness in the dollar.
NEW YORK (
) -- Stocks finished higher Monday led by material stocks that gained on a weaker dollar and a better-than-expected existing-home sales report.
The
Dow Jones Industrial Average
rose 32 points, or 0.3%, to 11,164. The bluechip index rose as high as 11,247 earlier in the morning before paring gains in the afternoon session. The
S&P 500
gained 2 points, or 0.2%, to 1185 and the
Nasdaq
was ahead by 11 points, or 0.5%, to 2490.
DuPont
(DD) - Get Report
,
Kraft Foods
(KFT)
and
Walt Disney
(DIS) - Get Report
were leading the Dow higher while
Bank of America
(BAC) - Get Report
and
JPMorgan Chase
(JPM) - Get Report
were laggards as foreclosure woes continued to weigh on bank stocks.
Texas Instruments
(TXN) - Get Report
beat analyst expectations, reporting a profit of 71 cents per share on revenues of $3.7 billion. Wall Street's consensus view was for earnings of 69 cents a share on revenues of $3.69 billion. Shares were slightly higher in extended trading.
Amgen
(AMGN) - Get Report
said its profits decreased 14% to $1.3 billion in the third quarter from $1.5 billion a year earlier. Adjusted earnings per share came in at $1.36 beating consensus estimates of $1.27 per share. Shares of Amgen were slipping 0.7% in aftermarket trading.
At a
Group of 20 summit ahead of the G-20 meeting next month, leaders agreed to avoid competitive currency devaluation to balance global trade but failed to set specific targets.
The dollar, which sunk to a new 15-year low against the yen earlier, was trading lower against a basket of currencies. The dollar index was last down by 0.4%. The weakness in the dollar has helped push commodities and stocks higher.
In economic news, the National Association of Realtors said
existing-home sales jumped 10% in September to 4.53 million from 4.12 million in August, outpacing expectations for September sales of 4.25 million, according to
Briefing.com
.
Stocks have risen 3% so far in October on expectations that the
Federal Reserve
will implement quantitative easing to boost the economy. That has hurt the dollar while boosting demand for more risky financial assets such as equities and commodities. But uncertainty on the extent that quantitative easing will help stimulate job growth and the economy has caused some experts to question the sustainability of the rally.
Jim Paulsen of Wells Capital Management believes the rally has staying power. He says investors are being too pessimistic and have been suffering from "Armageddon hypochondria" since the height of the recession in 2008.
"We have been a nation on bubble watch," Paulsen told
TheStreet
, citing how worries have shifted from banks to deficits to the euro and now to the dollar. "There is this wall of worry in the market now that is keeping some people out. That is one reason why this rally will have legs."
Paulsen says that the re-acceleration in the market has more to do with the economy recovering from a soft patch rather than expectations of quantitative easing. He expects the S&P 500 to break out past 1200 if weekly unemployment claims drop below 450,000.
"I don't think it is a coincidence that we are pushing to 1200 at the same time when the four-week moving average of weekly unemployment claims is at its low. If unemployment claims break below to 425,000, people are going to feel a lot better and a 14 multiple and 2.5% Treasury yield is not going to look right," he said.
Basic materials were among the strongest performers, helped by the weak dollar. Major steel makers are expected to report earnings this week including
U.S. Steel
(X) - Get Report
and
Arcelor Mittal
(MT) - Get Report
. Iron-ore miners including
BHP Billiton
(BHP) - Get Report
,
Rio Tinto
(RIO) - Get Report
and
Vale
(VALE) - Get Report
gained 2.3%, 2.6% and 1.1% respectively.
Homebuilder stocks rose following the home sales report, with the
SPDR Homebuilder ETF
(XHB) - Get Report
gained 0.5% to $15.75.
D.R. Horton
(DHI) - Get Report
was up 0.6% to $10.68, while
Lennar
(LEN) - Get Report
and
K.B. Home
(KBH) - Get Report
also gained.
Bank of America
(BAC) - Get Report
found errors involving improper paperwork, blank signatures and missing files in 10 to 25 of the first several hundred foreclosure files that it began examining last Monday, according to a
Wall Street Journal
report. Shares finished 2.5% lower to $11.16.
Federal Reserve
Chairman Ben Bernanke said Monday the Fed is investigating foreclosure practices at major financial institutions during a speech at a Fed/FDIC conference on mortgages and housing finance in Washington.
Shares of
Citigroup
(C) - Get Report
jumped 2.4% to $4.21 after Goldman Sachs added it to its conviction list.
Office Depot
(ODP) - Get Report
anticipates a third-quarter profit of roughly 18 cents per share, which includes a one-time benefit of 15 cents, but said sales will decline 4% to $2.9 billion. Analysts have been expecting a loss of 2 cents on sales of $2.95 billion. Office Depot also said its CEO Steve Odland will step down as of Nov. 1 and will serve as a consultant to the company through Dec. 31. Shares were higher by 3.5% to $4.79.
Smart phone sales helped
RadioShack
(RSH)
top third-quarter profit expectations by 2 cents per share. The retailer, which recently began selling
Apple
(AAPL) - Get Report
iPhones in its stores, also said sales rose 6.5% to $1.05 billion. RadioShack's stock slipped 9% to $20.74, as the report showed weak sales for its core products.
BP
(BP) - Get Report
agreed to sell its interests in four mature, producing deepwater oil and gas fields in the Gulf of Mexico to
Maubeni Oil and Gas
for $650 million. Separately, CEO Bob Dudley defended the oil company's response to the Gulf of Mexico oil spill. BP's stock was off by 0.7% at $40.21.
Singapore Exchange
said it made a cash and stock offer of $8.3 million to acquire the operator of the Australian Securities Exchange,
ASX
.
Shares of
CommScope
(CTV) - Get Report
soared 31% to $30.16 after it confirmed that it's discussing being acquired by the
Carlyle Group
and taken private for $31.50 a share in cash.
Savient Pharma
(SVNT)
crashed 44% to $12.07
after management said Monday that efforts to sell the company have failed.
In commodity markets, the December crude oil contract reversed earlier gains rose 83 cents to settle at $82.52 a barrel. Meanwhile, the December gold contract gained $13.90 to settle at $1,338 an ounce.
Meanwhile, the benchmark 10-year Treasury note declined 2/32, diluting the yield to 2.567%. The Treasury successfully auctioned $10 billion worth of 5-year Treasury Inflation-Protected Securities at negative yield of minus 0.550%, as expectations that the Fed will step in to avert deflation and raise inflation expectations mounted, the
Wall Street Journal
reported.
Overseas Monday, Hong Kong's Hang Seng climbed 0.5% while Japan's Nikkei shed 0.3%. The FTSE in London closed 0.2% higher, while the DAX in Frankfurt rose 0.5%.
--Written by Melinda Peer and Shanthi Venkataraman in New York
.
Disclosure: TheStreet's editorial policy prohibits staff editors and reporters from holding positions in any individual stocks.