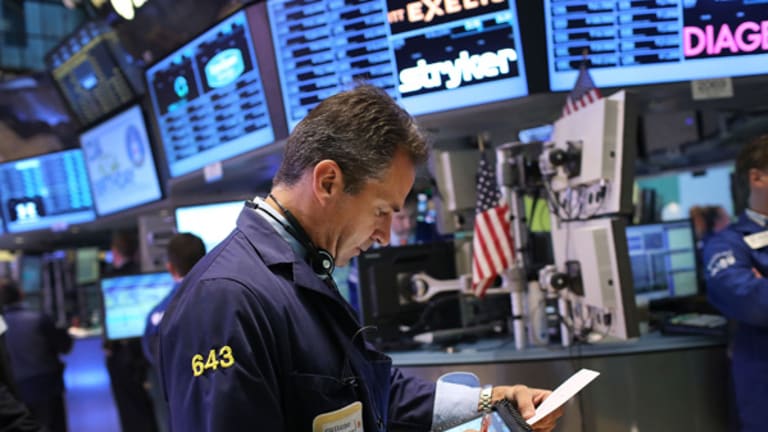 Stocks Finish Red After Notes From Fed
The major U.S. stock averages reverse earlier gains Wednesday after a Fed policy announcement and a handful of earnings reports.
The major U.S. stock averages reverse earlier gains Wednesday after a Fed policy announcement and a handful of earnings reports.

NEW YORK (TheStreet) -- The major U.S. stock averages settled lower in afternoon trades Wednesday, after earlier gains, following the Federal Reserve's policy announcement, the release of upbeat domestic housing market and Chinese economic data, and a handful of positive earnings results.
The better-than-expected new-home sales report for September generated lukewarm reception among economists and provided a boost to various homebuilder stocks such as
Lennar
(LEN) - Get Report
and
KB Home
(KBH) - Get Report
, both finished up more than 1%.
On the earnings front,
Facebook
(FB) - Get Report
, the social networking giant, posted its best one-day gain since its public debut in May, up 19% at final check, after the company posted third-quarter earnings that slightly beat Wall Street estimates and indicated it is making solid progress on a strategy to profitably transition users to mobile devices.
Meanwhile
Boeing
(BA) - Get Report
shares dipped 0.15% after the
Dow
component hiked its full-year outlook after booking third-quarter earnings of $1.35 a share, better than the average analyst estimate of $1.13 a share, as business heated up at its commercial airplane and defense units.
Revenue came in at $20 billion versus the expected $20.03 billion.
The
Dow Jones Industrial Average
fell 25 points, or 0.19%, at 13,077. The blue-chip index started the session up over 7.5% in 2012.
Breadth was positive, with winners outpacing losers 22 to 8. The biggest percentage advancers were
Procter & Gamble
(PG) - Get Report
,
United Technologies
,
Coca-Cola
(KO) - Get Report
and
JP Morgan
(JPM) - Get Report
.
Cisco
(CSCO) - Get Report
,
Caterpillar
(CAT) - Get Report
,
Hewlett-Packard
(HPQ) - Get Report
and
Alcoa
(AA) - Get Report
were laggards.
AT&T
(T) - Get Report
shares edged lower, down 0.80% after the telecommunications giant posted third-quarter net income and revenue that were flat compared with the previous year as the company
with inventory constraints of the new iPhone 5.
The company reported earnings per share of 63 cents on revenue of $31.46 billion, versus the average analyst estimate of 60 cents on revenue of $31.58 billion.
The
S&P 500
lost 4 points, or 0.31%, at 1409. The
Nasdaq
decreased 9 points, or 0.29%, at 2982.
Advancers edged past decliners by a ratio of 1.3 to 1 on the New York Stock Exchange and the Nasdaq. Volume was 3.34 billion shares on the Big Board and 1.95 billion on the Nasdaq.
In the broad market, the stronger sectors included basic materials, capital goods, consumer non-cyclicals and financials. The weaker sectors were consumer cyclicals, technology and transportation.
"The breadth of earnings has remained rather soft since the beginning of the year, in the 1.9:1 area," said Wells Fargo Advisors' chief equity strategist Stuart Freeman and senior equity strategist Scott Wren in a note. "This ratio indicates relatively poor earnings breadth for the mid-cycle portion of an economic recovery. However, we think worldwide monetary stimulus this year in addition to a new round of quantitative easing from the U.S. Fed have yet to impact the global economy."
The Census Bureau reported that new-home sales jumped 5.7% to a seasonally adjusted annual rate of 389,000 in September, from a downwardly revised 368,000 rate in August.
Economists expected new-home sales to rise to a rate of 385,000.
"Sales of new homes rose ... higher than consensus expectations ... However, the level of sales was broadly in line given downward revisions to previous months," noted Goldman Sachs economists.
"While the level of sales is still quite low, the trend is clearly upward," economists at High Frequency Economics said in a note.
The Federal Housing Finance Agency's house price index showed a rise of 0.7% in August versus a downwardly revised gain of 0.1% in July. The data was scheduled for Wednesday but accidentally released a day ahead of time.
The preliminary HSBC China Manufacturing Purchasing Managers Index jumped to 49.1 in October from 47.9 in September "as the rate of decay for China's smaller companies slows," said Stephen Guilfoyle, U.S. economist at Meridian Equity Partners.
"The most recent Chinese macro does suggest that China has found a bottom, and it's economy is stabilizing," Guilfoyle said in a morning note.
The Federal Open Market Committee left rates effectively unchanged and noted an uptick in the housing sector, but said it was still at a depressed level. The central bank also said it would continue to implement the $40 billion open-ended, mortgage-backed security purchasing program it announced last month.
The FTSE in London closed up 0.12% and the DAX in Germany finished up 0.27%. The Nikkei Average in Tokyo closed down 0.67% on Wednesday. Hong Kong's Hang Seng Index finished up 0.31%.
December crude oil futures closed down 94 cents at $85.73 a barrel. December gold futures settled down $7.80 at $1,701.60 an ounce.
The benchmark 10-year Treasury dipped 7/32, raising the yield to 1.790%. The dollar was up 0.01%, according to the
In more corporate earnings news,
Tempur-Pedic
(TPX) - Get Report
shares plunged 19.5% after the mattress maker reduced its full-year forecasts amid growing competition in North America and softness in the European economy. The company narrowly beat bottom-line targets but missed on revenue estimates.
Buffalo Wild Wings
(BWLD)
shares plunged 10.5% after the restaurant operator slashed its earnings outlook as it contends with elevated chicken wing prices, which are overshadowing good sales.
Dow Chemical
(DOW) - Get Report
posted a third-quarter net income decline of close to 40%, with sales falling 10% as the company felt the pain of the European debt crisis and slowdown in China.
The company missed top-line estimates but managed to beat earnings per share consensus estimates.
Dow Chemical said that it plans to cut about 2,400 jobs or 5% of the global work force, and shutter around 20 plants to reduce costs amid "persistently slow macroeconomic growth."
The company expects the actions to result in about $500 million of annual operating cost savings by the end of 2014.
Shares climbed 4.7%.
Drug company
Eli Lilly
(LLY) - Get Report
posted quarterly earnings and sales that missed estimates, weighed down by increased taxes and by Zyprexa patent expirations.
Shares were down more than 2.5%.
Gilead Sciences
(GILD) - Get Report
raised product sales guidance Tuesday for the rest of 2012 and said demand was high for a new HIV medicine launched just two months ago. Earnings in the third quarter also topped Wall Street expectations.
Shares gained 2.7%.
Netflix
(NFLX) - Get Report
, the streaming content and DVD rental company, said Tuesday it expects to increase its U.S. streaming subscriber base to a range of 26.4 million to 27.1 million in the fourth quarter, implying potential growth of 5.2% to 8% from its current base of 25.1 million, which came in at the low end of its outlook of 24.9 million to 25.7 million.
Shares sold off 11.9%.
--Written by Andrea Tse and Joe Deaux in New York.
>To contact the writer of this article, click here:
Andrea Tse
.