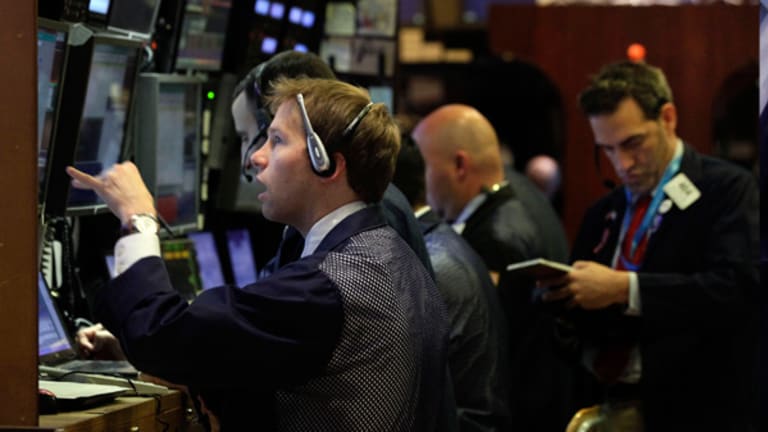 Stocks Plunge on Earnings Woes, Spain Worries
The Dow drops nearly 2% as investors become increasingly nervous about corporate earnings growth. Apple's launch of the iPad Mini gets a muted reaction.
The Dow drops nearly 2% as investors become increasingly nervous about corporate earnings growth. Apple's launch of the iPad Mini gets a muted reaction.

NEW YORK (TheStreet) -- The major U.S. equity averages plunged Tuesday after another round of poor quarterly numbers and lowered outlooks from U.S. companies deepened concerns about a widespread slowdown in the global economy.
Europe's precarious finances were also a drag on trading as Spanish bond yields rose following a downgrade of five of the country's regions by Moody's and the disclosure by Spain's central bank that it may not be able to meet its budget deficit goals for 2012.
Even
Apple
(AAPL) - Get Report
making a big product announcement this afternoon didn't help sentiment. As expected, the company unveiled the
, a smaller version of its market-dominating tablet product, but the stock closed down 3.3% following the news, which was also accompanied by a refresh of the company's Mac personal computer line.
The
Dow Jones Industrial Average
fell more than 243 points, or 1.82%, to finish at 13,102.53, its weakest close since Sept. 5. The blue-chip index is still up 7.24% year-to-date.
Twenty-eight of the Dow's 30 components closed in the red, led by
3M
(MMM) - Get Report
,
Alcoa
(AA) - Get Report
,
Chevron
(CVX) - Get Report
,
du Pont
(DD) - Get Report
, and
Hewlett-Packard
(HPQ) - Get Report
.
Shares of du Pont fell 9% after the diversified industrial company, whose products include seeds, chemicals and engineering polymers, came in short of Wall Street's expectations with its third-quarter results, citing soft demand in the titanium dioxide and photovoltaic markets. It also announced plans to lay off 1,500 employees.
3M's stock closed down 4.1% after the company cut its full-year profit outlook citing "current economic realities."
Shares of
United Technologies
lost 0.98% after the company lowered its sales view for the full year, citing a slow recovery in the commercial aerospace aftermarket and continued uncertainty in the global economy.
The only blue chips in positive territory were
Intel
(INTC) - Get Report
and
Microsoft
(MSFT) - Get Report
.
The
S&P 500
sank nearly 21 points, or 1.44%, to settle at 1413, also its worst close since Sept. 5, while the
Nasdaq
tanked more than 26 points, or 0.88%, to close at 2990, the index's first finish below 3000 since Aug. 6.
Losers were ahead of winners by a 2.7-to-1 ratio on the New York Stock Exchange and a 1.8-to-1 ratio on the Nasdaq. Volume totaled 3.57 billion on the Big Board and 1.83 billion on the Nasdaq.
The weakest sectors in the broad market, which was down across the board, were energy, basic materials, conglomerates, financials, and energy.
"On the surface, Q3 earnings appear to be coming in at or above expected levels, but much of that outperformance has come from the financials and a handful of large cap companies," said Mike PeQueen, managing director at HighTower. "Technology has generally reported weaker than expected results which bolsters the global slowdown story."
"Below the surface, we see continued angst over the upcoming fiscal cliff and the slowdown in China. It is also clear that guidance for Q4 is more negative than we had anticipated which is causing us to remain cautious on the market outlook for the remainder of the year. We now expect earnings estimates to trend down over the next several weeks."
According to
Thomson Reuters
data, the blended estimate for the third quarter, which reflects reported results and analyst expectations, is now forecasting a year-over-year earnings decline of 2.4% for the S&P 500, down from growth of 8.4% in the second quarter. 25% of S&P 500 companies have reported so far.
The FTSE in London finished down 1.44% and the DAX in Germany fell 2.11%. The Nikkei Average in Tokyo finished up 0.04%. The Hong Kong markets were closed for a public holiday.
December crude oil futures shed $1.98 to settle at $86.67 a barrel, while December gold futures plunged $16.90 to settle at $1,709.40 an ounce.
The benchmark 10-year Treasury advanced 16/32, diluting the yield to 1.762%. The dollar rose 0.47%, according to the
In other corporate news,
Facebook
(FB) - Get Report
shares closed up 0.87% ahead of the social networking giant's third-quarter report. After the close, the company posted adjusted earnings of 12 cents a share on revenue of $1.26 billion, topping the average estimate of analysts polled by
Thomson Reuters
for a profit of 11 cents a share on revenue of $1.22 billion. Shares spiked more than 6% higher in extended trades.
Shares of
Netflix
(NFLX) - Get Report
were getting crushed in late trades after the streaming content and DVD rental company said it expects to increase
its U.S. streaming subscriber base
to a range of 26.4 million to 27.1 million in the fourth quarter, implying potential growth of 5.2-8% from its current base of 25.1 million, which came in at the low end of its outlook of 24.9 million to 25.7 million.
"While we are not growing membership as fast as in 2010, we think that over time nearly all U.S. households will be broadband households, nearly all video will be Internet video, and that as our content and member experience continue to improve faster than competitors, our long-term domestic market opportunity remains 2-3x that of linear HBO," said the company, whose stock was down more than 15% in late trades.
Whirlpool
(WHR) - Get Report
shares gained 8.7% after the appliance maker hiked its full-year outlook amid the recovering housing market and reported third-quarter earnings that beat expectations and sales that roughly met targets.
Coach
(COH)
shares surged 7.4% after the luxury goods company booked better-than-expected quarterly profit boosted by stronger international sales and approved the buyback of as much as $1.5 billion in stock by June 2015.
Shares of electronics retailer
RadioShack
(RSH)
shares wavered early Tuesday, but finished up 7.5% after stumbling on a bigger-than-forecast quarterly loss amid weakening smartphone margins.
Shares of
United Parcel Service
(UPS) - Get Report
gained 3% after the delivery giant posted third-quarter earnings that
expectations but revenue that fell short on forecasts.
Western Digital
(WDC) - Get Report
shares fell 2.4% after the hard-drive maker provided a fiscal second quarter outlook that were below expectations, as demand softens in a sluggish global economic environment.
Texas Instruments
(TXN) - Get Report
delivered weaker-than-expected guidance with its third-quarter results amid ongoing weakness in the semiconductor market. Shares added 0.18%.
Yahoo!
(YHOO)
delivered strong quarterly numbers Monday evening and CEO Marissa Mayer presided over her first conference call Monday, but once again declined to provide guidance. Shares rose 5.7%.
--Written by Andrea Tse and Joe Deaux in New York.
>To contact the writer of this article, click here:
Andrea Tse
.
Follow @Commodity_Bull