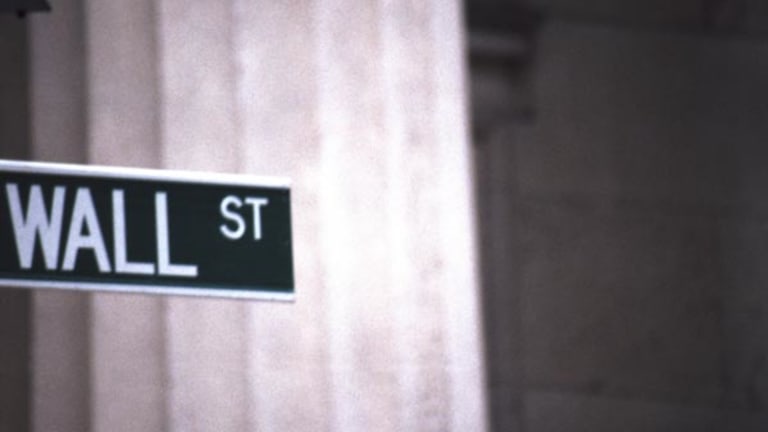 Dow Posts Modest Gain Amid Choppy Trading
Stocks finished higher in a volatile session Thursday as encouraging earnings reports outweighed the influence of profit-taking and a stronger dollar.
Stocks finished higher in a volatile session Thursday as encouraging earnings reports outweighed the influence of profit-taking and a stronger dollar.
NEW YORK (
) - Stocks finished higher in a volatile session Thursday as encouraging earnings reports outweighed the influence of profit-taking and a stronger dollar.
The
Dow Jones Industrial Average
rose 38 points, or 0.3%, to close at 11,146. The blue-chip index ranged from 11,213 to 11,066 during the session. The
S&P 500
advanced 2 points, or 0.2%, to 1180, while the
Nasdaq Composite
finished up 2 points, or 0.1%, at 2,459.
The rally was very narrow with the number of stocks that declined actually outnumbering those that advanced by a slight margin. The optimism about earnings was fueled by a fresh batch of better than expected reports with regional banks and key Dow components beating expectations.
After the closing bell
Amazon.com
(AMZN) - Get Report
said its third-quarter profit grew 16% to 51 cents per share, beating Wall Street's consensus estimate of 48 cents. The stock was shedding 3.3% in extended trading after rising 4% to close at $164.97 in the regular session.
American Express
(AXP) - Get Report
said its quarterly profit jumped to 90 cents per share from 53 cents a year earlier, beating the average analyst estimate of 86 cents a share. The stock was gaining 1.4% to $40.27 in aftermarket hours.
"Today, in particular, we have lots of earnings reports that are in excess of expectations and that are also good with respect to the forward-looking picture," said Lawrence Creatura, portfolio manager at Federated Investors, earlier this morning.
"It's kind of interesting because the company-specific news is in conflict with some of the dollar/macro news that we've been seeing recently but that's because companies are adaptive, responsive organisms. They can adjust to a variety of different environments and we've been in a difficult environment for a while. That's allowed management teams to adjust in order to confront headwinds," he said, pointing to headcount reductions, spending on productivity improvements, M&A activity and investments in foreign markets.
However, a strengthening dollar and a wave of profit booking pushed stocks lower in mid-afternoon trading. Mike Shea, managing partner of Direct Access Partners says the market was behaving more like a traders market.
"Today's sell off is a combination of one, prudent profit booking after a 17% rally from the July lows. Two, we are still looking at an earnings season that is inconclusive and three, as we approach November 2, we are going to see increased volatility because of the mid-term elections and of course the Fed," said Shea, reacting to the afternoon slide.
Rumors that a large investor was getting out of high-yield bonds and buying stocks were also making the rounds earlier this morning and may have driven some of the early action, according to Shea.
Dow components
AT&T
(T) - Get Report
,
Caterpillar
,
McDonald's
and
Travelers
(TRV) - Get Report
all met or exceeded third-quarter earnings estimates on Thursday. AT&T's stock was off by 0.9% to $28.34 and Caterpillar shed 1.2% to $78.89. McDonald's added 1.3% to $78.44, and Travelers rose 0.6% to $54.98.
Home Depot
(HD) - Get Report
,
United Technologies
and McDonalds were gainers on the Dow.
Bank of America
(BAC) - Get Report
, Caterpillar and
Alcoa
(AA) - Get Report
were the major losers.
Mostly positive economic data also aided sentiment.
Initial weekly jobless claims fell by 23,000 to 452,000 in the week ended Oct. 16, according to the Labor Department. According to Briefing.com, economists had expected claims to drop to 455,000 from 462,000, previously.
Leading indicators rose 0.3% as expected in September, up from previous growth of 0.1%, the Conference Board said.
Manufacturing activity in the Philadelphia region wasn't as robust as economists anticipated. The October Philly Fed index came in at 1, missing the 1.4 reading that Wall Street projected, according to Briefing.com.
In other news, Bank of America shed 3.3% to $11.36 as concerns on foreclosures and mortgage repurchases continued.
Separately, the government said Thursday Fannie Mae and Freddie Mac many need an additional $215 billion.
In more earnings news, package delivery company
UPS
(UPS) - Get Report
, considered a bellwether of the broader economy, said net income rose 81% to an adjusted profit of 93 cents a share, outpacing consensus estimates for 88 cents a share and raised its forecast. Shares were down by 0.1% to $69.59.
A clutch of regional banks announced better-than-expected earnings on Thursday morning.
SunTrust
(STI) - Get Report
posted its first profit in two years, buoyed by reserve releases and higher mortgage income. The stock jumped 4.4% to trade at $26.59.
PNC Financial
(PNC) - Get Report
said net earnings jumped to $1.1 billion, or $2.07 a share, from $559 million a year ago, crediting improvements in loan loss provisions. Adjusted earnings of $1.56 a share surpassed the profit of $1.36 a share that analysts had projected. The stock rose 1.6% to $53.56.
Huntington BancShares
(HBAN) - Get Report
gained 0.4% to $5.6 after its earnings beat. Meanwhile,
Fifth Third
(FITB) - Get Report
rose 3.2% to $12.80.
Shares of
eBay
(EBAY) - Get Report
spiked 5.9% to $27.19 after it topped Wall Street's profit estimates by 3 cents a share late Wednesday and exceeded calls for sales of $2.18 billion with third-quarter revenue of $2.25 billion.
Netflix
(NFLX) - Get Report
also delivered an upside surprise to the market late Wednesday when it reported third-quarter adjusted earnings of 78 cents a share, outpacing expectations by 7 cents. The stock soared 12.8% to $172.69 on Thursday.
Xerox
(XRX) - Get Report
reported a third-quarter adjusted profit that was a penny higher than expected at 22 cents a share. The company also raised its year-end guidance to adjusted earnings in the range of 92 to 93 cents a share, from 88 to 92 cents a share. The stock advanced 1.1% to $11.21.
Eli Lilly
(LLY) - Get Report
topped third-quarter earnings with an adjusted profit of $1.21 a share and raised year-end earnings guidance to between $4.65 and $4.75 a share on a non-GAAP basis from its previous range of between $4.50 and $4.65 a share. Shares were down by 1.4% to $35.50. The stock was a loser on Wednesday after the Food and Drug Administration denied approval for
Amylin's
(AMLN)
diabetes drug. Amylin shares recovered 4.1% on Thursday to close at $11.48.
Nokia
(NOK) - Get Report
swung to a third-quarter operating profit of €403 million ($564.6 million) and said sales rose 5% to €10.3 billion. Shares gained 4.2% to $11.28.
Shares of
Toyota
(TM) - Get Report
fell slightly to $71.62 on news that the automaker plans to recall 740,000 cars in the U.S. and 599,000 cars in Japan because of brake fluid problems.
Goldman Sachs
(GS) - Get Report
is considering repaying a $5 billion preferred equity investment that it got from Warren Buffet's
Berkshire Hathaway
(BRK.A) - Get Report
, according to a
Wall Street Journal
report. Goldman's stock was off 0.2% to $159.30 at the close.
Chipotle
(CMG) - Get Report
said after the earnings bell that its profits jumped 40% to $1.52 per share, outpacing expectations.The stock was rising 5 in aftermarket hours.
In commodity markets, the December crude oil contract lost $1.98, to trade at $80.56 a barrel. Meanwhile, the December gold contract lost $18.60 to settle at $1,324.70 an ounce.
The dollar index was up 0.3% while the benchmark 10-year Treasury note fell 18/32, strengthening the yield to 2.547%.
Overseas, economic
growth in China slowed to 9.6% in the third quarter, from 10.3% in the previous quarter.
Hong Kong's Hang Seng rose 0.4% and Japan's Nikkei shed 0.05%. The FTSE in London gained 0.5% and the DAX in Frankfurt rose 1.3%.
--Written by Melinda Peer and Shanthi Venkataraman in New York
.
Disclosure: TheStreet's editorial policy prohibits staff editors and reporters from holding positions in any individual stocks.