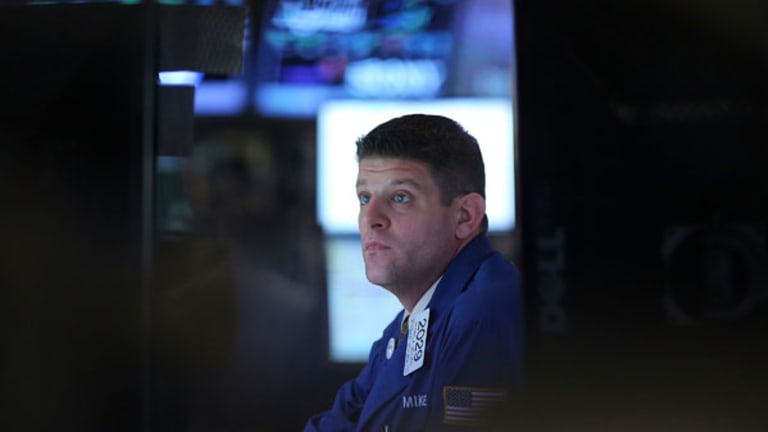 Stocks Pare Losses, End Flat for the Day
The fiscal cliff dominated the news, as President Obama pushes his agenda.
NEW YORK (
) -- U.S. stocks made up losses late in the day Friday, ending mostly flat, as investors watched signs of gridlock in talks on the so-called fiscal cliff.
Consumer spending fell as incomes were little changed, prompting a decline in equities earlier in the day.
The
Dow Jones Industrial Average
added 3 points, or 0.02%, at 13,025. The blue-chip index was up by 6.5% in 2012 before the session began, and gained 0.12% for this week.
Losers outnumbered gainers 16 to 13. Big decliners included
Microsoft
(MSFT) - Get Report
,
Caterpillar
(CAT) - Get Report
,
DuPont
(DD) - Get Report
and
Merck
(MRK) - Get Report
.
Wal-Mart
(WMT) - Get Report
,
Home Depot
(HD) - Get Report
and
Johnson & Johnson
(JNJ) - Get Report
edged higher.
The
S&P 500
ticked up 0.23 points, or 0.02%, at 1,416. The index added 0.5% for the week. The
Nasdaq
fell 2 points, or 0.06%, at 3,010, and jumped 1.46% over the past five sessions.
The stronger sectors in the broad market were utilities, energy and consumer non-cyclicals. The weaker sectors included consumer-cyclicals, transportation, technology, health care and basic materials. Volume was a mere 3.71 billion shares on the Big Board and 2.04 billion shares on the Nasdaq.
"I think we do ultimately get kind of a deal on the fiscal cliff," said Joanna Shatney, head of research and portfolio manager at Schroders' U.S. large-cap equity team. "It becomes more of a gentle slope rather than a cliff."
"The president and Democrats publicly commented in the last few days they're trying to incorporate fiscal spending cuts and tax increases all in one plan," she said. "I think there are probably two scenarios: One is that we come to some sort of near-term compromise and then come together to negotiate again sometime in '13. That's probably most likely.
"We're assuming for next year for the fiscal cliff or the slope, as I'm calling it now, is that government spending ends up being between a 2 and 3 percentage point drag on GDP, but we've been dealing with government spending drags on the GDP for a couple of years now. So I think it'll be a scenario where GDP growth is modest and definitely below potential, but that still fits in with a modest growth picture for next year."
President Barack Obama
used his speech on Friday at a K'nex toy factory in Hatfield, Pa., to get a leg up on House Republicans and others who have resisted his calls for tax increases on the wealthiest 2% of income earners and capital gains and dividend taxes to raise revenue in a new budget.
House Speaker John Boehner, meanwhile, said Friday that there has been a stalemate in the talks with the White House, emphasizing that increasing tax rates is the wrong approach that draws money away from the U.S. economy and is something that small business owners can't afford.
He also said that loopholes to getting rid of special interest deductions should be closed and that there needs to be a balanced approach in the negotiations that also cuts spending.
A bright spot for the markets Friday was the approval of the Greek debt deal by German lawmakers.
The German Parliament on Friday gave the green light, by a vote of 473-100, for a deal assembled by European finance ministers earlier this week to reduce Greece's debt burden to 124% of GDP by 2020. The approval helps open the path to unlocking €44 billion in financial aid to Greece and helps prevent the country from sliding into bankruptcy and potentially leaving the eurozone.
On the U.S. data front, the Bureau of Economic Analysis said Friday that personal income was flat in October after rising 0.4% in September, while personal spending fell 0.2% after increasing 0.8%. Economists expected personal income to rise 0.2% and personal spending to be flat.
Core prices ticked up 0.1% after rising by 0.1% the prior month. Economists predicted an increase of 0.2%.
"This is a disappointing report even if adjusting for Sandy in terms of spending and income with another benign read on core inflation," said David Ader, a strategist at CRT. "Here we are daunted by the flat gain in disposable income with real disposable income down 0.1% an up a mere 1.2% year-over-year. Think about this in the context of higher taxes in 2013."
Meantime, the Chicago PMI Index showed a rise to 50.4 in November from 49.9 in October, snapping a two-month contraction in the manufacturing sector in the Chicago region. Economists were expecting a rise to 50.5.
Gold for February delivery shed $16.80 to settle at $1,712.70 an ounce at the Comex division of the New York Mercantile Exchange, while January crude oil contracts added 84 cents to close at $88.91 a barrel.
The benchmark 10-year Treasury rose 1/32 to dilute the yield to 1.616%. The dollar was off 0.10%, according to the
.
In corporate news,
Zynga
(ZNGA) - Get Report
and
Facebook
(FB) - Get Report
modified the terms of their partnership.
Zynga disclosed in a regulatory filing that it will no longer have to display Facebook ads or use Facebook payments on its own Zynga.com properties. Facebook will be permitted to develop its own games under the new partnership.
Zynga shares erased 6.1%.
Zumiez
(ZUMZ) - Get Report
shares tumbled after the specialty retailer gave a disappointing outlook on Thursday and quarterly revenue came in below analysts' forecasts. The stock shed 0.34%.
Splunk
(SPLK) - Get Report
, the software company, was up 0.73%. The company gave fourth-quarter revenue guidance on Thursday that was above Wall Street estimates.
Citigroup's
(C) - Get Report
trading and investment-banking division plans to cut 150 more jobs and shrink bonuses by as much as 10%,
Bloomberg
reported, citing two people with direct knowledge of the decisions. The shares dipped 1.82%.
Tellabs
( TLAB), which is engaged in designing and marketing equipment and services to communications services providers, declared a special cash dividend of $1 a share and appointed Daniel Kelly as chief executive. Shares surged 20%.
Yum! Brands
(YUM) - Get Report
, whose famous restaurant brands include KFC, Pizza Hut and Taco Bell, saw its shares tumble 9.9% after the company forecast a decline of 4% for same-store fourth-quarter sales in China and reconfirmed a full-year 2012 EPS growth forecast of at least 13%, or $3.24 a share, which fell short of the average analyst's prediction.
Verisign
(VRSN) - Get Report
shares plunged 13.2% after the provider of Internet infrastructure services had to relinquish some rights to raise prices in its renewed agreement with the Commerce Department.
St. Jude Medical
(STJ)
shares were up 1.8% after the manufacturer of artificial heart valves announced a share repurchase of up to $1 billion of its common stock.
-- Written by Andrea Tse and Joe Deaux in New York.
>To contact the writer of this article, click here:
Andrea Tse
.
Follow @Commodity_Bull