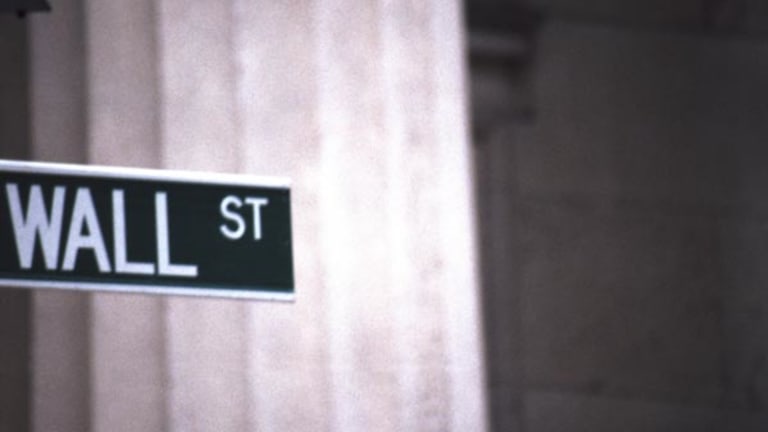 Stocks Close Lower, Weighed by European Debt Crisis
The Dow loses ground Monday as Ireland's bailout package fails to quell concerns about a debt crisis contagion in the eurozone. Gregg Greenberg has The Real Story.
NEW YORK (
) -- Stocks fell Monday as Ireland's bailout package failed to quell concerns about a debt crisis contagion in the eurozone.
The
Dow Jones Industrial Average
shed 39 points, or 0.4%, to close at 11,052, rebounding from its session low of 10,929 as the dollar rally lost steam in late trading. The
S&P 500
shed close to 2 points, or 0.1%, to 1188 after briefly turning positive in the final hour of trading. The
Nasdaq Composite
gave up 9 points, or 0.4%, to 2525.
Financial, energy and transportation stocks rose on Monday, while consumer staples and healthcare stocks dragged the markets lower.
American Express
(AXP) - Get Report
,
Bank of America
(BAC) - Get Report
and
DuPont
(JPM) - Get Report
were the biggest gainers among the blue chips.
Hewlett-Packard
(HPQ) - Get Report
was the Dow's biggest laggard, down 2.2% following a Gartner report showing that tablet sales are cutting into demand for personal computers.
Home Depot
(HD) - Get Report
and
Coca Cola
(KO) - Get Report
were other prominent Dow losers.
Strength in the dollar set the tone for the markets on Monday, as the greenback once again became the safe haven currency amid concerns on European debt.
On Sunday, European finance ministers approved a financial aid package to shore up Ireland's banks, but European markets appeared uncertain about the plan as the euro fell 1.1% to $1.3100 against the dollar. The FTSE in London lost 2.1% and the DAX in Frankfurt shed 2.2%. Asian markets fared better on Monday with Hong Kong's Hang Seng closing 1.3% higher and Japan's Nikkei finishing up by 0.9%.
The dollar traded higher against a basket of currencies. The dollar index was last higher by 0.5%.
Uncertainty surrounding Ireland's bailout overshadowed strong initial reports about
"Black Friday" weekend sales .
The National Retail Federation said Monday its survey found that
total spending over the Black Friday weekend
reached an estimated $45 billion vs. a total of $41.2 billion last year.
UBS economist Larry Hatheway sees good fundamentals for most "risk assets" in 2011 as strong earnings, a gradual recovery and improved valuations contribute to a better investment environment, he said in a recent note, but added that the new "political economy" and corporate re-leveraging will impact 2011 investment outcomes.
"The investment environment is likely to be punctuated by recurring bouts of sovereign, political and geopolitical risk -- the hallmarks of the new 'political economy.' The timing of such shocks will be hard to predict, but the implications are episodic volatility and occasional market setbacks, hopefully nothing worse," he said.
Assuming that the shocks don't significantly hamper the recovery, Hatheway said the re-leveraging of companies in the non-financial corporate sector should have an upside impact on 2011.
"We retain overweight recommendations to other commodity markets, high-yield credit, global REITs and local-currency emerging debt," he said. "We maintain underweight recommendations to nominal and inflation-linked government bonds."
There were no economic reports released on Monday. In other news, President Obama proposed a two-year freeze on federal employees pay on Monday, in a bid to cut a mounting deficit. It's estimated the measure would save $2 billion in 2011, $28 billion in the next five years and more than $60 billion over 10 years.
U.S. investors stayed focused on retail stocks after the Thanksgiving weekend, paying special attention to those who could benefit from "Cyber Monday".
Amazon.com
(AMZN) - Get Report
, a popular site among "Cyber Monday" shoppers, saw its stock gain 1.3% to $179.49.
Piper Jaffray analysts said
Apple
(AAPL) - Get Report
sold 8.8 iPads per hour at each of its stores on Black Friday. The analysts estimate that Apple will sell 5.5 million iPads in the December quarter. Apple shares gained 0.6% to $316.87.
Wells Fargo
(WFC) - Get Report
is expected to be one of the first big banks allowed to restore dividends after sharing capital plans with the
Federal Reserve
, according to an analyst. Wells Fargo's stock jumped 2.2% to $27.20.
Shares of
Johnson & Johnson
(JNJ) - Get Report
shed 0.6% to $61.91 after it received a court order to pay
Basilea Pharmaceutica
$130 million for breaching a licensing agreement.
Starbucks
(SBUX) - Get Report
fell 1.1% to $30.79 as
Kraft Foods
(KFT)
initiated an arbitration proceeding to challenge the coffee company's attempt to break their packaged coffee agreement. Kraft's stock was off by 0.4% at $30.19.
Meantime
Sara Lee
(SLE)
snapped up Brazilian coffee business
Café Damasco
for $60 million. The news sent Sara Lee shares down by 0.4% to $15.08.
BP's
(BP) - Get Report
stock dipped 0.8% to $40.59 on its plans to sell a stake in an Argentina asset in order to help pay for the costs of the Gulf of Mexico oil spill.
Shell Oil unit has reportedly put its South Texas gas fields up for sale, according to
The Wall Street Journal
. The stock fell 1.3% to $61.40.
FedEx
(FDX) - Get Report
climbed 4.6% to $91.59 after Credit Suisse upgraded the stock to outperform from neutral and lifted the 12-month target price to $111 on a strong industrial production outlook.
First Solar
(FSLR) - Get Report
shed 3.1% to $122.14 on reports that German Chancellor Angela Merkel's Christian Democratic Union wants to add an
additional feed-in tariff cut in 2011 .
Oil services companies
Halliburton
(HAL) - Get Report
,
Baker Hughers
(BHI)
and
Schlumberger
(SLB) - Get Report
were prominent gainers on Monday late trading.
Regional bank
Huntington Bancshares
(HBAN) - Get Report
,
Regions Financial
(RF) - Get Report
,
Freeport McMoRan
(FCX) - Get Report
were other notable gainers on Monday's trading.
In commodity markets, the January crude oil contract was up by $1.97 to settle at $85.73 a barrel. The most actively traded February gold contract rose $3.20 to settle at $1,367.5 an ounce.
The benchmark 10-year Treasury note strengthened 12/32, diluting the yield to 2.826%.
.
--Written by Melinda Peer and Shanthi Bharatwaj in New York
.
Disclosure: TheStreet's editorial policy prohibits staff editors and reporters from holding positions in any individual stocks.