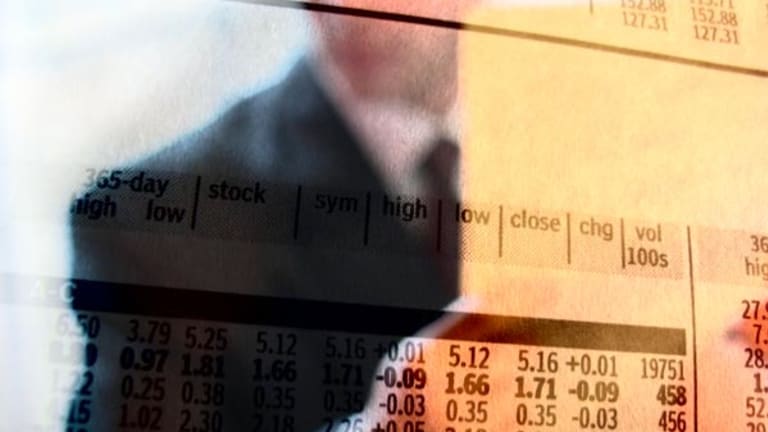 Stocks Finish Strong on Global Optimism
The Dow advances almost 300 points on robust Black Friday sales and signs that Europe is working to address its debt crisis.
NEW YORK (
) -- Stocks soared Monday on robust Black Friday sales and signs that Europe is making progress toward resolving its sovereign debt crisis.
The
Dow Jones Industrial Average
had its best day in a month, adding 291 points, or 2.6%, to close at 11,523. The
S&P 500
rose 34 points, or 2.9%, to settle at 1193, snapping a seven-day losing streak. The
Nasdaq Composite
rose 86 points, or 3.5%, to finish at 2527.
All 30 Dow components closed higher, led by
Alcoa
(AA) - Get Report
,
Caterpillar
(CAT) - Get Report
,
Hewlett-Packard
(HPQ) - Get Report
and
Chevron
(CVX) - Get Report
.
Volumes were relatively light after the Thanksgiving holiday, with about 3.88 billion shares changing hands on the New York Stock Exchange and 1.62 billion on the Nasdaq.
"The move ... is looking particularly energetic after a very dismal week and seven straight days of losses,"
said James "Rev Shark" DePorre, founder and CEO of Shark Asset Management.
Reports of record Black Friday sales following the Thanksgiving holiday gave investors the green light to buy stocks. Retail sales shot up 6.6% from a year ago to $11.4 billion, according to ShopperTrak. Online sales surged 24.3% from the previous year, according to IBM's Coremetrics scale.
Investor sentiment also received a boost from reports that the European rescue fund might insure up to 30% of the region's sovereign bonds. Reports also indicate that the International Monetary Fund is setting aside €600 billion ($804 billion) in aid for Italy to prepare for a worsening of the debt crisis. The IMF denied the reports.
"This move, if successful, would shift the risk of a financial haircut from investors of Italian debt -- aka bondholders -- to a broad array of tax payers inside and importantly, outside of the eurozone," said Fellon-McCord analyst Brian Habacivch. "We note 'if successful' in that various countries such as the U.S. and Japan, for instance -- accounting for 24% of the IMFs funding -- would have to approve such a bailout through their legislatures. In the U.S., this bailout would likely face stiff opposition in the House of Representatives."
Germany and France -- Europe's largest and second-largest European economies -- are reportedly trying to speed up plans on rules to enforce budget discipline, sparking hopes of greater intervention in the sovereign debt markets by the European Central Bank.
President Barack Obama will reportedly pressure European Union officials Monday to resolve the region's debt crisis, as European Council President Herman Van Rompuy and European Commission President Jose Manuel Barroso arrive at the White House for talks on cross-Atlantic trade and investments.
London's FTSE closed 2.87% higher and Germany's DAX finished the day up 4.6%. Japan's Nikkei Average settled up 1.56% and Hong Kong's Hang Seng index closed 1.97% higher.
Sales of new single-family houses in October came in at 307,000, or 1.3% higher than the revised September rate of 303,000, according to a Department of Commerce report. But they remain tepid by historical standards amid high U.S. unemployment. Economists surveyed by
Reuters
were expecting sales to have increased to 315,000 annualized units from the originally reported 313,000 units in September.
In corporate news,
AT&T
(T) - Get Report
is considering an offer to divest a significantly larger portion of assets than it had initially expected to potentially salvage its $39 billion merger with
T-Mobile USA,
according to a
Bloomberg
report. AT&T shares added almost 2%.xxx
Retailers that opened at midnight or earlier on Black Friday, like
Wal-Mart
(WMT) - Get Report
,
Target
(TGT) - Get Report
,
Macy's
(M) - Get Report
,
Kohl's
(KSS) - Get Report
and
Best Buy
(BBY) - Get Report
saw on average a 24% boost in their conversion (the number of shoppers that actually made a purchase), according to the NPD Group, a consumer research firm. Shares of the retailers rose by as much as roughly 5%.
Amazon
(AMZN) - Get Report
was a big winner on Black Friday, reporting that sales of its Kindle e-reader quadrupled from last year. The e-commerce giant also noted that its Kindle Fire tablet is still the most popular item on its Web site since its launch last month. Shares of Amazon jumped over 6%.
The National Highway Traffic Safety Administration is opening a formal safety defect investigation of the
General Motors'
(GM) - Get Report
Chevrolet Volt, months after the vehicle burst into flames after a crash on a federal test site. GM said it's working with the administration and monitoring all Volt vehicles on the road -- and has implemented new protocol that will de-power the battery of Volt vehicles after a crash. GM shares spiked almost 2%.
The January crude oil contract added $1.44 to close at $98.21 a barrel. Gold for December delivery surged $25.10 to finish at $1710.80 an ounce.
The benchmark 10-year Treasury fell 2/32, raising the yield to 1.972%. The dollar fell against a basket of currencies, with the dollar index down 0.5%.
-- Written by Andrea Tse in New York
.