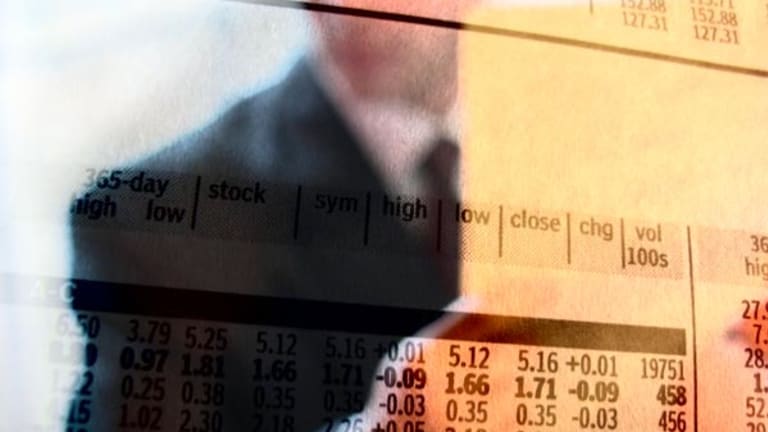 Stocks Surge as Investors Cheer Data
The Dow gets a lift from employment data and improving consumer sentiment before Thanksgiving.
NEW YORK (
) -- Stocks surged more than 1% on Wednesday as a better-than-expected read on jobless claims and signs of improving consumer sentiment offset concerns about eurozone debt and tensions in Korea.
The
Dow Jones Industrial Average
rose 151 points, or 1.4%, to finish at 11,187. The
S&P 500
gained 18 points, or 1.5%, to close at 1198, and the
Nasdaq Composite
jumped 48 points, or 1.9%, to 2543.
Capital goods, technology and retail were the strongest sector performers.
Boeing
(BA)
,
DuPont
(DD)
,
Caterpillar
(CAT)
and
United Technologies
(AXP)
were the biggest percentage gainers within the Dow while
Hewlett-Packard
(HPQ)
,
Verizon
(VZ)
and
Procter & Gamble
(PG)
were the only blue chips to finish in negative territory.
"The real kicker of the day has been the jobless claims number, which came down rather sharply, and consumer sentiment showed improvement," said Peter Cardillo, chief market economist at Avalon Partners. "The fact that Ireland released its austerity plan is beginning to ease some of the concern surrounding the European debt crisis. The dollar is a little bit lower, causing less risk aversion."
The
euro gained strength after falling to a two-month low against the dollar as Ireland released details of its austerity plan. The nation plans to cut $20 billion through spending cuts and extra taxes although the corporate tax rate -- a sticking point in bailout talks -- will remain at 12.5%. Ireland aims to lower the deficit to 3% of gross domestic product by 2014. The plan is required for the government to receive an €85 billion ($115 billion) loan from the European Union and the International Monetary Fund.
The euro rose to $1.3380 from $1.3370.London's FTSE finished higher by 1.4% and the DAX in Frankfurt gained 1.8%. Earlier, Hong Kong's Hang Seng added 0.6% while Japan's Nikkei lost 0.8%.
Eurozone contagion fears still lingered as a strike by public-sector workers in
Portugal to protest the government's austerity measures made markets question whether the nation will be able to improve its financial standing.
Also on Wednesday, Seoul and the U.S. responded to North Korea's attack, with South Korea announcing a naval drill with a U.S. carrier group.
But with Wednesday's session bringing a deluge of data ahead of the market holiday on Thursday, investors stayed focused on the economic situation at home.
Initial jobless claims came in much better than expected for the week ended Nov. 20, shedding 34,000 to 407,000, its lowest level since July 2008, from 441,000, previously.
Consumer sentiment jumped to 71.6 in November, according to the University of Michigan's sentiment index. The level easily exceeded the 69.4 reading that economists had been expecting and improved from a preliminary reading of 69.3. October's consumer sentiment reading was 67.7.
The Department of Commerce said personal incomes rose 0.5% in October after remaining flat in the previous month, and personal spending increased 0.4% from September's uptick of 0.3%. The growth was in line with expectations.
The durable goods orders report and new home sales data was less encouraging.
Durable goods orders slumped 3.3% in October, disappointing expectations for a milder decline of 0.3%. That compares with growth of 5% in September. Excluding transportation, orders fell 2.7% after rising 1.3% in the prior month. Economists had projected orders excluding transportation to show a 0.4% uptick.
New-home sales fell 8.1% in October to 283,000, from 307,000 in September. According to Briefing.com, economists had been expecting sales to rise to 312,000.
The Federal Housing Finance Agency's third-quarter home price index showed a decline of 1.6%, after previous growth of 0.7%.
"The market has recouped most of yesterday's losses on initial jobless claims," said Nino Jimenez, senior vice president at Brinson Patrick. "There was a lot of strong data out today. Durable goods orders numbers were weaker than expected but they're typically very volatile so that might be one reason why they aren't getting more focus. The market still cares greatly about employment data so that's really what's driving today's rally."
The economic reports also overshadowed a widening insider trading probe that involves high profile firms including
SAC Capital
and
Goldman Sachs
. On Wednesday, the
U.S. attorney's office placed under arrest Don Chu , a man who worked for an "expert network" firm, for leaking private information to a hedge fund manager.
In commodity markets, oil prices rose $2.61 to settle at $83.86 a barrel, buoyed by positive economic data.
Separately, the Energy Information Administration said crude oil inventories gained 1 million barrels in the week ended Nov. 19. The increase disappointed expectations for a drawdown of 1.9 million barrels, according to Platts, but wasn't as bearish as the build of 5.19 million barrels that the American Petroleum Institute reported late Tuesday.
Meanwhile, the December gold contract shed $4.60 to settle at $1,373 an ounce, as risk aversion waned.
Shares of
Oracle
(ORCL)
closed up by 2% to $27.74 after a federal jury ruled that
SAP
(SAP)
must pay the company $1.3 billion because of copyright infringement. NYSE-listed shares of SAP were down 1.3% to $48.
Johnson & Johnson's
(JNJ)
McNeil Consumer Healthcare division
recalled 9.3 million bottles of three Tylenol products because of labeling problems. The stock closed higher by 0.7% at $63.29.
Shares of
BP
(BP)
rose 1.4% to close at $41.47 after the oil and gas giant announced
a major gas find in Egypt .
Shares of
Dynegy
(DYN)
finished the session up 2.6% to $5.13 a day after its deal with the
Blackstone Group
(BX)
and
NRG Energy
(NRG)
fell through.
Tiffany
(TIF)
saw its stock rise 5.3% to close at $61.33 after the jewelry retailer reported a third-quarter profit of 43 cents a share on sales of $681.7 million and upped its year-end outlook. Analysts had been expecting third-quarter earnings of 37 cents a share on sales of $652.8 million.
Guess
(GES)
jumped 10.5% to $50.12
after it reported better-than-expected profits . During the quarter the specialty apparel retailer earned $69.1 million, or 75 cents a share, compared with analysts' forecasts of 59 cents. Revenue climbed 17% to $613.9 million.
Other retail stocks that gained ahead of "Black Friday" included
Amazon
(AMZN)
,
Target
(TGT)
and
Macy's
(M)
. The
SPDR Retail ETF
(XRT)
and the
Retail HOLDRS
(RTH)
closed up 1.6% and 1.9% respectively.
Shares of LED maker
Cree
(CREE)
soared 10.2% to $64.45 after
Morgan Keegan added the stock to its focus buy list .
Shares of
Bank of Ireland
(IRE)
listed on the NYSE closed down 7.1% to $1.58 on reports that the government of Ireland may purchase a further stake in the bank, wiping out shareholders.
Shares of
Monster Worldwide
(MWW)
gained 9.6% to $22.36 as weekly jobless claims sank to the lowest level since July 2008, encouraging hopes that the jobs market may be stabilizing.
Shares of
SanDisk
(SNDK)
ticked higher by 4.8% to $45.01 after a UBS analyst raised its target price to $55.
The dollar traded lower against a basket of currencies with the dollar index down by 0.1%, and the benchmark 10-year Treasury note weakened 16/32, lifting the yield to 2.919%.
.
--Written by Melinda Peer and Shanthi Bharatwaj in New York
.
Disclosure: TheStreet's editorial policy prohibits staff editors and reporters from holding positions in any individual stocks.