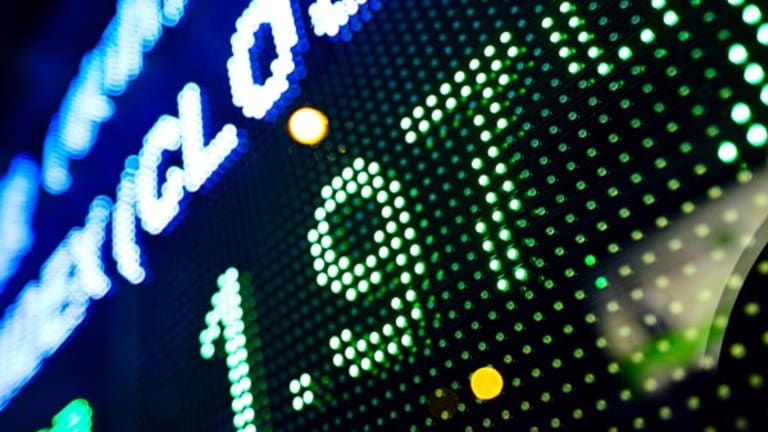 Stocks Fall Sharply on World Woes, Fed Outlook
The Dow dives as investors digest news of Fed dissent on quantitative easing, eurozone debt worries and war talk between the Koreas. Gregg Greenberg has The Real Story.
NEW YORK (
) -- Stocks tumbled for the second straight day on Tuesday as a flare-up of tensions between North Korea and South Korea, uncertainty about the depth of the eurozone debt crisis and a lower economic outlook from the
Federal Reserve
dealt a blow to investor sentiment.
An
ongoing insider-trading probe widened to include more hedge funds on Tuesday, also added to market jitters.
The
Dow Jones Industrial Average
shed 142 points, or 1.3%, to 11,036. The
S&P 500
finished lower by 17 points, or 1.4%, to 1181, and the
Nasdaq Composite
dropped 37 points, or 1.5%, to 2494.
Microsoft
(MSFT)
,
JPMorgan Chase
(JPM)
and
Walt Disney
(DIS)
led the Dow lower, while
Hewlett-Packard
(HPQ)
was the only gainer among the blue chips.
U.S. investors woke up to news that
North Korea fired roughly 100 artillery shells at a South Korean island
Tuesday, killing at least two marines and wounding others, according to news reports.
Meanwhile, investors continued to worry that the debt crisis in Ireland would spill over to Portugal and Spain. German Chancellor Angela Merkel warned that the prospects of serial European bailouts was "exceptionally serious", sending the euro to a three-month low,
Bloomberg News
reported. The spread of Spanish bonds over German counterparts rose to a record euro-era high, the report noted.
The FTSE in London fell 1.8% and the DAX in Frankfurt declined by 1.7% as investors worried that Spain and Portugal will be next in line for a crisis. In Asia, Hong Kong's Hang Seng fell 2.7% while Japan's Nikkei added 0.9%.
The geopolitical concerns increased the appeal of safe-haven assets. The dollar traded higher against a basket of currencies with the dollar index up by 1.3%. The euro slid 1.9% versus the dollar to $1.3367. The benchmark 10-year Treasury note strengthened 7/32, diluting the yield to 2.782%.
.
The December gold contract jumped $19.8 to settle at $1,377.50 an ounce. The January crude oil contract was off by 47 cents to trade at $81.27 a barrel.
"We ended last week with three issues: China, taxes and Ireland. We got some clarity on Ireland but you can basically substitute geopolitical risk with Korea and the other two issues haven't gone away," said Burt White, chief investment strategist for LPL Financial. "Small businesses are basically being held hostage in terms of what taxes will look like going forward, and everyone is waiting to see whether China is going slow growth by tapping on the brakes or by slamming on the brakes."
"And then you have one bigger, macro umbrella issue, which is that the market just stomped through QE2," he said. "Rates have moved higher, not lower, and risky assets sold off when they were supposed to move higher. So people are starting to question whether QE2 will really have the impact that the market thought it would."
The minutes of FOMC meeting held Nov. 2-3 released Tuesday afternoon showed that members wrestled with the expected downward impact of quantitative easing on the dollar and the risk of inflation.
"Some participants noted concerns that additional expansion of the Federal Reserve's balance sheet could put unwanted downward pressure on the dollar's value in foreign exchange markets," the minutes said. "Several participants saw a risk that a further increase in the size of the Federal Reserve's asset portfolio, with an accompanying increase in the supply of excess reserves and in the monetary base, could cause an undesirably large increase in inflation. However, it was noted that the Committee had in place tools that would enable it to remove policy accommodation quickly if necessary to avoid an undesirable increase in inflation."
The Fed also noted that the progress towards its dual mandate was slow and lowered its GDP estimate for 2011 by 50 basis points to 3.3%.
The
U.S. economy grew 2.5% in the third quarter, according to the Department of Commerce's second estimate. The increase improved from the department's preliminary read for 2% growth and exceeded expectations for an uptick of 2.4%, according to Briefing.com. In the second quarter, GDP grew 1.7%.
The National Association of Realtors said
October existing-home sales fell 2.2% to a seasonally-adjusted annual rate of 4.43 million in October from 4.53 million in September. The market had been anticipating a decline to 4.42 million, according to Briefing.com.
Energy was the session's weakest sector with
Exxon Mobil
(XOM)
and
Chevron
(CVX)
showing the biggest losses on the Dow.
Hewlett-Packard ticked up by 2.1% to $44.19 after the PC and printer giant beat expectations with adjusted fourth-quarter earnings of $1.33 a share on sales of $33.3 billion.
J. Crew
(JCG)
showed the best gains as its stock soared 16.8% to $43.99 after it agreed to be acquired by
TPG Capital
and
Leonard Green & Partners
for $43.50 a share, or $3 billion. The agreement allows J. Crew to consider alternative offers through Jan. 15, 2011.
Shares of
New York Times
(NYT)
rose 4.1% to $8.90 and saw an unusual spike in volume for a second day in a row.
Dynegy's
(DYN)
stock traded 2.7% lower to close at $5 on a failed takeover by
Blackstone Group
(BX)
. Blackstone's stock closed down 2.4% at $12.93.
Shares
Medtronic
(MDT)
were down by 1.5% at $34.18 after the medical technology company said second-quarter earnings dropped 35% to $566 million, or 52 cents a share. On a non-GAAP basis, however, earnings gained 4% to $887 million, or 82 cents a share, topping expectations by a penny.
Campbell Soup
(CPB)
said first-quarter net earnings fell 8% to $279 million, or 82 cents a share, and sales dropped to $2.172 billion. Analysts had been expecting a profit of 83 cents a share on sales of $2.2 billion. The stock slipped 2.4% to $34.
Jack in the Box
(JACK)
shed more than 10% to $20.23
after it missed analyst expectations.
Airgas
(ARG)
plunged 6% to $62 after it succeeded in fending off a $5.5 billion takeover by
Air Products
(APD)
.
Brocade Communications
(BRCD)
dived 10% to $5.15 after it issued a disappointing outlook.
Standard & Poor's
downgraded
Regions Financial
(RF)
to junk status,
on concern that loan losses will erode its capital. Shares lost 2.6% to $5.21.
After the bell,
TiVo
(TIVO)
said losses widen to $20.6 million in the third quarter as revenue dropped and operating costs spiked. Shares were falling 2.5% in extended trading to $8.59.
--Written by Melinda Peer and Shanthi Bharatwaj in New York
.
Disclosure: TheStreet's editorial policy prohibits staff editors and reporters from holding positions in any individual stocks.