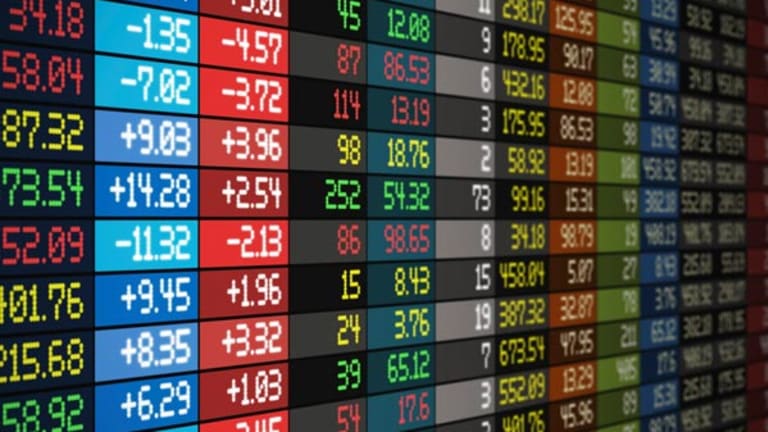 Stocks Finish Mixed as Tech Rallies
A recovery in tech and small-cap stocks in the final hour of trading made for a mixed close as the Dow and S&P 500 dipped but the Nasdaq Composite settled higher.
NEW YORK (
) -- Stocks finished Monday mixed as a recovery in tech and small-cap stocks in the final hour of trading supported a healthy bounce off session-lows.
The
Dow Jones Industrial Average
finished down 25 points, or 0.2%, at 11,179. Earlier in the session, the blue-chip index was off more than 100 points, scraping a low of 11,054. The
S&P 500
dipped 2 points, or 0.1%, to 1197 while the
Nasdaq Composite
staged a strong comeback in the second half of the session to finish higher by 14 points, or 0.5%, at 2532.
Stocks began Monday on a weak note as investors worried that the eurozone debt crisis might spread beyond Ireland.
Investors were also feeling jittery following reports from the
Wall Street Journal
that
federal officials are investigating alleged insider trading rings involving hedge funds, analysts and investment bankers. On Monday, the
Wall Street Journal
reported that the FBI raided the Connecticut offices of three hedge funds -- Diamondback Capital Management LLC , Level Global Investors LP and Loch Capital Management.
Goldman Sachs
(GS)
in particular was hit hard. Its stock shed 3.3% to $161.04 on reports that it was being investigated for allegedly leaking information on healthcare deals.
The financial sector was the session's weakest following a
Barclays Capital
(BCS)
analysis that found large U.S. banks may face an equity capital shortfall of as much as $150 billion once new Basel capital standards are put in place.
JPMorgan Chase
(JPM)
and
Bank of America
(BAC)
were the Dow's biggest laggards. Global banks were also sharply lower with the
Bank of Ireland
(IRE)
among the worst hit, dropping 16.8% to close at $2.22.
Allied Irish Banks'
(AIB)
New York-listed stock shed 9.8% at $1.11.
Tech stocks were the session's strongest performers ahead of
Hewlett Packard's
(HPQ)
quarterly results. After the bell, HP announced that its profits adjusted for items grew 17% to $1.33 per share beating estimates by 6 cents. The stock was rising 1% in extended trading.
Over the weekend, Ireland formally requested bailout funds from the European Union and International Monetary Fund to bolster its banking system. Although the exact size of the loan package is still being worked out, it's said to be in the range of €80 billion to €90 billion ($109 billion to $123 billion), prompting Moody's Investors Service to say that it may downgrade Ireland's credit rating by several notches since the package will increase the country's debt.
The euro fell against the dollar to $1.3605 from $1.3685 on Friday, and the dollar traded higher against a basket of currencies with the dollar index up by 0.2%.
The FTSE in London lost 0.9% Monday, and the DAX in Frankfurt shed 0.3%. Hong Kong's Hang Seng dipped 0.4% lower, while Japan's Nikkei rose 0.9%.
Marc Pado, U.S. market strategist at Cantor Fitzgerald, said the backlash seen across markets on Monday was related to investors' fears that the move would set a precedent for other eurozone countries bogged down by debt such as Greece, Portugal and Spain.
"The IMF is probably going to have to deal with people standing in a line asking, 'If you bailed out Ireland to this tune, what are you going to do for us?'" He said.
Although eurozone concerns have gotten a lot of play recently, Pado said the U.S. consumer is really what the market is focusing on this week as the holiday shopping season kicks off with
Black Friday, although several stores are rolling out sales ahead of the Thanksgiving holiday.
"How U.S. consumers do this week will set the tone for the rest of the year," he said, adding that markets are likely to stall this week as investors position themselves for the consumer spending data they will get next week.
"The fourth quarter is such a major catalyst for the whole economy and corporations are sitting on trillions of dollars in cash. If corporations come out of the fourth quarter feeling good then there's a lot that they can do with that money -- they're not going to continue to sit on the sidelines doing nothing if they feel confident that there won't be a double-dip."
There were no economic releases scheduled during Monday's session.
Cirrus Logic
(CRUS)
saw its stock jump 14.9% to $15.88 on an upgrade to buy from hold at Jefferies, according to a
Bloomberg
report.
Novell's
(NOVL)
stock climbed 6.6% to $5.96 on news that it agreed to be acquired by
Attachmate
for $6.10 a share in a deal valued at roughly $2.2 billion.
Shares of
Netflix
(NFLX)
zoomed 8.8% higher to $188.32 following its announcement that it will offer a streaming services subscription for $7.99. The online movie-rental company also plans to increase prices on its other subscription plans.
Shares of
Level3
(LVLT)
soared 6% to $1.06 on the Netflix effect. Netflix recently partnered with Level 3 to expand its online delivery facilities.
SanDisk's
(SNDK)
stock was up 6.5% to $42.57 following an upgrade to outperform from neutral at Baird.
Shares of
Tyson Foods
(TSN)
were up 6.1% to $16.60 after the meat and prepared foods company swung to a fourth-quarter net profit and reported adjusted earnings of 64 cents a share on sales of $7.44 billion. Analysts had been anticipating a profit of 56 cents a share on sales of $7.75 billion.
Genzyme
(GENZ)
is exploring a new deal structure that could break a stalled acquisition with
Sanofi-Aventis
(SNY)
, according to a
Wall Street Journal
report. Genzyme's stock edged up by 0.1% at $71.36 and Sanofi shares were off by 1.5% at $33.64.
Shares of
Green Mountain Coffee Roasters
(GMCR)
soared nearly 18% to $35.78 after it closed an internal investigation that found it misstated its results for four years because of reporting errors. The cumulative impact of the errors is expected to reduce net income by about $6.1 million, or 4 cents per share, to $6.5 million, or 5 cents per share, over the period in question, the company said.
In commodity markets, the January crude oil contract declined 24 cents to settle at $81.74 a barrel. The December gold contract traded $5.50 higher to settle at $1,356 an ounce.
The benchmark 10-year Treasury note strengthened 20/32, diluting the yield to 2.806%.
.
--Written by Melinda Peer and Shanthi Bharatwaj New York
.
Disclosure: TheStreet's editorial policy prohibits staff editors and reporters from holding positions in any individual stocks.