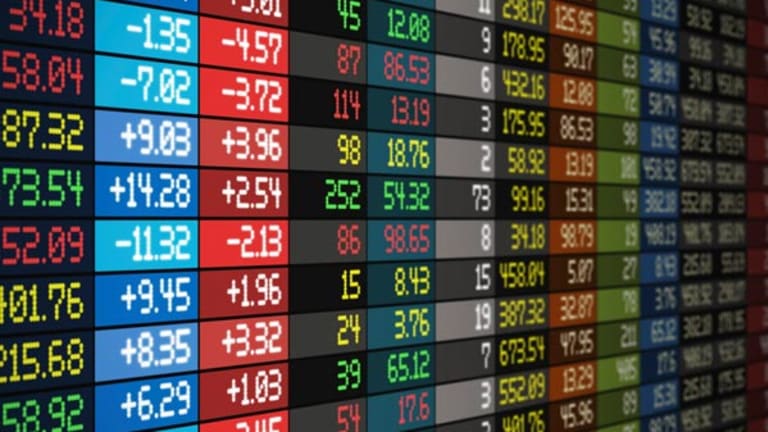 Stocks Close Higher as Voters Head to Polls
The Dow rose Tuesday as Wall Street awaits congressional election results later tonight that most observers expect to show a big victory for the Republican party.
The Dow rose Tuesday as Wall Street awaits congressional election results later tonight that most observers expect to show a big victory for the Republican party.
NEW YORK (
) -- Stocks finished higher on Tuesday as Wall Street awaits congressional election results later tonight that most observers expect to show a big victory for the Republican party.
The
Dow Jones Industrial Average
gained 64 points, or 0.6% to 11,188. The
S&P 500
added 9 points, or 0.8%, to close at 1193 and the
Nasdaq
rose 28 points, or 1.1%, to 2533.
From a sector standpoint, a weakening of the greenback bolstered demand for energy, basic materials and utilities shares.
As voters head to the polling booths,
the expectation is that the Republicans will take control of the House of Representatives
, ending the control of Congress that Democrats have enjoyed since 2008. Assuming the Senate stays in the hands of the Democrats, the third year of President Barack Obama's term could see plenty of legislative gridlock, a situation that has historically been positive for Corporate America.
With no major economic reports on Tuesday, investors were pacing themselves for the
Federal Reserve's
two-day policy-making meeting which began today. The
Federal Open Market Committee will make a statement on Wednesday afternoon. The market has been anticipating the announcement of additional quantitative easing measures at the conclusion of the FOMC meeting since late summer.
On Tuesday, the Reserve Bank of Australia unexpectedly raised rates by 0.25 percentage point to 4.75%, tightening policy for the first time in six months, to pre-emptively reduce inflation pressures. The Reserve Bank of India also increased the lending rate and the borrowing rate by a quarter of a percentage point each to 6.25% and 5.25%, respectively.
The U.S. dollar traded lower against a basket of currencies with the dollar index down by 0.7%.
"There's a lot of waiting today," said Marc Pado, U.S. market strategist at Cantor Fitzgerald. "There's no economic data so the market is focused on the election results and the FOMC meeting. The broad-based move up that you're seeing today is largely based on the dollar, but also, the market likes certainty and it's pleased that there wasn't anything disruptive over the weekend in terms of the Republicans taking the House."
Pado said the market also appears fairly certain that the FOMC's expected second stimulus announcement on Wednesday afternoon won't hold too many surprises.
"Expectations for QE2 started at $300 billion, then we had some weak data and the number edged up to $500 billion. When there's been talk of anything lower, no Fed official has come out and upset the apple cart. Usually if the Fed doesn't like what Wall Street is talking about, they come out and say something to let people know that they're looking in the wrong direction," Pado said, adding that all indications from Fed Chairman Ben Bernanke suggest that the Fed is ready to act to strengthen the recovery in a meaningful way. "So that's giving some assurance to the market that they're on the right track and that things will do as planned."
"The real question will be: Over what period of time? Part of the statement might make a difference in terms of how quickly or through what instruments
the stimulus will be implemented, but overall, I think the amount and the direction is quite clear," he said.
The weaker greenback lifted dollar-priced commodities and related equities as energy, basic materials and capital goods sectors showed the strongest gains of the session. The transportation sector showed the mildest gains. Within the Dow,
Home Depot
(HD) - Get Report
,
Microsoft
(MSFT) - Get Report
and
American Express
(AMEX)
were the top performers while
Boeing
(BA) - Get Report
,
JPMorgan Chase
(JPM) - Get Report
and
Intel
(INTC) - Get Report
were the biggest laggards.
Shares of
Art Technology Group
(ARTG)
surged 45.4% to $5.97 on news that it's being acquired by
Oracle
(ORCL) - Get Report
for $1 billion. Oracle's stock traded 1.3% higher at $29.53.
Dell
(DELL) - Get Report
agreed to acquire cloud computing services company
Boomi
, to shore up its ability to provide software and computing over the Internet,
Reuters
reported. The stock was down 0.3% at $14.37.
General Motors
is expected to price its shares between $26 and $29 raising roughly $10 billion in an initial public offering, according to reports. The
IPO could be filed as soon as late Tuesday, and the U.S. government is anticipated to lower its stake in the automaker to roughly 43% from 61% not including extra share allotments bankers may offer to meet strong demand,
The Associated Press
reported. Meanwhile,
The Wall Street Journal
said the U.S. will reduce its stake to about 35%.
Pfizer said third-quarter net earnings dropped 70% from a year earlier to 11 cents a share on costs related to its
Wyeth
acquisition. Adjusted earnings of 54 cents a share, however, topped consensus estimates by 3 cents. Sales rose 39% to $16.2 billion, missing expectations for sales of $16.69 billion. The stock declined by 0.9% to $17.45.
Archer Daniels Midland
(ADM) - Get Report
said first-quarter earnings fell 30% to $345 million, or 54 cents a share, including roughly $133 million in charges. Consensus estimates, which typically exclude nonrecurring items, called for 75 cents a share. Sales, however, grew 13% to $16.8 billion, exceeding expectations for sales of $15.66 billion. Shares shed 6.5% to $31.19.
BP
(BP) - Get Report
said third-quarter earnings dropped as it recorded additional Gulf of Mexico oil spill charges. The company's replacement cost profit was $1.85 billion, or $5.5 billion on an adjusted basis, compared with $4.98 billion a year earlier. Analysts had been expecting a replacement cost profit of $4.5 billion. The stock added 1.6% to $41.52.
MasterCard
(MA) - Get Report
handily topped expectations for earnings of $3.45 a share with a third-quarter profit of $3.94 a share, while sales rose 4.7% to $1.4 billion, which was slightly above forecasts. The company said global purchase volume during the quarter jumped 7.9% on a local currency basis, year over year, to $514 billion, and the number of processed transactions inched 0.6% to 5.8 billion. Shares advanced 2.9% to $245.98.
Food company
Kellogg
(K) - Get Report
missed estimates by 4 cents with earnings of 90 cents a share. Sales slipped to $3.16 billion, from $3.28, previously, which was largely in line with expectations. The stock lost 2.1% to $49.69.
Newmont Mining
(NEM) - Get Report
reported adjusted third-quarter earnings of $1.08 a share on sales of $2.6 billion, beating estimates for a profit of 95 cents a share on sales of $2.37 billion. The company also narrowed its 2010 gold production outlook to between 5.3 million and 5.4 million ounces from its previous range of between 5.3 million to 5.5 million ounces. Shares traded 2.2% lower to close at $59.89.
E.W. Scripps
(SSP) - Get Report
swung to a third-quarter profit of 8 cents a share on gains to its television business from political advertising. Adjusted earnings of 10 cents a share topped estimates by 2 cents. Meanwhile, operating revenue rose 8.6% to $183.6 million. Shares added 8.1% to $9.43.
Retailer
Cabela's
(CAB)
announced better-than expected results and a stronger 2011 outlook, driving shares up 20.7% to $22.07.
American Superconductor
(AMSC) - Get Report
rose 12.5% to $36.56 after it raised its FY 2010 guidance for revenues and earnings.
Medco Health Solutions
(MHS)
said third-quarter earnings rose 10.6% to $371.5 million, or 85 cents a share, as revenue jumped 10.3% and prescription volumes increased. It also raised its full-year guidance to between $3.14 and $3.16 a share from a previous outlook of $3.10 to $3.15 a share. Adjusted 2010 earnings are seen at $3.38 to $3.40 a share; the previous guidance range was $3.34 to $3.39 a share. Shares jumped 10.7% to $58.
Electronic Arts
(ERTS)
announced a five-year deal with Facebook to simplify payments for games and virtual goods on the social networking site. The stock rose 2.5% to $16.20.
Clorox
(CLX) - Get Report
reported a disappointing quarter and lowered its outlook. The stock closed 4.2% lower at $63.52.
Energizer
(ENR) - Get Report
plunged 9.5% to $66.37 after the company posted
earnings that came in below expectations and warned of higher commodity costs ahead.
In commodity markets, the December crude oil contract added 95 cents to settle at $83.90 a barrel. Meanwhile, the December gold contract gained $6.20 to settle at $1,356.40 an ounce.
Meanwhile, the benchmark 10-year Treasury note strengthened 9/32, diluting the yield to 2.596%.
Overseas, Hong Kong's Hang Seng inched 0.08% higher and Japan's Nikkei climbed 0.06%. The FTSE in London surged 1.1% and the DAX in Frankfurt added 0.7%.
--Written by Melinda Peer and Shanthi Venkataraman in New York
.
Disclosure: TheStreet's editorial policy prohibits staff editors and reporters from holding positions in any individual stocks.