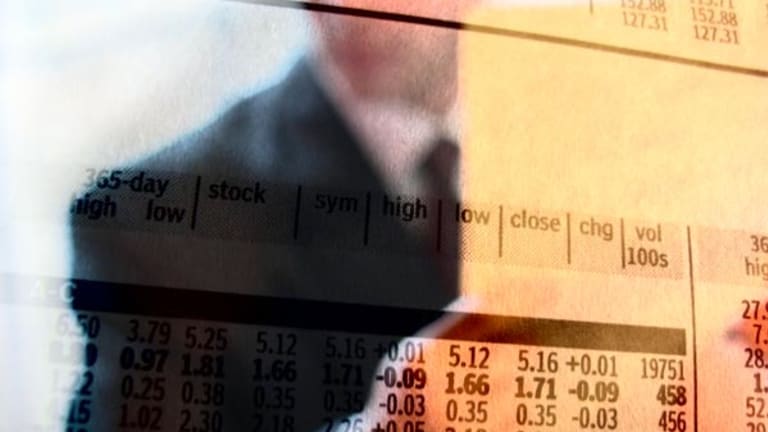 Stocks Plunge on Euro Debt Concerns; Dollar Surges
Stocks tumble on trepidation about the prospect of Ireland and other eurozone countries being pushed into accepting bailout plans. Gregg Greenberg has The Real Story.
NEW YORK (
) -- Stocks sold off sharply Tuesday, erasing all of November's gains to date, on worries that Ireland and possibly other debt-logged eurozone countries would be forced accept bailout plans.
The fears about Europe's stability fueled a surge in the U.S. dollar, which climbed to its highest level since September. Concerns that China will raise rates to cool inflation also weighed on equities, hurting commodity stocks in particular.
The
Dow Jones Industrial Average
plunged 178 points, or 1.6% lower, to finish at 11,023 after briefly dropping below 11,000 earlier in the session. The
S&P 500
shed 19 points, or 1.6%, to settle at 1178, while the
Nasdaq Composite
lost 44 points, or 1.8%, to close at 2470.
Basic materials and energy stocks weighed heavily on the market. Within the Dow,
Travelers
(TRV) - Get The Travelers Companies Inc. Report
, Alcoa and
Chevron
(CVX) - Get Chevron Corporation Report
were the biggest percentage decliners. Breadth was overwhelmingly negative among the blue chips with 28 of the Dow's 30 components closing lower.
Wal-Mart
(WMT) - Get Walmart Inc. Report
and
Home Depot
(HD) - Get Home Depot Inc. (The) Report
were the only gainers on the Dow.
Pfizer
(PFE) - Get Pfizer Inc. Report
,
IBM
(IBM) - Get International Business Machines Corporation Report
and
Boeing
(BA) - Get The Boeing Company Report
showed the mildest losses.
European shares had plunged overnight speculation that European Union officials would impel Ireland to accept a bailout plan of as much as €100 billion, according to a
CNBC
report. The FTSE in London lost 2.4%, and the DAX in Frankfurt shed 1.9%.
Ireland's government rebuffed calls for a bailout,
Reuters
reported late Tuesday afternoon, as it believes it's fully funded through mid-2011 and that only its banks needed help.
The dollar traded higher against a basket of currencies, with the dollar index up by 0.9% at $79.217. The greenback also gained strength following news that Greece may not have fulfilled commitments for its EU aid package. Austrian finance minister Josef Proell indicated that Austria would not give Greece its €190 million ($257 million) contribution if it hasn't take control of its finances, according to a
CNBC
report.
In Asia, Hong Kong's Hang Seng shed 1.4% and the Shanghai's index dropped 4% as investors continued to anticipate a rate increase from the Chinese government to cool growth. Japan's Nikkei lost 0.3%.
The prospect of China taking steps to curb inflationary pressures
hurt metal prices Tuesday, sparking selling in related equities.
Southern Copper
(SCCO) - Get Southern Copper Corporation Report
and
Freeport McMoRan Copper & Gold
(FCX) - Get Freeport-McMoRan Inc. Report
were down by 3% to $42.43 and 4.3% to $97.61, respectively.
Alcoa
(AA) - Get Alcoa Corporation Report
was down by 2.8% to $13.03.
In the U.S., the most actively-traded December crude oil contract shed $2.52, or 3%, to settle at $82.34 a barrel. The December gold contract lost $30.10, or 2.2%, to settle at $1,338.40 an ounce.
Prices at the wholesale level rose 0.4% in October after similar growth in the previous month, the Labor Department said in the release of its
producer price index. The increase was less than the 0.8% uptick that economists had been expecting, indicating that weak demand continues to limit inflationary pressures in the U.S. economy. The core rate, which excludes volatile food and energy prices, declined 0.6%, coming in lower than the expected gain of 0.1% and September's growth of 0.1%, according to Briefing.com.
The
Federal Reserve
said
industrial production was unchanged in October after declining 0.2% in September. Capacity utilization also remained flat at 74.8%. According to Briefing.com, economists had expected production to rise 0.3% and capacity utilization was slated to rise to 74.9%.
The National Association of Home Builders' November housing index inched one notch higher to 16 from a downwardly revised level of 15 in October. Economists had projected that the index of builder confidence would fall to a reading of 15, after the prior month's initially-reported level of 16.
Jay Suskind, senior vice president at Duncan Williams, said several factors were weighing down the market, including disappointment over the PPI number, European issues and normal profit-taking.
"We've had a nice run here for the past couple of months, and with earnings season winding down, there are certain catalysts that are going to trigger profit-taking, such as talk of China price controls," he said. "I don't think we'll see any major meltdown, but we will trade in a tight range as people wait to see how QE2 plays out, how China plays out. We've had a good run, so it's time to take a breath."
Retail was Tuesday's least-weak sector and Home Depot and Wal-Mart were the only Dow components trading in positive territory.
Shares of
gained 1% to $31.71 after the home-improvement retailer reported earnings of 51 cents a share on sales of $16.6 billion. Analysts had been looking for a profit of 48 cents a share on sales of $16.59 billion.
Shares of
inched up 0.6% to $54.26 as the company reported adjusted earnings of 90 cents a share, meeting estimates, on sales of $101.2 billion. Sales fell short of the revenue estimate of $102.25 billion that analysts had expected.
The retailer also increased its full-year earnings guidance to a range of $4.08 to $4.12 a share from a previous range of $3.95 to $4.05 a share.
Urban Outfitters
(URBN) - Get Urban Outfitters Inc. Report
saw its stock jump 11.9% to $36.63 after the retailer made encouraging comments during a conference call. Late Monday, the company beat Wall Street's profit view by a penny with earnings of 43 cents a share.
Honeywell
(HON) - Get Honeywell International Inc. Report
saw its stock add 1.8% to $48.44 after the company reduced its fourth-quarter and year-end earnings outlook to adjust for a new pension accounting policy. The company expects the new method to make its earnings more comparable to those of its peers.
Shares of
Regions Financial
(RF) - Get Regions Financial Corporation Report
shed 4.5% to $5.92 after the regional bank announced the resignation of Chief Risk Officer Bill Wells and the departures of two other executives. In a statement, CEO Grayson Hall said the departures weren't "the result of any determination with regard to additional problem loan migration, loan loss reserve or charge-offs."
Iron Mountain
(IRM) - Get Iron Mountain Incorporated (Delaware)Common Stock REIT Report
saw its stock lose 3.5% to $22 on a regulatory filing showing that Warren Buffet's
Berkshire Hathaway
(BRK.A) - Get Berkshire Hathaway Inc. Report
sold a stake in the information management services company.
Apple
(AAPL) - Get Apple Inc. Report
said all 13 Beatles studio albums and a special box set are now available for the first time on iTunes. The stock traded 1.8% lower to $301.59.
General Motors
plans to price its initial public offering between $32 and $33 a share, up from its previous range of $26 to $29 a share. The company also increased the proposed size of its Series B mandatory convertible junior preferred stock offering to $4 billion, from $3 billion.
The benchmark 10-year Treasury note strengthened 10/32, diluting the yield to 2.844%. Treasuries have been selling off in recent days even as the Fed buys more bonds as part of its second round of quantitative easing.
.
--Written by Melinda Peer and Shanthi Venkataraman in New York
.
Disclosure: TheStreet's editorial policy prohibits staff editors and reporters from holding positions in any individual stocks.