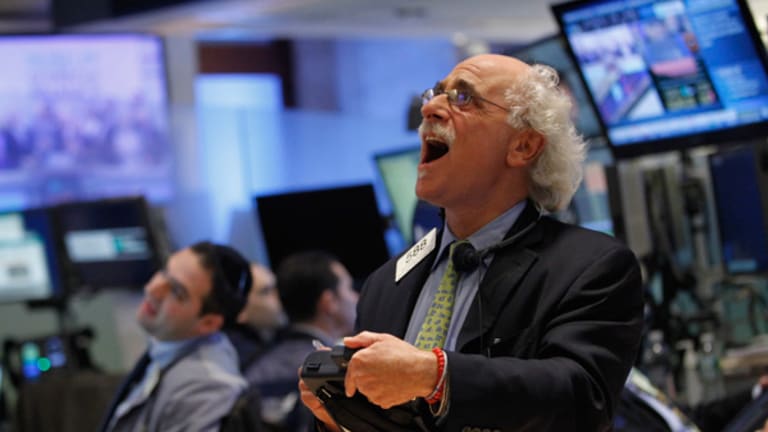 Stocks Crushed as Wall Street Girds for Fiscal Cliff Battle
The Dow falls for the fifth time in the past six sessions, while the Nasdaq sinks into correction territory.
NEW YORK (
) -- The major U.S. stock averages were walloped Wednesday, dragged lower by persistent worries about the fiscal cliff.
The selling accelerated after President Barack Obama again stressed his commitment to ending Bush-era tax cuts for the wealthiest Americans during a press conference. The president's firm stance sets the stage for a tough battle with Republicans toward compromise on the next federal budget.
The release of the
of latest
Federal Reserve
policy meeting was a factor as well as the commentary
among members of the central bank's open market committee about continued quantitative easing efforts in 2013.
The
Dow Jones Industrial Average
closed down more than 185 points, or 1.45%, at 12,571. The blue-chip index, which has now lost ground in five of the past six sessions, is now up just 2.89% year-to-date.
The index, which scraped a session low of 12,542, has pulled back roughly 8% since hitting its 2012 intraday high of 13,661 on Oct. 5.
Breadth within the Dow was very negative with losers far outpacing winners, 29 to 1.
The biggest percentage decliners -- all down more than 2% -- were
Boeing
(BA) - Get Report
,
Bank of America
(BAC) - Get Report
,
Caterpillar
(CAT) - Get Report
,
General Electric
(GE) - Get Report
,
Home Depot
(HD) - Get Report
, and
United Technologies
.
Cisco was the only blue chip to finish in the green after the networking giant posted strong quarterly earnings after Tuesday's close. The stock added nearly 5%.
The
S&P 500
finished off more than 19 points, or 1.39%, at 1355, while the
Nasdaq
lost a little more than 37 points, or 1.29%, to settle at 2847.
Both indices are still up so far in 2012, 7.78% and 9.28%, respectively. Since hitting a high of 3197 on Sept. 21, the Nasdaq has now lost 11%, qualifying as a correction. The S&P 500 has fallen 8.1% since peaking for the year at 1474.51 on Sept. 15.
All sectors in the broader market were in the red, with basic materials, capital goods, conglomerates, consumer cyclicals and transportation posting the biggest declines.
Decliners outnumbered advancers by a nearly 9-to-1 ratio on the New York Stock Exchange and 4-to-1 ratio on the Nasdaq. Volume totaled 4.09 billion on the Big Board and 2.10 billion on the Nasdaq.
"With the majority of earnings reports in (approximately 70% better than expected) and the elections complete the equity markets are searching hard for direction and the fiscal cliff is clearly the major concern of the moment and the main driver," said Mike Boyle, a senior vice president at Advisors Asset Management. "Given this we would look for the S&P 500 to tack between 1350 and 1430 through year-end as the fiscal cliff negotiations heat up, but we fully expect the cliff to be averted and the S&P 500 to post a double digit return for 2012 and again in 2013."
President Barack Obama spoke at the White House
Wednesday and said he was willing to work with House Republicans and Senate Democrats to avoid the $607 billion in automatic tax increases and spending cuts, or "the fiscal cliff," due to hit on Jan. 1.
But he also reiterated a pledge to not preserve Bush-era tax cuts for the wealthiest Americans, sticking by a goal to pull in $1.6 trillion in new revenue through tax hikes on households generating incomes of more than $250,000.
"There is a
budget package to be shaped, and I'm confident that parties ... can make that happen. But what I'm not going to do is extend Bush tax cuts for the wealthiest 2% that we can't afford, and according to economists will have the least impact on our economy," Obama said in Wednesday's press conference.
"The two parties have very different visions of what a deal should look like. Failure to reach a compromise in the coming weeks could lead to a recession and bear market for stocks in early 2013," said Frank Fantozzi, president at Planned Financial Services.
The Census Bureau said Wednesday retail sales fell 0.3% in October, more than the 0.2% decline expected by economists, after increasing by an upwardly revised 1.3% in September.
Excluding motor vehicles, retail sales were unchanged; economists had forecast an increase of 0.2%.
"October's U.S. retail sales figures suggest that consumption has lost a bit of momentum ahead of the crucial holiday shopping season," said Paul Dales, senior U.S. economist at
Capital Economics
. "Even after excluding sales of gasoline, autos and building materials, underlying sales fell by 0.1%
month over month ... compares with an average rise of 0.6%
month over monthover the previous three months."
"It is hard to know how much of this is due to Hurricane Sandy (the Census Bureau said it doesn't know either) and how much may be due to a more general easing in spending growth linked to concerns over the fiscal cliff," Dales continued. "November's sales will be crucial. A bounce-back would point to a temporary Sandy-induced softening, while another soft month would suggest that the threat of a sharp fall in after-tax incomes in the new year is worrying households."
The Bureau of Labor Statistics reported that the producer price index fell 0.2% in October after advancing by 1.1% in September. Economists were expecting levels to increase 0.2%.
Excluding food and energy, the index fell 0.2% after being flat in September. Economists predicted an increase of 0.1%.
Also, the Census Bureau said business inventories increased 0.7% in September, which was more than the 0.5% rise expected by economists and August's 0.6% increase.
Sales were strong with a rise of 1.4% compared with a gain of 0.6% in August.
The FTSE 100 in London slid 1.11%, while the DAX in Germany closed off 0.94% on Wednesday. Japan's Nikkei average settled up 0.04% and Hong Kong's Hang Seng closed higher by 1.20%.
Gold for December delivery rose $5.30 to settle at $1,730.10 an ounce at the Comex division of the New York Mercantile Exchange, while December crude oil contracts closed up 94 cents at $86.32.
The benchmark 10-year Treasury lost 1/32, lifting the yield to 1.604%. The dollar was up 0.01%, according to the
U.S. dollar index.
In corporate news,
Abercrombie & Fitch
(ANF) - Get Report
shares soared 34.5% after the retailer posted much better-than-expected third-quarter earnings of 87 cents a share and lifted its full-year outlook.
AMD
(AMD) - Get Report
Tuesday that it's on the block following a report that the No. 2 chipmaker could be up for sale. The stock sank 7.7%.
Staples
(SPLS)
posted third-quarter revenue that missed forecasts, driven by tepid sales in Europe and Australia. The office supply chain's earnings per share came in above estimates at 46 cents on revenue of $6.35 billion; analysts expected earnings of 45 cents a share in the October-ended period on revenue of $6.45 billion. The stock gained 2.6%.
Mosaic
(MOS) - Get Report
shares tumbled 3.3% after the fertilizer producer lowered its fiscal second-quarter potash and phosphates sales volume outlook, citing softer international demand.
Facebook
(FB) - Get Report
shares popped 12.6% as long-term investors in the social networking giant were reportedly choosing to keep their stakes in the company amid the lockup expiration of the big blocks of insider stock.
Shares of
Papa John's
(PZZA) - Get Report
fell on news the company is facing a $250 million class-action lawsuit relating to the pizza chain's alleged involvement with excessive text messaging. The stock lost 3.1%.
Late in the session, news came down that
Starbucks
(SBUX) - Get Report
has
Teavana Holdings
( TEA) for $620 million in cash. The deal values Teavana shares at $15.50 each. Starbucks's stock finished Wednesday at $48.84, down nearly 3%, while Teavana's stock shot up more than 50% to close at $15.45.
-- Written by Andrea Tse and Joe Deaux in New York.
>To contact the writer of this article, click here:
Andrea Tse
.
Follow @Commodity_Bull