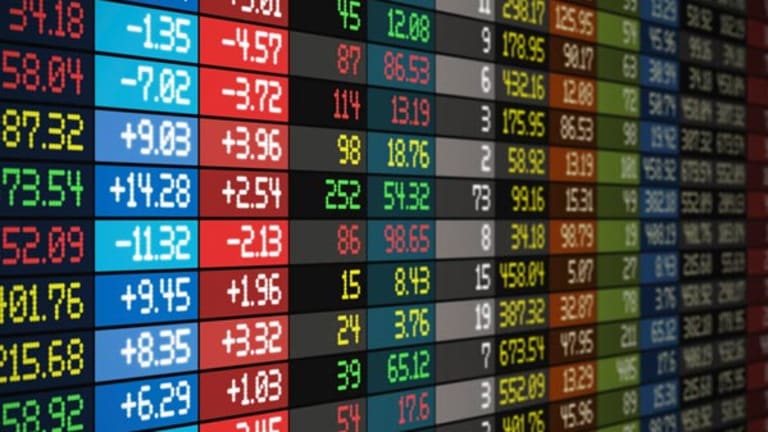 Stocks Jump on Breather From Europe Woes
Stocks finish sharply higher on strong U.S. consumer sentiment data and signs that Italy and Greece are making headway on efforts to contain Europe's debt crisis.
NEW YORK (
) -- Stocks finished sharply higher Friday on better-than-expected U.S. consumer sentiment data and signs that Italy and Greece are making headway on efforts to contain Europe's debt crisis.
The
Dow Jones Industrial Average
added 260 points, or 2.2%, to settle at 12,153. The
rose 24 points, or 2%, at 1264, and the
Nasdaq
increased 54 points, or 2%, at 2679.
The U.S. market got a welcome boost from a report by the University of Michigan that consumer sentiment in November rose to its highest level in five months. The reading on sentiment rose to 64.2 from a revised 60.9 in October, surpassing expectations of an increase to 62 from October's originally reported 57.5.
"This report continues to show improvement within the domestic economic recovery," said Miller Tabak chief economic strategist Andrew Wilkinson.
"The Michigan survey might yet boost predictions of better retail sales in next week's report. The survey is positive for bonds and stocks in that it portrays an improving outlook for consumption and stable price expectations."
All 30 components within the Dow rose with
Walt Disney
(DIS) - Get Free Report
leading the way. The company's encouraging earnings also boosted hopes that consumer sentiment amongst Americans is holding up.
The company topped Wall Street's expectations for its fiscal fourth-quarter results
, thanks to strong growth in its media networks and parks and resorts divisions.
The media conglomerate reported earnings of $1.09 billion, or 58 cents a share, for the three months ended Oct. 1 on revenue of $10.43 billion, up 7% year over year, while analysts had expected earnings of 54 cents a share on revenue of $10.36 billion. Shares jumped 6%.
Caterpillar
(CAT) - Get Free Report
,
Alcoa
(AA) - Get Free Report
and
Intel
(INTC) - Get Free Report
also led on the Dow.
"Investors in general are not prepared for good news, which is why you see these violent moves to the upside," said Brian Belski, chief investment strategist with Oppenheimer Asset Management. "We have to rely on perspective in fundamentals ... we think economic surprises will continue to be on the upside."
Friday's rally was in part fueled by a covering of shorts. "Some people set their shorts earlier in the week when Italian bond yields rose," explained Paul Zemsky, multi-asset strategist with ING Investment Management.
The Italian Senate's approval of the country's 2012 budget law suggested that Italy was making progress on improving its debt situation. The bill faces a parliamentary vote this weekend but is expected to pass. Afterward, Prime Minister Silvio Berlusconi would resign, allowing a new emergency government to take over.
The quicker the transition to a new government, the better chance Italy has in curbing its rising borrowing costs. Investors' biggest fear is that Italy is headed for a Greece-like scenario, in which Europe is unlikely to have the firepower to bail out the country.
"Based upon the Italian vote and the consumer confidence number, we are moving toward euphoria. However, there has been no progress over the year, just volatility," Channel Capital Research chief investment strategist Doug Roberts remarked.
Several other developments out of Europe added to the positive sentiment. Greece swore in its next prime minister today, paving the way for progress on its own fiscal reform and securing further bailout money; Italian bond yields have eased; and France's credit rating remains pristine after a false downgrade scare.
On the downside, discussion among euro leaders about whether countries should be able to exit the European Union remains a damper on optimism. Greece and Italy still face deep challenges ahead.
European stocks closed higher with London's FTSE up 1.7%, and Germany's DAX adding 3.1%. Overnight, Asian stocks followed U.S. stocks higher. Japan's Nikkei Average rose 0.16%, and Hong Kong's Hang Seng was up 0.9%.
In corporate news, apparel and home furnishing retail company
Dillard's
(DDS) - Get Free Report
reported third-quarter earnings of 48 cents a share, beating the average analyst estimate of 32 cents a share. But gross margins came in 15 basis points below JPMorgan estimates. Shares plunged 12.6%.
E*Trade Financial
(ETFC) - Get Free Report
tumbled 4.1% after
the company said it would not sell itself after a strategic review. E*Trade's largest shareholder, Citadel,
had pressured the company to pitch itself to online broker competitors such as
TD Ameritrade
(AMTD) - Get Free Report
or
Charles Schwab
(SCHW) - Get Free Report
.
Caterpillar
(CAT) - Get Free Report
rose 4.3% after the company said it will buy ERA Mining Machinery to get greater exposure to the modernization of China's coal mines. The mining equipment manufacturer offered $887 million for ERA, which is China's third-largest maker of roof supports based on sales.
Nvidia
(NVDA) - Get Free Report
, the graphics chip maker, added 3.5% after reporting third-quarter earnings of $178.3 million, or 29 cents a share, on revenue of $1.07 billion,
Wall Street's consensus earnings view by 3 cents.
Homebuilding company
D.R. Horton
(DHI) - Get Free Report
fell 1.7% after posting fourth-quarter earnings of 11 cents a share. Analysts, on average, were expecting earnings of 14 cents a share.
Gold for December delivery gained $28.50 to end at $1,788.10 an ounce. In other commodities, the December crude oil contract added $1.21 to finish at $98.99.
The euro gained 1.1% to $1.3755 while the dollar weakened against a basket of currencies, with the dollar index down 1.1%. The bond market was closed for Veterans Day.
-- Written by Andrea Tse and Chao Deng in New York